Are we twins? Do you also buy a rotisserie chicken and then pull all the meat off and use it all week for meals? That is one of my best healthy-eating hacks. If I have healthy options at the ready like that, I am bound to make good choices. Shredded chicken is great for throwing together a quick meal too. I have used rotisserie chicken for nachos, chicken noodle soup, tacos, chicken and biscuits, BBQ chicken sandwiches and pasta salad. And with the leftovers, I make chicken stock from rotisserie chicken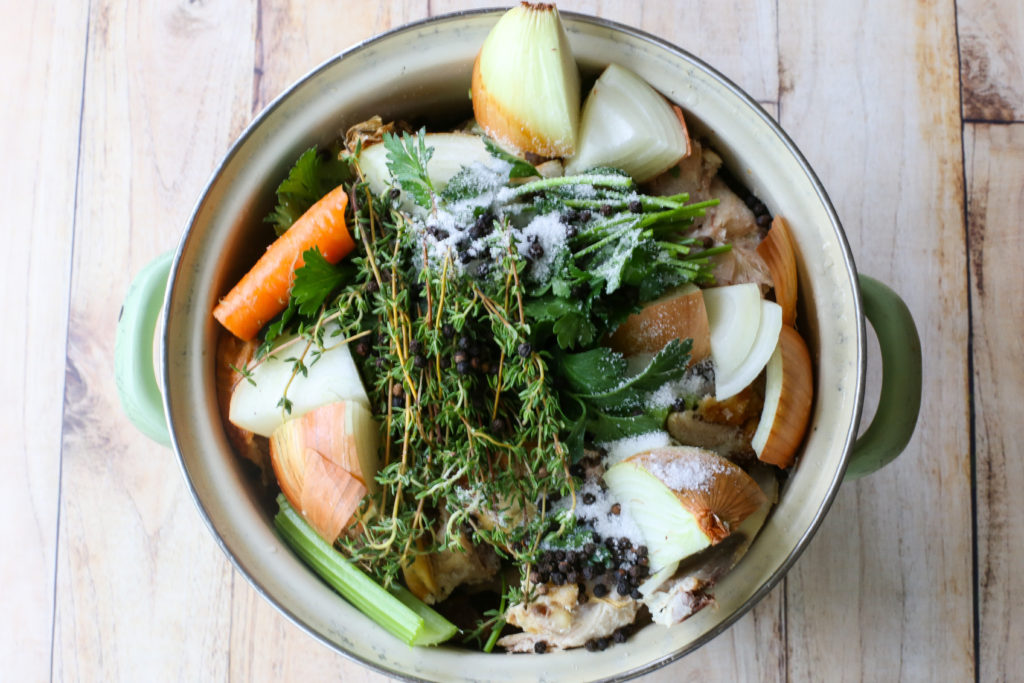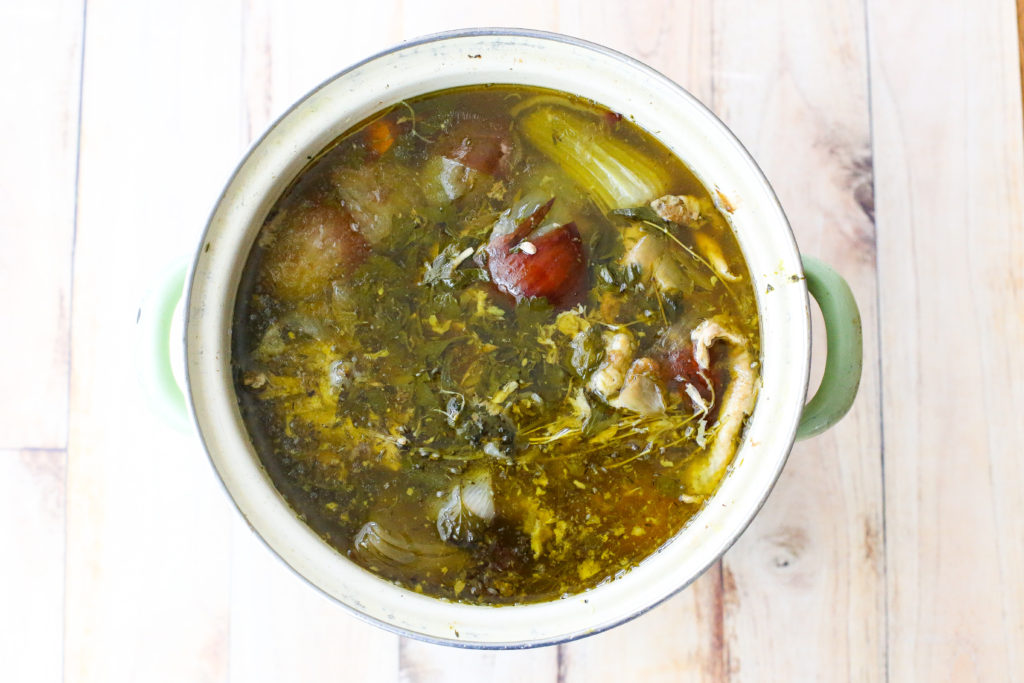 Waste not, want not
While it's great to so easily have chicken cooked and ready to go, I always feel a little uneasy just throwing away the carcass. So I put it in a ziplock back and put it in the freezer. Once I have 3-4 of them tucked away in the freezer, I put together some amazing chicken stock from rotisserie chicken for the freezer and then I feel like a real pioneer. The stock can be used for all kinds of things from soup to rice to using as the liquid to revive leftovers. Waste not, want not, eh?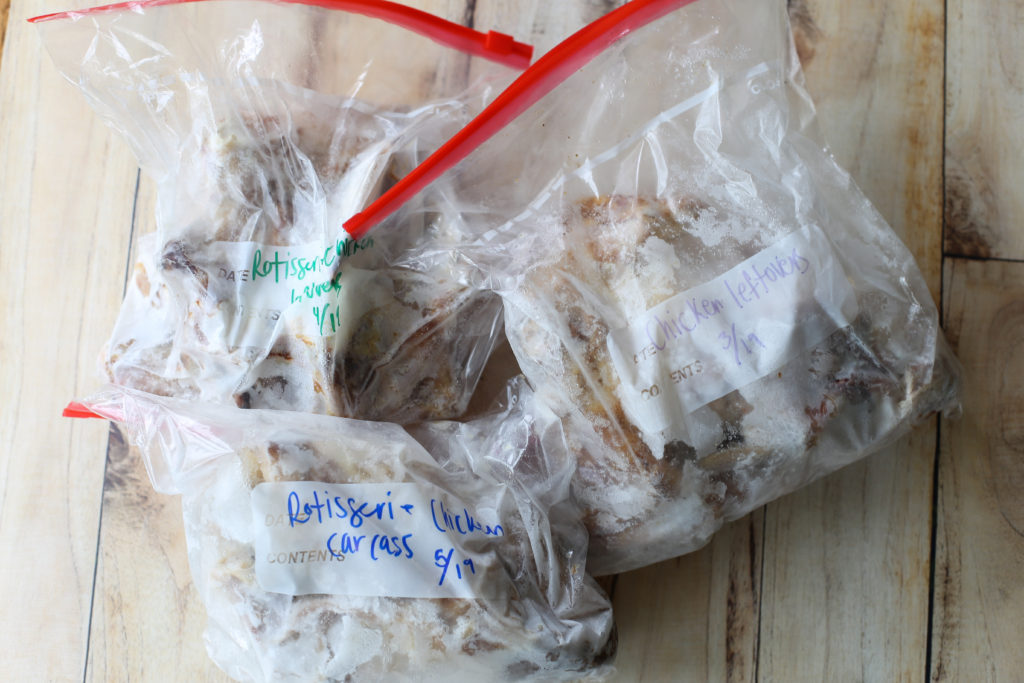 Use whatever kind of chicken leftovers you have
Obviously, you do not have to only use carcasses from rotisserie chickens. If you have roasted a chicken for Sunday dinner, save that too. What about a batch of roasted chicken drumsticks from a weeknight dinner? Save the bones and freeze those as well. If you have any leftover chicken skin at all, save it and freeze it. That's flavor right there. Frozen chicken carcasses will last in the freezer for 3 months. Once you have a couple frozen, make some chicken stock from rotisserie chicken.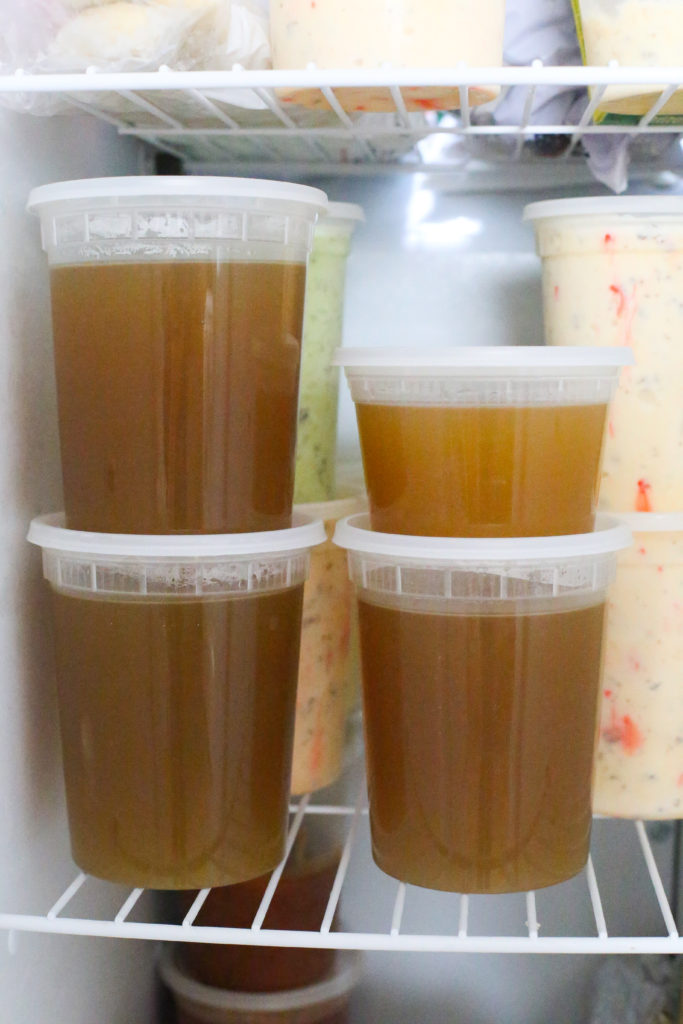 Notes on preparation
As you pack your stock pot full of all the ingredients, you might find that you can't get it all to fit in. Put the chicken carcasses in the microwave for a few minutes and then you can pull them apart easier. You will find it's easier to fit everything in.
When it comes to straining, you can use a fine mesh wire strainer. If you don't have one, line your regular strainer with paper towels and pour the stock through that. Don't forget to put a large bowl underneath! I can't tell you how many times I have nearly poured fresh chicken stock straight down the sink.
You might notice the recipe doesn't list salt as an ingredient. That's on purpose. When you are using chicken leftovers that have already been cooked, they have been seasoned. We aren't totally sure how much salt is already in there, so we will add salt at the end once the broth is done. Or you are welcome to leave it unsalted.
What about containers for the stock? I use quart containers from the restaurant supply store. Side note: those are the most useful thing in the kitchen. If you peek into a restaurant kitchen, you are bound to see them using pint and quart containers for everything. They are cheap enough to give away treats in or packing up dinner to give to a neighbor with a new baby. They also don't stain. So go ahead and put that leftover bolognese in them. You can buy them at your local restaurant supply store by the case or here an Amazon link for these amazing containers. Click HERE. If you don't want to deal with a whole case of them, go in on it with a couple friends. Totally worth it.
Rotisserie Chicken Stock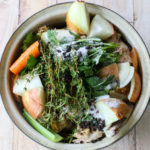 Print This
Ingredients
3 to 4 rotisserie chicken carcasses, no need to defrost if frozen

6 carrots, broken into pieces (typically 2 per chicken)

6 celery stalks, broken into pieces (typically 2 per chicken)

2 onions, roughly chopped (typically 1-2 per chicken)

2 garlic cloves

1 tablespoon kosher salt

1 tablespoon black peppercorns

10 sprigs fresh thyme

2 bunches fresh flat-leaf parsley
Instructions
Combine all ingredients in a large stock pot and cover with water, just until covered. Bring to a boil over high heat, then reduce to a simmer. Simmer covered for at least 6 hours or up to 12. Check on it occasionally and skim off any foam on top. Once simmered, strain with a fine mesh wire strainer and into a large bowl. Transfer stock to smaller separate containers and cool completely before putting in the fridge or freezer. Yields approximately 4 cups.