Like stupid easy
I mean it when I say these BBQ cheddar chicken sandwiches are supremely easy. We will get into that in a bit, but just know- you will want to keep all the ingredients on hand for when you need a quick, satisfying meal for you and yours.
Too busy for my taste
I have three kids, two of which play baseball. When March hits, so does mass chaos. And it lasts until July. It sure makes Hell Month (May) real fun. Did you know that May is the worst month to be a mom? Maybe worst isn't the right word. Let's just say "complicated". Anyways. My husband coaches one of my son's teams and my other son plays on more than one team. I live at the baseball field. No really, I sleep in the tower and turn off the big lights at night. Okay, no I don't. But man, sometimes it feels like it. Feeding my family is something that brings me great joy, but baseball season really cramps my style. There really just isn't time to make a great meal between games, batting practice and regular practice. This is when Quickie Meals come in handy.
Quickie Meals
I know what you think when you hear the word "quickie". But it isn't that kind of quickie. It's just a meal using minimal ingredients that can be throw together in 15 minutes. Like in earnest- 15 MINUTES. Having been a baseball mom for a few years, I feel like I can say I have the Quickie Meal nailed down. Eventually, I will build up a good list of Quickie Meals so we can all kill baseball season together. Like sometime soon, I will write up a post about tostadas. That's a meal my family loves and it's a 15 minute one.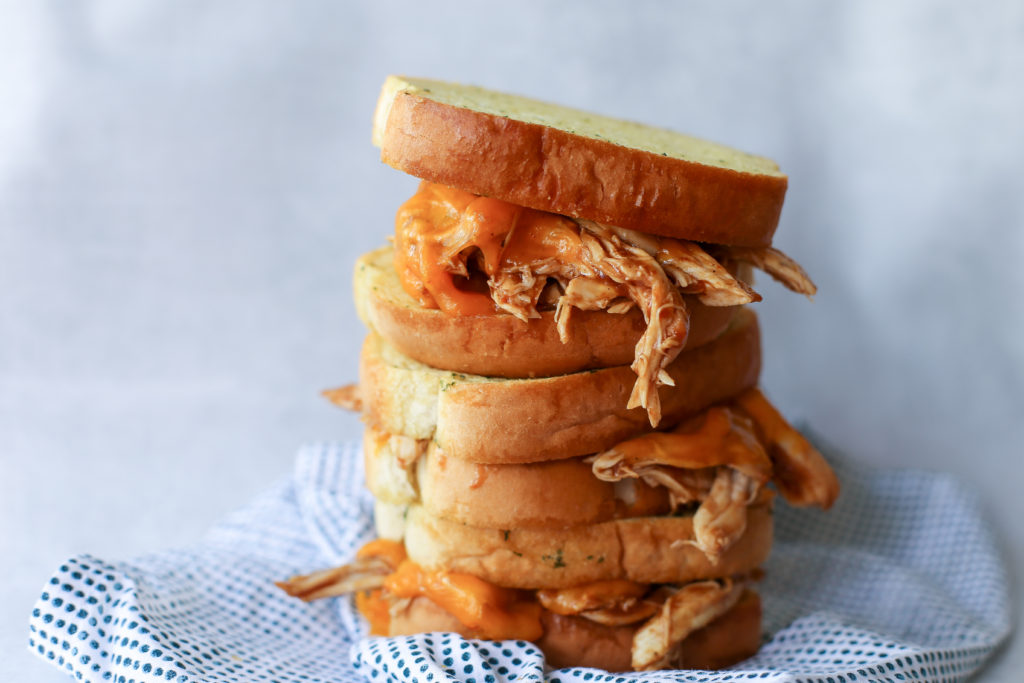 Chicken chicken chicken
These BBQ cheddar chicken sandwiches are made with the easiest ingredients possible. Rotisserie chicken, sliced cheddar cheese, BBQ sauce and frozen Texas Toast. And we only use two sheet pans. First off, you want to hope you have already shredded chicken in the fridge. I buy a rotisserie chicken every time I go to Costco and immediately shred it up and put it in the fridge. You can also buy rotisserie chicken already shredded too. I'm a big fan of keeping chicken ready to go in the fridge because it can save the day all the time. And hey, you can also use the carcass to make stock, as I have talked about that ad nauseam. Don't want to spend the money on rotisserie chicken? Just take a couple chicken breasts out of the freezer and roast them with olive oil, salt and pepper for 30 minutes at 425 degrees F. NBD.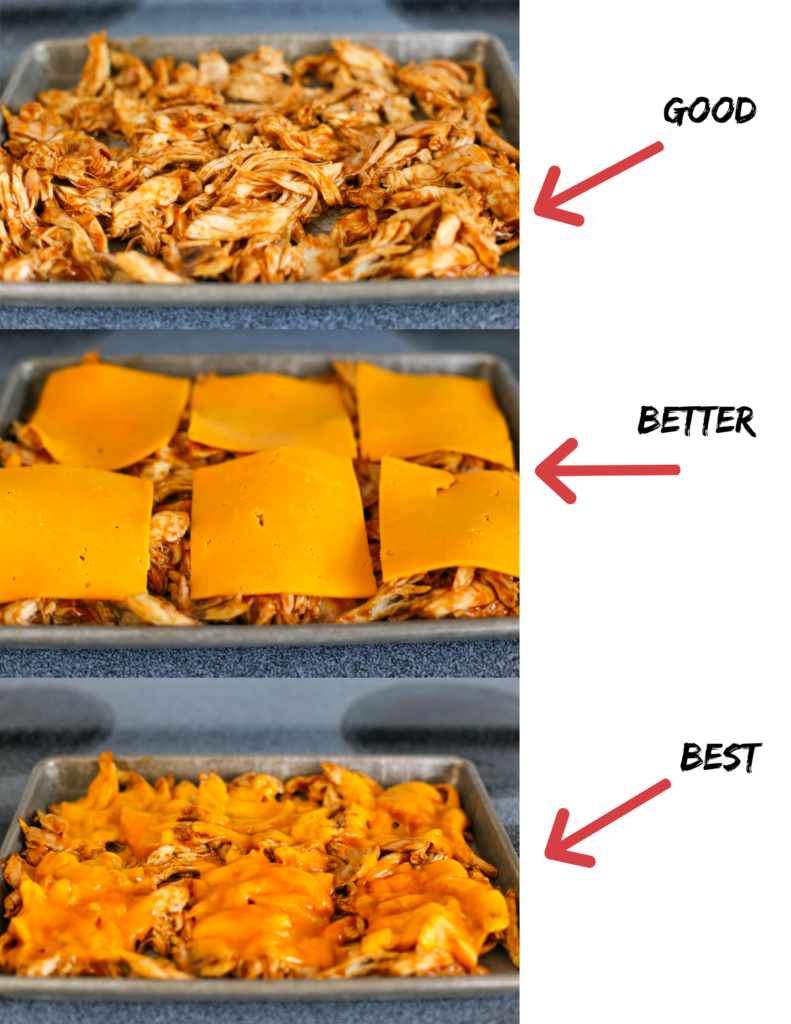 Notes on preparation
The method we use here is making the broiler our friend. Warm the chicken through under the broiler for a minute or two then add the sliced cheese. Back under the broiler until the cheese melts and you're done. You just use a spatula to scoop up some chicken and cheese and put it on some Texas Toast. It couldn't be easier.
You might notice I have a little quarter-sized sheet pan. I can't recommend those enough. They take up way less space in the dishwasher and are perfect for small jobs like this. Click here for an Amazon link to get your own.
Texas Toast can be your best friend. Find it in the freezer section and keep a box in your freezer. There are so many ways to use it and it's great for throwing a meal together. Plus, it's effing delicious.
Supremely Easy BBQ Cheddar Chicken Sandwiches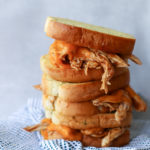 Print This
Ingredients
2 boxes frozen Pepperidge Farms Texas Toast

4 cups shredded chicken

1/2 cup bbq sauce, plus more for serving

6 slices cheddar cheese
Instructions
Following the instructions on the box, bake 12 slices of the Texas Toast (you will not use all of the second box). Once baked, turn on the broiler to high. In a medium bowl, add shredded chicken and bbq sauce. Mix well until the chicken is coated. On a baking sheet, add chicken, spreading out into a single layer. Put under broiler for 2 minutes, or until the chicken is hot. Remove pan from oven and add cheese slices on top. Return to broiler and allow cheese to melt, about 2 minutes. Using a spatula, add chicken to slices of the Texas Toast and top with another.