This recipe comes from my back neighbor's step mother. One Sunday, he called and asked to borrow my largest cast iron dutch oven. He is prone to doing that and I rarely ask what for. But this last time I asked and he said it was for this one-pot creamy Cajun chicken pasta. And I promptly asked for the recipe. I made it that very week and knew I had to share. It's just too good.
The best dish for busy nights
The last time I made this, it was for dinner during a busy baseball night. We are a major baseball family. My two sons play, one of which is on two different teams. So every night from March to June is some form of baseball. Often the kitchen is a revolving door with kids coming and going so having this on the stove is a lifesaver. The sauce holds up great making each serving, no matter what time, just as good as the first. In fact, the night I made this one pot chicken pasta, the kids ate before we headed to the ball field and then after the game, they all had second dinner. The whole thing was polished off quick! That's the best kind of meal.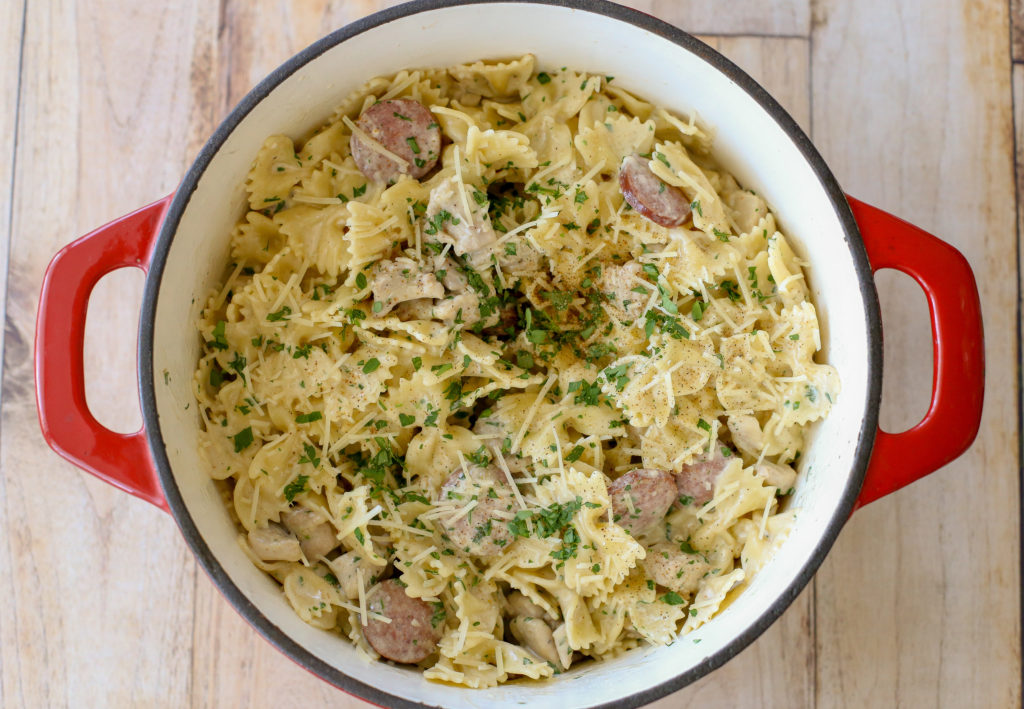 One pot chicken pasta wonder
It really is one pot. Everything from the chicken to the pasta is cooked and served from the same pot. Talk about dish-duty friendly. This method has me totally intrigued. What other creations can I make with this same method. Boiling the pasta in chicken stock instead of water helps create the sauce. And then the cream is there. Instead of just the cream being the sauce, the chicken stock stabilizes it better. Now I am left with thinking of new ideas on how to use this method. Like how great would a creamy pesto pasta be with shrimp? Or what about some pasta with a pink sauce and sausage? I can't wait to try these and share them with you.
Notes on preparation
Initially, the recipe didn't call for searing up the kielbasa first and just throwing it in to warm through once the pasta was made. But I want all that fat from the kielbasa to help make the sauce even more delicious. So first we sear the kielbasa and then we go for the chicken. This also means we don't need olive oil to sear the chicken since we are using the fat from the kielbasa. Brilliant, right?
There is a chance your pasta is going to drink up too much of the stock/cream. This can be because too much is evaporating away or the brand of pasta you are using is extra thirsty. Whatever it may be, it's no big deal. Just have a little bit of water on hand, like just fill a small drinking glass with water, and that should be plenty to help the pasta finish cooking. And water will work just fine. There is no need to crack open a new carton of chicken stock.
Speaking of chicken stock, try your hand at making your own. I wrote up a dandy little post about it. You make it with a few leftover rotisserie chicken carcasses (man that word is gross). Click here to learn more.
Print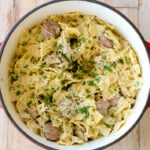 One-Pot Cajun Chicken Pasta
---
Description
This one-pot wonder is all you need for a fast weeknight meal with minimal clean up. One-pot cajun chicken pasta will quickly become a favorite in your home.
---
14 oz

smoked sausage or kielbasa sauce, sliced

1

pound boneless, skinless chicken thigh, cut into small bite-sized pieces
Kosher salt and ground pepper for seasoning

4

garlic cloves, minced

1

32 oz carton unsalted chicken stock, plus more if needed while boiling

2½ cups

heavy cream

1

pound dried farfalle pasta

1½ tablespoons

Cajun seasoning blend

½ cup

shredded Parmesan cheese

1 cup

minced Italian parsley
---
Instructions
Season the chicken with salt and pepper and set aside. In a large cast iron dutch oven (or other heavy-bottomed pot) over medium high heat, add kielbasa sausage. Saute until sausage is lightly browned. Remove with a slotted spoon and set aside on a plate. Add the chicken and saute until cooked through, about 10 minutes. Remove chicken from the pot and set aside on the plate with the sausage.
Turn heat to high and add the garlic, chicken stock, heavy cream, pasta and Cajun seasoning blend. Bring to a simmer, reduce heat to low and cover the pot. Simmer for 15-20 minutes, stirring occasionally, until the pasta is al dente. You may notice that the liquid level gets low. Add ½ cup of chicken stock as needed.
Once pasta is tender and the sauce is thickened, remove the pot from the heat. Stir in Parmesan cheese and parsley. Garnish with more Cajun seasoning blend.
Prep Time:

10

Cook Time:

45

Category:

pasta

Method:

one-pot
Keywords: chicken, sausage, pasta, one-pot