I would like to think of this banana cake as the ideal after school treat. Whip it together in the morning before I clean up the kitchen from breakfast and let it cool during the day. As it sits and cools, I would set out the cream cheese and butter to softened. Then right before everyone gets home, put the frosting together. Then my kids gather around the table to tell me about their great day at school.
Wait, what am I saying? None of this is going to happen the way I am dreaming it up. I will make this cake in a fit of stress and not tell my kids I made it so I can have the first couple pieces to myself. And they won't tell me about their great day at school. I will cheerfully ask, "How was school?" And they will respond with a mumbled, "fine" and that will be it. Reality sucks man.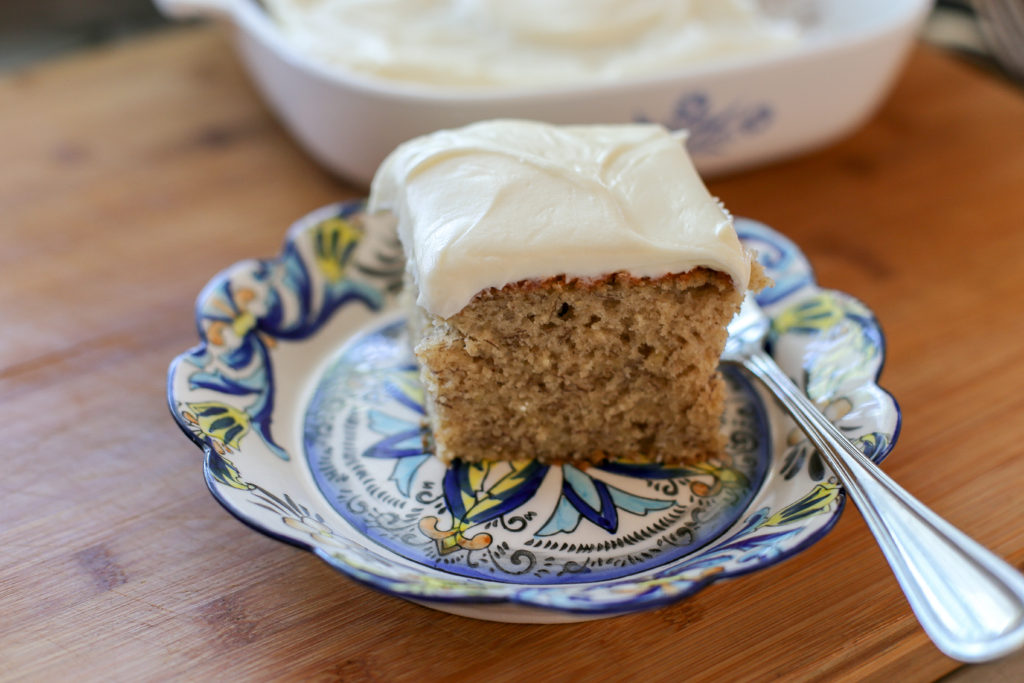 Banana CAKE instead of the usual banana bread
I made this initially needing a new way to use spent bananas. I can always make banana bread, but banana cake is definitely more fun. And cake means frosting and frosting means happiness. So it had to be cake. I didn't add any chocolate chips or nuts, like I normally would to banana bread. This is just pure banana flavor. Well, not exactly. I did add cinnamon and nutmeg. They are the perfect pairing for bananas. Once this cake was made and being enjoyed, my middle child said he liked it because it didn't have any nuts in it. So I guess that was a good move.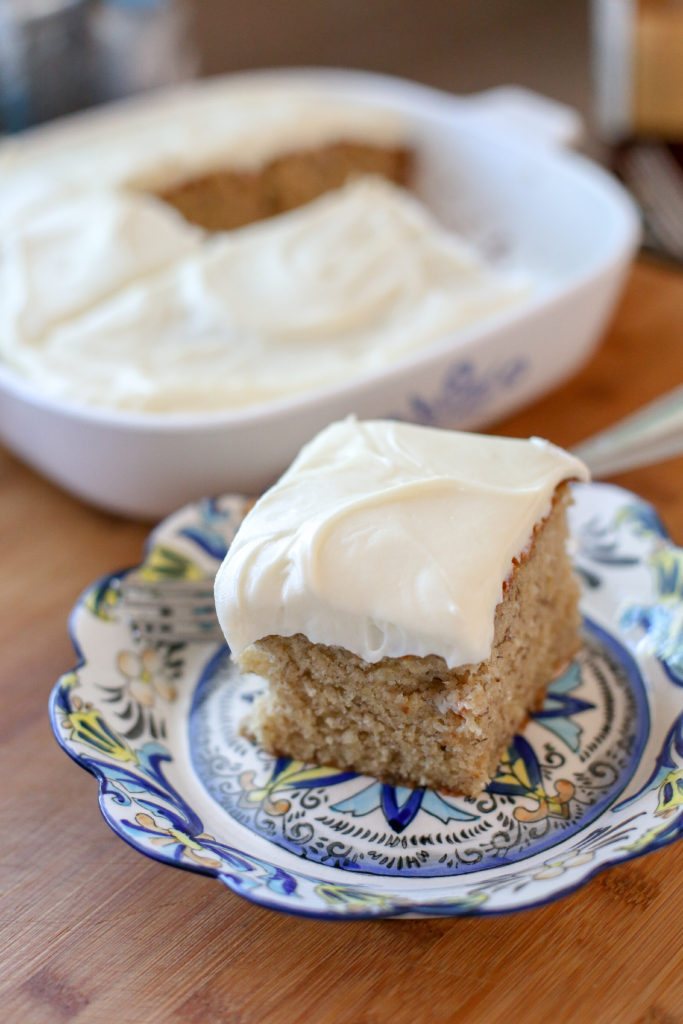 Notes on preparation
If you have a couple overly-ripe bananas on your counter top and you don't want to bake just yet, you can freezer them, peel and all. Just put them in a zip-top bag and once you are ready to use them, put them in the microwave for 30 seconds or so, just enough time to get the peels off. Mash them up and you are set to go.
Speaking of mashing the bananas, don't dirty an extra bowl. Just mash the bananas in the mixing bowl. It was a "duh doi" moment for me when I started doing that with banana baked goods.
I might not have added nuts or chocolate chips, but you are more than welcome to. I would go with 1/2 cup amount of whatever you want to add. If I was to add chocolate chips, I would go with mini ones. And if I went with nuts, I would go with chopped pecans. Both would taste amazing too. What about some shredded coconut??? Hmmm…
Could we do this as a staked cake? For sure. Double the recipe and do two round cake pans. And double the frosting too. The regular amount of frosting is actually more than enough for the 8×8 size, but I am sure you have some graham crackers in your pantry that you could use to finish up eating that frosting. I trust you.
Per the usual, shoot me a message if you have questions.
Banana Snack Cake with Cream Cheese Frosting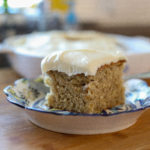 Print This
Ingredients
2 cups all-purpose flour

1 teaspoon baking soda

1 teaspoon cinnamon

1/2 teaspoon nutmeg

1/2 teaspoon salt

2 overly-ripe bananas

1 1/4 cup granulated sugar

1/2 cup vegetable oil

2 eggs

1 1/2 teaspoon pure vanilla extract

1/2 cup buttermilk

For the frosting:

6 ounces cream cheese, softened

1/2 cup unsalted butter, softened

1 teaspoons pure vanilla extract

2 1/2 cups powdered sugar
Instructions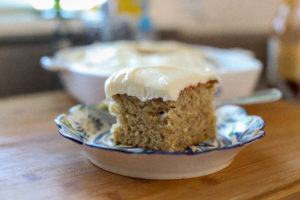 Set oven to 350 degrees F. Spray an 8×8 inch baking pan with non-stick spray and set aside.
In a medium bowl, combine flour, baking soda, cinnamon, nutmeg and salt. Whisk well to combine and set aside.
In the bowl of a mixer, add the bananas and mash with a fork until smooth. Add sugar, vegetable oil, eggs and vanilla. Mix on medium speed until smooth and incorporated.
Add the flour mixture in three additions, alternating with the buttermilk. Mix until well combined.
Pour batter into the prepared pan and bake for 45-50 minutes, or until an inserted toothpick comes out clean.
Allow cake to cool completely. Once cooled, combine all ingredients for the frosting and mix with a hand mixer. Spread frosting over the cooled cake, using the back of a spoon to create swirls.