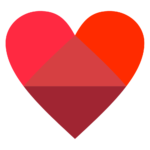 Much like I can't eat soup in the summer, I don't feel like I can have curry anytime but fall and winter. The way it warms you up from the inside out just feels so cozy. I am always looking for ways to use curry paste, mostly because one little container goes so far. This yellow curry chicken sheet pan dinner combines the comfort of curry with the ease of a weeknight meal.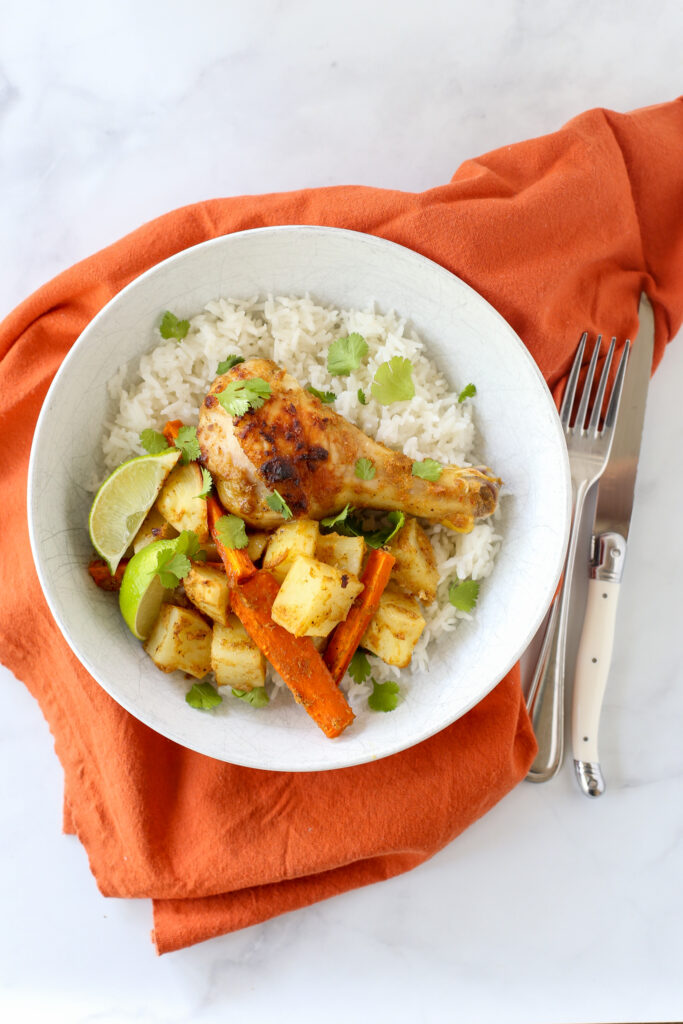 Tales of curry past
A number of years ago, I traveled to Belgium to visit my sister who was living there. We met up with some mutual friends and went to a restaurant in Gent called Amadeus. They are known for their ribs, which were in fact incredible. The whole time I was there, I kept thinking of how much my husband would like it. Besides the ribs, they are also known for these baked potatoes smothered in a whipped curry butter.
I did a little internet searching and did find a few people that have tried to recreate this butter. This Youtube video seems to be pretty dang close. I think I will give it a try in the next couple weeks. It looks easy and SO delicious.
A big shout out to my Belgium friends Joke, Gary, Sophie and Arnaud ?
Is your freezer packed full too?
During the spring months of COVID-19 quarantine, my husband and I packed our freezer full of meat. Everything from chicken thighs to ham steaks to prepared meatballs. And I have now gotten to the point where I need to start using it all in earnest. Although I was very comforted by listening to an "Every Little Thing" podcast episode on frozen food and how long is lasts. Good news- pretty much forever.
Chicken legs and thighs are great for all kinds of things from chicken stock to braising and roasting. I do roasted chicken legs a lot around here. My kids especially like when I bread them in something like Ritz cracker crumbs or panko breadcrumbs. I have been wanting to do something with chicken legs and thighs that was a paste. So this yellow curry chicken sheet pan dinner answered the call.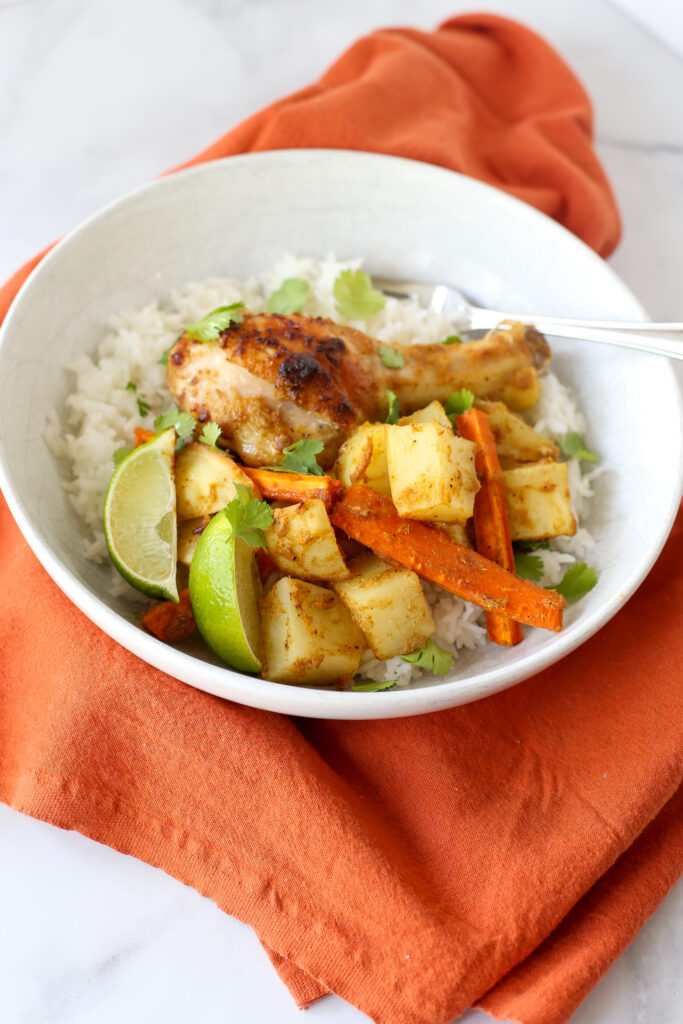 Ingredient rundown
The ingredients for this yellow curry chicken sheet pan dinner are simple. If you make curry in your home on occasion, you likely have all the ingredients on hand right now.
Chicken legs and thighs
Having a mix of both isn't neccesary. You can do this with all of either. It won't change the cooking time or the requied internal temperature for doneness.
Potatoes
I used peeled russet potatoes for this, but you are welcome to do any other kind. I think some sweet potatoes would be so good with this.
Carrots
Right now is when the grocery store is putting out some giant carrots. So I used three carrots, but you may want to use more. You could also use baby carrots instead and just forgo peeling and chopping.
Yellow curry paste
This is where the recipe could trip you up a bit. Brands of curry paste vary in spiciness. I would start with 2 tablespoons of curry paste when you are mixing everything together and see where you're at. If it isn't on fire, go ahead and add more. Here is a link to the yellow curry paste I use. Funny story about that- one time I ordered the paste on Amazon and bulk box of those little Tinkle eyebrow razors came instead. Pretty much 100% not yellow curry paste.
Could you use a different kind of curry paste? Of course. Massaman would be my next choice.
Coconut milk
We aren't using any special kind of coconut milk. Just the plain regular stuff you probably have in your pantry right now.
Brown sugar
The brown sugar helps bring out the sweetness of the coconut milk. We are going for full flavors here.
Salt
Again, different brands of curry paste are going to have different amounts of salt. Mine was a little more on the salty side. So be sure to start small with the salt and taste as you go.
Coconut oil
I add coconut oil because if I learned anything from Samin, it's that fat is a carrier of flavor. Coconut oil is also going to help our chicken brown up nicely.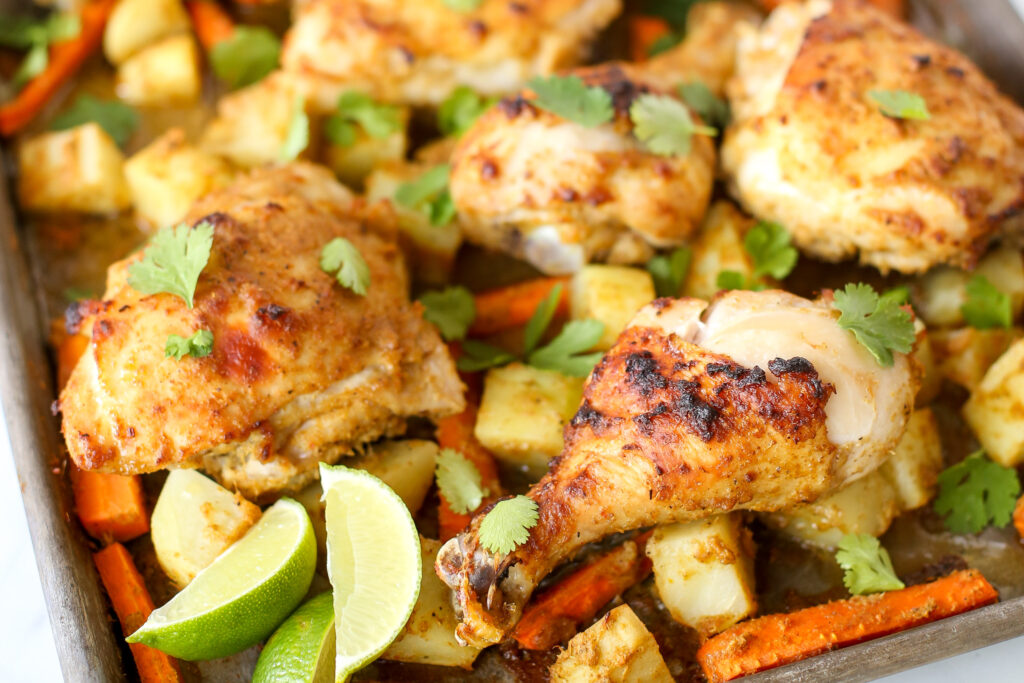 Notes on preparation
This is definitely a thing you can prep in the morning and bake off at night. Combine everything in a zip top bag, pour the mixed up sauce and leave it in the fridge. Dump it all out on a baking sheet at dinner time and boom done.
For sure serve this with some rice. Duh.
Print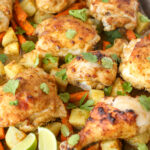 Yellow Curry Chicken Sheet Pan Dinner
---
Description
Warm and spiced, this yellow curry chicken sheet pan dinner is quick to put together and made with simple ingredients.
---
8

bone-in chicken thighs and legs

3

russet potatoes, peeled and chopped

3

carrots, peeled and sliced lengthwise

2 tablespoons

yellow curry paste, (add more if needed)

½ cup

coconut milk

1 tablespoon

brown sugar

1 tablespoon

coconut oil

½ teaspoon

kosher salt
---
Instructions
Set oven to 450 degrees F. Spray a rimmed baking sheet with non-stick spray. Add chicken, potatoes and carrots.
In a medium bowl, add curry paste, coconut milk, brown sugar, coconut oil and salt. Whisk well. Taste and add more curry paste or salt as needed.
Pour curry mixture over the chicken and vegetables. With your hands, rub the mixture over everything, being sure it is coated.
Bake at 450 degrees for 35 minutes, or until an inserted thermometer reaches 165 degrees F. Serve chicken and vegetables with rice.
Prep Time:

10 minutes

Cook Time:

35 minutes

Category:

Dinner
Keywords: Chicken, Curry, One pot, Sheet Pan Meal