Remember how I have talked about the food fights my husband and I get in? We both cook, him for a living, me out of habit. We often disagree about how to make certain dishes. Like with these smashed potatoes I posted. And creamed corn is something we disagree on too. I think my jalapeño creamed corn is better. His is too sweet for me. I will say that I am at a real disadvantage because my husband has made creamed corn for literally thousands of people and everyone loves it. I have made creamed corn for like 10 people. So I don't have that much credibility. But I swear mine is better! I think it is the jalapeno.
All the flavor is in the veg
I think it is easy to forget that vegetables are the key to good flavor. Anyone that has had homegrown vegetables know that intimately. The grocery store tomatoes are nothing compared to the ones from my backyard. If you use jalapeño, whether homegrown or grocery store, you are going to get another element of flavor you wouldn't get otherwise. Afraid of jalapeño? Just be sure to scrape out all the seeds and membranes. I like to use a spoon to do that. It gets everything out easily and that's where all the heat is in a pepper.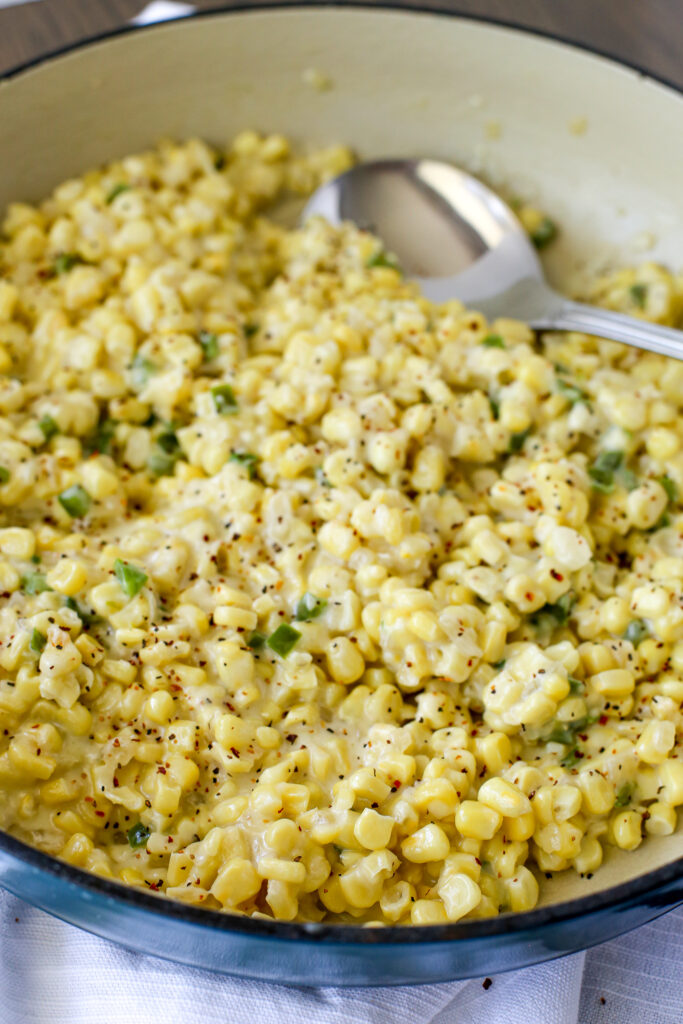 Frequently Asked Questions
Can I use canned corn for creamed corn?
Absolutely. I just have frozen corn in the freezer all the time, so that is what I use. If you have a few cans of corn rolling around in your pantry, use that. Instead of 4 cups of corn, do three 15 ounce cans.
Can I use cornstarch to thicken creamed corn?
Sure can! You will add it after the milk and cream go in. If you just sprinkle it on like you do with the flour, it will clump up and that's super gross. Instead, add the milk and cream, but set aside 2 tablespoons of the milk and combine that with 1 tablespoon of cornstarch in a little bowl. Then pour it in while stirring the creamed corn constantly. Things will thicken up nicely.
How much sugar should I add to creamed corn?
I don't add sugar to my jalapeno creamed corn, but you definitely can. I would start small. Once you have added the milk and cream and things are thickened up, add a tablespoon of granulated sugar and then taste it. If you aren't satisfied with that, then add another tablespoon. Just taste as you go. You can add sugar, but you can't take it out.
Print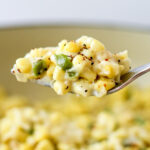 Jalapeno Creamed Corn
---
Description
Jalapeno creamed corn is just what you want out of a sweet corn side dish. Crisp corn, creamy sauce, lots of flavor and supremely easy.
---
1/4 cup

butter

2

jalapeños, seeded and diced

1/2

sweet white onion, diced

3

garlic cloves, minced

1 teaspoon

kosher salt

1/2 teaspoon

ground pepper

4 cups

frozen corn

2 tablespoons

all-purpose flour

1/2 cup

milk

1/4 cup

heavy cream
---
Instructions
In a large skillet over medium heat, add butter. Once the butter is melted, add jalapeño, onion, garlic, salt and pepper. Saute until vegetables are softened, about 10 minutes. While the vegetables sautéed, add the corn to a microwave-safe bowl and microwave for 5 minutes to defrost the corn.

Once the vegetables are softened, add the corn and mix well to combine. Sprinkle the flour on top and sautéed until the flour is absorbed and the flour smell is gone. Stir in the milk and cream. Stir until the mixture is thickened. Taste and add more seasoning as needed.
Prep Time:

10 minutes

Cook Time:

15 minutes

Category:

side dishes

Method:

stove top
Nutrition
Serving Size:

1 scoop

Calories:

171

Sugar:

6.7g

Sodium:

17.6g

Fat:

9.2g

Carbohydrates:

22.2g
Keywords: corn, creamed corn, jalapeno, side dish