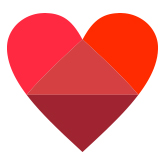 You just can't beat a solid, simple weeknight meal that doesn't require a lot of dishes, unique ingredients or special skills. It's just whole ingredients you can feel good about feeding your family. And it's delicious and you know they will grub down hard. This broccoli and kielbasa sausage rice skillet is just that. There are a few things everyone should keep in their freezer that makes simple weeknight meals a cinch. Here are my top favorites:
Stock your freezer
Cooked meats
1. Cooked pork shoulder- Almost every time I smoke or slow-cook a pork shoulder, I have leftovers. Instead of letting them get stuck in the back of the fridge, I bag it up, label it and put it in the freezer. The pork can be used for tacos, BBQ pork sandwiches, pasta or a rice skillet like this.
2. Kielbasa sausage. This tip comes from my mom. She has often said, "If you have a kielbasa, you have a meal." Kielbasa defrost quickly and can be added to just about anything. You can make a rice skillet like this, scrambled eggs, buttered egg noodles with kielbasa and go with me on this- dipped in BBQ sauce and grilled. It's a revelation.
3. Taco filling. This can be ground beef, ground turkey, chopped chicken thigh, carne asada- whatever it is, you're going to be stoked when you are trying to nail down a simple weeknight meal at that last minute. Once again, make double when you are doing taco night and you can freezer the leftovers. It can be used for tacos, yes, but what about nachos??? See? Simple weeknight meal.
Sauces
4. Bolognese or marinara. Next time you make pasta sauce, make a double batch to go for a simple weeknight meal. You won't be sorry. It can be used not just with pasta but you can make lasagna or simmer it in a skillet and then crack a couple eggs in it and let them cook under the broiler. Serve that with the crusty bread (found in the freezer of course) and you've got a dandy meal.
Grains
5. Cooked rice. I seem to always have leftover rice whenever we have steamed rice with our dinner. I like to save it in freezer bags and use it later for a rice skillet like this or fried rice. In fact, fried rice isn't good unless the rice is leftover. The grains can separate better and take on flavors better. It's actually every Chinese restaurants trick. They are using day-old rice for all their fried rice and charging a premium for it. Smart, eh? To take your rice to the next level, cook it in chicken stock.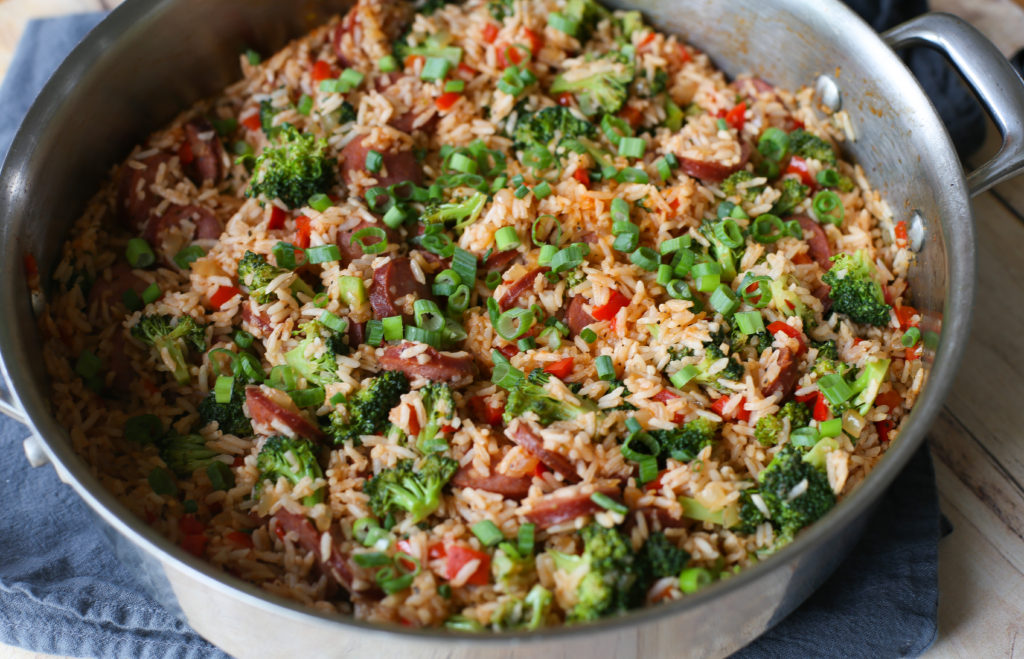 Nothing beats a meal from freezer ingredients
This broccoli and kielbasa sausage rice skillet is a great freezer stock meal. If you have the leftover rice and a kielbasa, you're golden. Go a step further and have some frozen broccoli. This recipe is really flexible. If you don't have quite enough rice, no problem. If you have some leftover marinara in the refrigerator, use that instead of cracking open a new can of tomato sauce. No smoked sausage or kielbasa, use some of that shredded rotisserie chicken that's sitting in the fridge. Or no meat at all and add some more vegetables like cauliflower or green beans. Just use this recipe as a blue print and work with what you have.
Print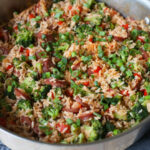 Broccoli and Kielbasa Sausage Rice Skillet
---
Description
This broccoli and kielbasa sausage rice skillet can be made with ingredients from your freezer. It's a great way to use stuff that might get forgotten about in the back of the chill chest!
---
1

14 ounce package kielbasa sausage, sliced thinly

2 tablespoons

unsalted butter

1

yellow onion, diced

1

red bell pepper, diced

1 teaspoon

kosher salt

1 teaspoon

ground pepper

1 1/2 teaspoon

dried oregano

4 cups

broccoli florets, cut into smaller florets

1 cup

chicken or vegetable stock

4 cups

cooked long-grain white rice

¾ cup

canned tomato sauce

¼ cup

diced green onion
---
Instructions
In a large skillet over medium high heat, add sausage. Saute until lightly browned, about 10 minutes. Transfer to a plate, leaving any rendered fat in the pan and set aside. In the same skillet, add butter. Once the butter is melted, add onion, bell pepper, salt, pepper and oregano. Saute until vegetables are softened, about 10 minutes.
Add broccoli and chicken stock and cover. Simmer for 10 minutes, until the broccoli is tender.
Add rice, tomato sauce and sausage and turn off heat. Stir to combine well. Garnish with green onion and serve.
Prep Time:

10

Cook Time:

30

Category:

Pork
Keywords: broccoli, skillet dinner, kielbasa sausage