I feel like I don't have enough recipes that use chicken breast. Like I have the usual chicken tacos and chicken soup, but I need to get reacquaint with making a simple whole chicken breast. How do we make boring chicken more exciting? Well, adding bacon is a good start. This maple mustard bacon-wrapped chicken has me all excited about chicken breast. And my family too.
How to make maple mustard bacon-wrapped chicken
There was some trial and error in making this recipe. One error I made was using thick cut bacon. That is a no-no. Why? It doesn't get as crisp. You can definitely use whatever bacon you have, but I recommend the thinner cut bacon.
Another error I made is having my teenage son clean up dinner and put away leftovers. He picked off the bacon on the leftover chicken and ate it. So pro tip: Don't let your teenage son be on clean up duty when you make this dish.
Whole grain mustard
Mustard is a complimentary flavor to maple syrup. Maple syrup is all sweet and mustard is tangy. Pairing it with smokey bacon is even better. If you do not have whole grain mustard, you can use dijon. But I wouldn't use yellow mustard.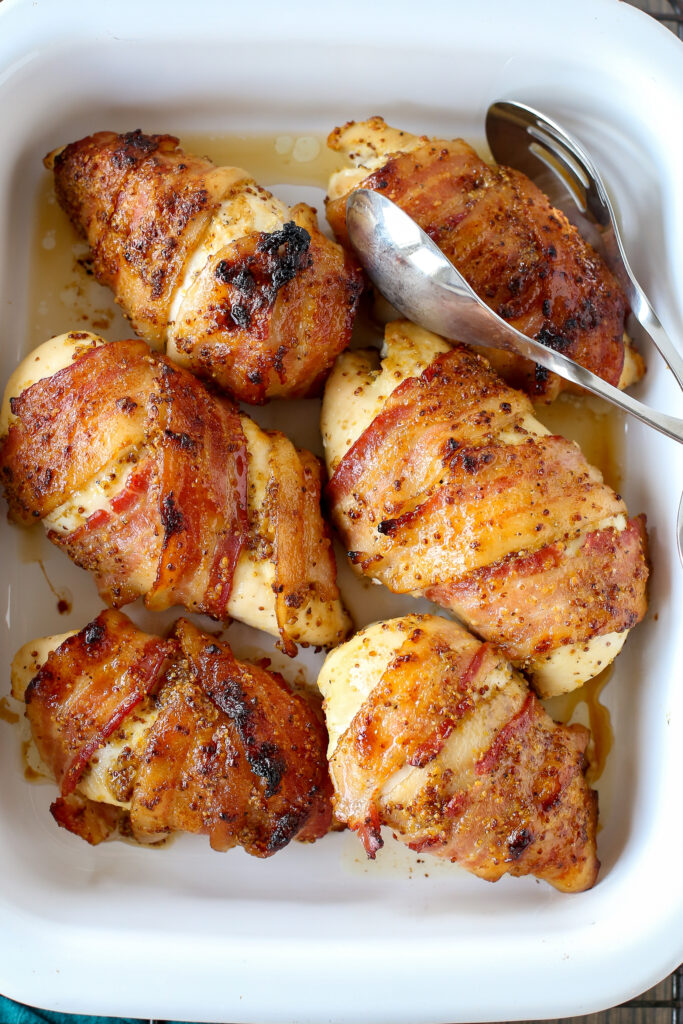 Pure maple syrup
There really isn't anything that compares to pure maple syrup. The flavor is some how sweet and caramely and smokey all at the same time. If you don't have any pure maple syrup, I get it. The stuff is expensive. When it comes to mornings of pancakes or waffles, I will pull out the cheap syrup. I save the pure stuff for recipes like this.
Chicken breast
I really do quite prefer to use chicken thigh most of the time. It has much better flavor and doesn't get tough like chicken breast can. And it really isn't all the different in terms of nutritional value. But like I said, I want to have a better relationship with chicken breast.
My feelings about cooking chicken breast are not to go low and slow. There isn't enough fat in chicken for the low and slow method to make it not dry. Think about the low and slow meats- they are beef and pork. And those are much higher in fat than chicken. The longer chicken cooks, the weirder the texture gets, at least in my opinion. So I cook chicken breasts at a higher temp for a shorter amount of time, just until it reaches 165 degrees F.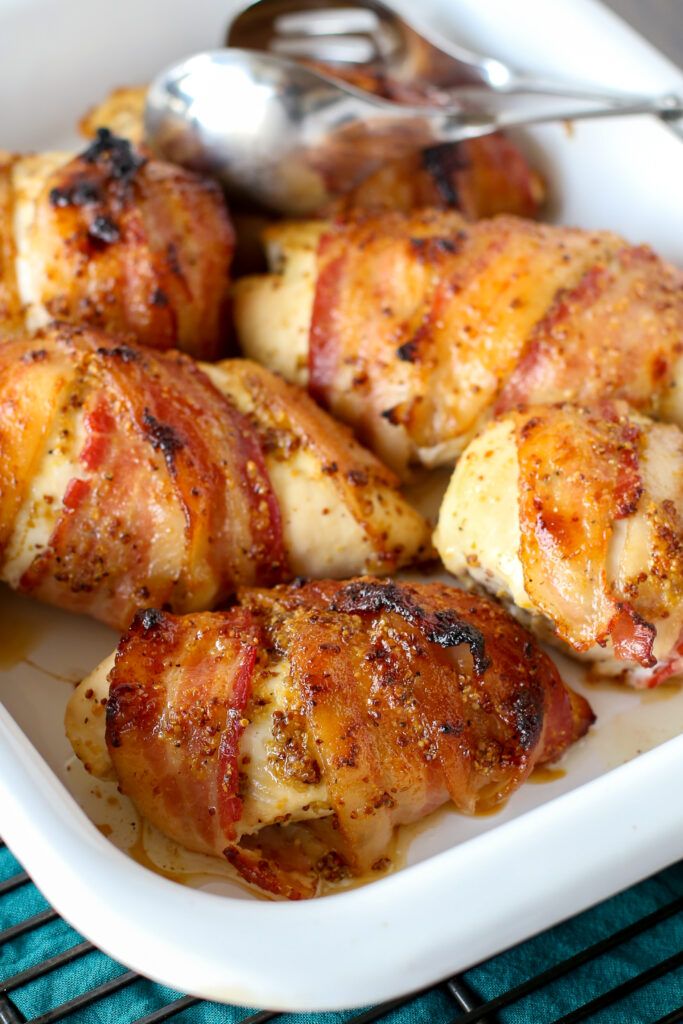 Bacon
I like to keep the packs of Costco thick-cut bacon in my freezer. The render more fat and I like to saute aromatics in bacon fat. In this situation, maple mustard bacon-wrapped chicken is much better with thinner bacon. It stretches better wrapped around the chicken. And it also crisps up better.
Print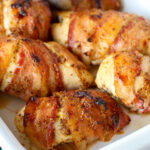 Maple Mustard Bacon-Wrapped Chicken
---
Description
Lots of adjectives going on with this chicken. Maple mustard bacon-wrapped chicken. Juicy, sticky, sweet, savory & perfect to the last bite!
---
1/4 cup

whole grain mustard

1/4 cup

pure maple syrup

1/2 teaspoon

kosher salt

1/2 teaspoon

ground pepper

1/2 teaspoon

garlic powder

6

chicken breasts

12

pieces thin-cut bacon
---
Instructions
Set oven to 425 degrees F. Spray a rimmed baking sheet with non-stick spray.
In a shallow dish, like a pie plate, add mustard, maple syrup, salt, pepper and garlic powder. Whisk together.
Dip each chicken breast in the mustard mixture, coating each side. Wrap each one in 2 pieces of bacon. Set the chicken breasts on the baking sheet with the bacon piece ends underneath.
Using a basting brush, brush the remaining mustard mixture on the top of each bacon-wrapped chicken breast.
Bake chicken for 35-40 minutes, or until an inserted thermometer reaches 165 degrees F.
Prep Time:

10

Cook Time:

40

Category:

chicken

Method:

oven-baked