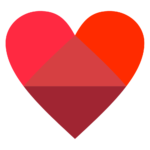 Apparently it is impossible to make good buttermilk biscuits if you don't live in the south. Well sorry, not sorry- I make a bangin' buttermilk biscuit. And with this dish, I top the biscuits with a luscious chicken gravy full of vegetables and shredded chicken. No canned cream of chicken soup or canned chicken here. More than anything, I cook stuff like this from scratch because I don't have space to store convenience foods in my little kitchen. So if I buy a quart of cream, it can go for all kinds of dishes, from chicken and biscuits to whipped cream on top of waffles.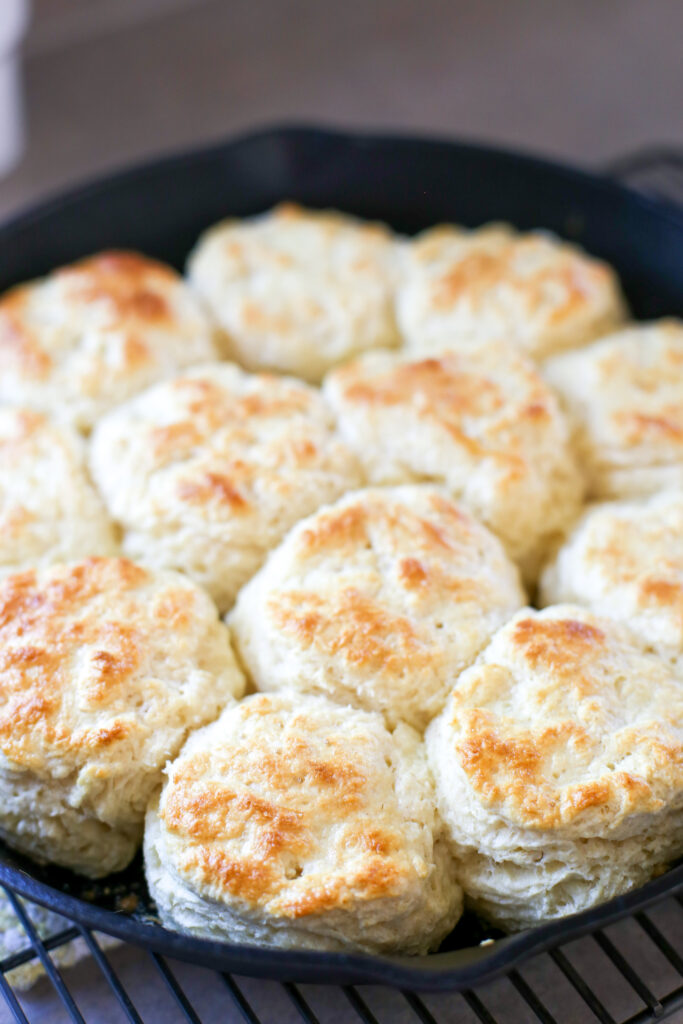 I never knew chicken and biscuits were a thing
A couple years ago, I hosted some LDS missionaries for dinner. I made biscuits and bbq chicken. One of the missionaries was from Tennessee and he said the biscuits were as good as his grandma's when she makes chicken and biscuits. I had never heard of chicken and biscuits. I did some Google searching and found out it's just chicken gravy over buttermilk biscuits. Simple enough.
I knew a dish like that would be a hit with my family. My husband and kids like anything that has to do with carbs and chicken. Chicken pot pie, chicken noodle soup, chicken noodle casserole and this chicken and biscuits.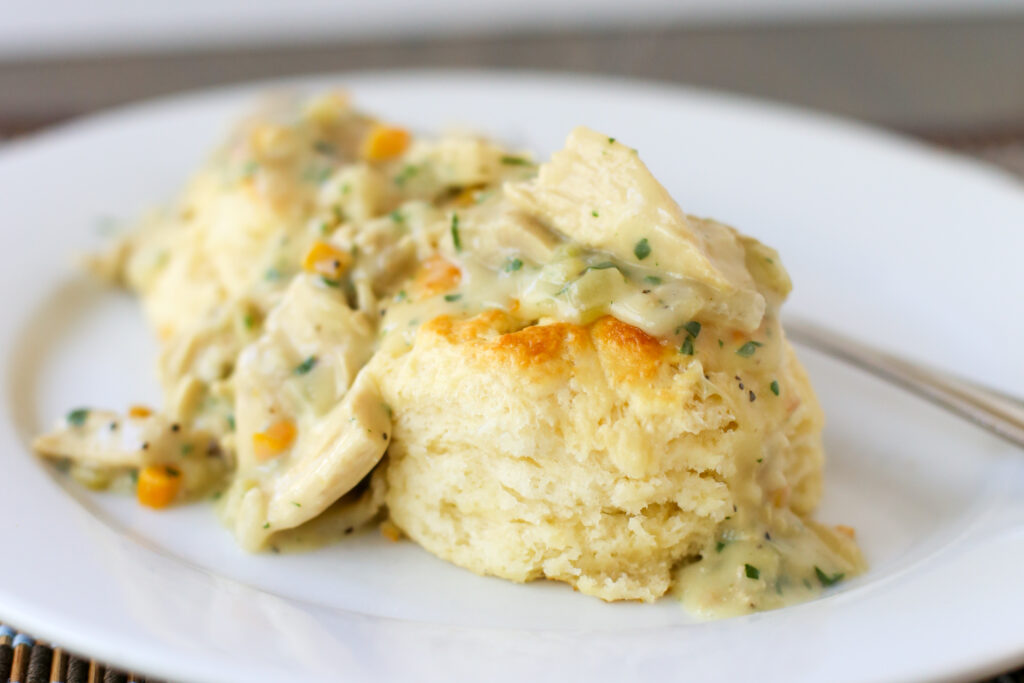 Vegetables mean flavor
Too often, people forget that vegetables aren't just used for nutrients. They are where a lot of our favorite foods get their flavor. This is why people are obsessed with fresh vegetables. The most flavor in a vegetables life is when it is fresh from the garden. This is why garden-fresh tomatoes are as orgasmic as they are.
For the chicken gravy in this dish, I do a basic mire poix. Carrots, onions and celery. And of course garlic. These vegetables create a lot of flavor because they are sauteed in butter before being made into a gravy. The sauteeing part cooks out moisture from the veggies, thus concentrating their flavor. Try an experiment. Eat a raw carrot. It's crunchy and sweet. Now saute up some carrots until they are soft and then eat those. It will be a more concentrated carroty flavor and it will be sweeter. Sauteeing allows all vegetables to reach their peak flavor.
Taking stock
Have you ever made your own chicken stock? No worries if you haven't. The grocery store can provide you with totally great chicken stock. I like the Kitchen Basic's chicken stock. Occasionally I will make chicken stock and store it in the freezer. It's great for a dish like this. On top of using chicken stock in this recipe, I also use some chicken base. I like the Better than Bouillon brand. A spoonful of that in just about any dish is a good idea. For example, I added a spoonful to some creamy pesto pasta sauce and it was next-level good.
Notes on preparation
Don't have time to make your own buttermilk biscuits? Don't stress. Grab a can of the Pillsbury ones at the grocery store and feel good about it. You are feeding your family either way. Everyone wins.
You can forgo the heavy cream in this recipe if you would like. It is still good without it.
Print
Chicken and Biscuits
---
Description
Chicken and biscuits is comfort food defined. Rich chicken gravy over perfect buttermilk biscuits. Everyone will be gobbling it up before you know it!
---
For the gravy
¼ cup

unsalted butter

½

yellow onion, diced

2

carrots, peeled and diced

2

celery stalks, diced

3

garlic cloves, minced

1 teaspoon

kosher salt

½ teaspoon

ground pepper

½ teaspoon

dried sage

3 cups

shredded chicken

⅓ cup

all-purpose flour

2½ cups

chicken stock

¼ cup

heavy cream
a small handful chopped fresh parsley
For the biscuits
2 cups

all-purpose flour

1 tablespoon

baking powder

¼ teaspoon

baking soda

½ teaspoon

salt

6 tablespoons

cold unsalted butter, sliced thin

1 cup

buttermilk
---
Instructions
In a large skillet over medium high heat, add butter. Once the butter is melted, add all vegetables, salt, pepper and sage. Saute until vegetables are softened, about 10 minutes. Add shredded chicken and stir well until warmed through. Sprinkle flour on top and stir well, sauteeing until the flour smell is gone, about 5 minutes. Add chicken stock, cream and parsley. Reduce heat to medium, stirring occasionally. Allow to simmer while you prepare the biscuits.
Set oven to 450 degrees F. Spray a baking sheet with non-stick spray and set aside. In a large mixing bowl, add flour, baking powder, baking soda and salt. Whisk until well combined. Add cold butter and work into the flour using a pastry blender or two butter knives. Blend with pastry blender until butter is like small pebbles. Add buttermilk and mix well with a wooden spoon.
On your work surface, sprinkle a small amount of flour. Dump the dough out onto the flour and top with a little more flour. Gently pat the dough down flat and then fold in half and pat down again. Do one more fold over and then pat the dough out to a 1 inch-thick circle. Use more flour to keep the dough from sticking if needed.
Cut out circles with a biscuit cutter or small drinking glass and place in cast iron skillet. Make sure the sides of the biscuits are touching. Continue reforming the dough into a 1 inch-thick circle until all the dough is used up. There should be approximately 8 biscuits. Bake biscuits for 10-12 minutes, until the tops are lightly browned.
Serve chicken gravy over biscuits.
Prep Time:

20 minutes

Cook Time:

25 minutes

Category:

chicken
Keywords: chicken, biscuits, comfort food