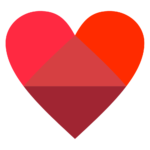 These chicken stir-fry lettuce wraps is one that is from the days of the Martha Stewart Everyday Food Magazine. I know I am not the only person who misses those little magazines in the grocery store check out. They were a classic. The magazine isn't printed anymore, but oddly enough, you can buy them on eBay. I have had a few scrolling nights on my phone and have almost bought some. The recipes were simple, but used whole ingredients. Some of the recipes are still in my rotation and this recipe is one of them.
Lettuce wraps are something my family has always liked. I either make these with thin strips of chicken breast or I make them with ground turkey. In past years when my kids were young and had little hands that struggled with a lettuce wrap, I would just serve the lettuce wrap filling in a bowl with rice. Then they could have some lettuce leaves as practice. I still serve lettuce wraps with rice. And my husband has showed my kids how he grew up eating rice- buttered with salt, pepper and a little bit of soy sauce.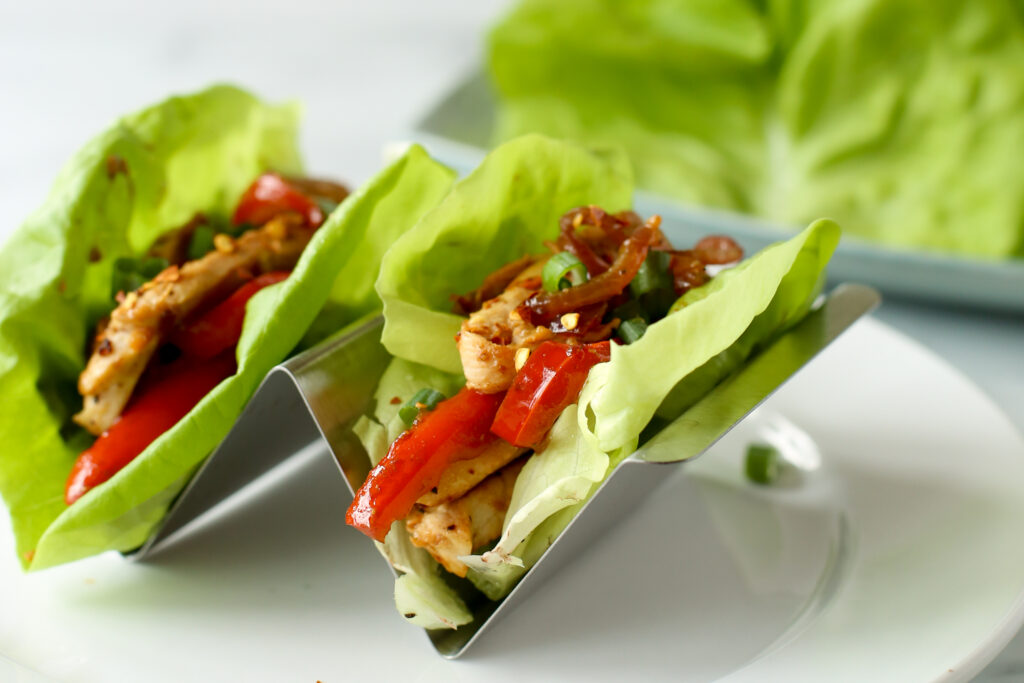 Let's get to talking about what goes into making these chicken stir-fry lettuce wraps.
Chicken breast
You can use either boneless skinless chicken breast or chicken thigh. The only real difference is going to be in texture. Chicken thigh is more tender and can stand up to being overcooked a little. Which sidenote: chicken thigh gets a bad wrap for no good reason. It is still a great source of protein, low in calories and very versatile. GIVE CHICKEN THIGH A CHANCE.
The recipe is calling for 1 1/2 pounds or so of chicken. For me, that's usually 2 big chicken boobs. A little more or a little less won't change anything. If you are feeling extra adventurous, some thinly sliced beef, like ribeye or sirloin would be lovely too.
Sliced onion and bell pepper
My middle child is a real stinker about onions. He gets it from his rotten father. To get him to eat onion, really the both of them, I have to cook the crap out of them. I do this without burning them by deglazing the pan often. The peppers are going to take longer to cook than the onions. The solution is to deglaze the pan once the pan starts to brown too much before the onions are ready. Just a splash of water and that will rehydrate the onions enough to keep them cooking. So as you cook the onions and peppers and you notice the bottom of the pan getting a little too dark, just add a splash of water and it will almost start the cooking process over.
Garlic and ginger
I am a little heavy-handed with garlic and ginger. I wrote a cookbook a number of years ago (you can find her on Amazon), and in the testing of the recipes, I realized I use a lot of garlic. The comments from the people testing the recipes was "a little too much garlic in the sauce" or "the garlic made this a little too spicy for my kids". And I was like "Wait, not everyone wants to use 6 cloves of garlic per person?" I learned to tone myself down.
Whenever I write a recipe and say to use 2 cloves are garlic, just know that I am using triple that. And the same goes for ginger. Ginger and garlic are too good to go light on. Put that on a bumper sticker.
Soy sauce and rice vinegar
In my other lettuce wrap recipe on this here blog, I use hoisin sauce, so it is a little bit on the sweet side. For these lettuce wraps, no sweet, only savory. We use soy sauce and rice vinegar. It is equal parts, which makes it easy to double the recipe if you are looking for something more saucy.
Cornstarch
To get the sauce to coat everything nicely, we use cornstarch to thicken it just right. It works everytime.
Butter lettuce
The best lettuce for chicken stir-fry lettuce wraps is butter lettuce. It's the one that comes in the plastic box at the grocery store. It is the perfect shape and size and it is so deliciously soft. I usually need two heads when I feed this to my family.
Print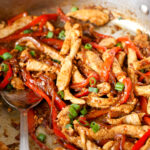 Chicken Stir-Fry Lettuce Wraps
---
Description
A quick and easy weeknight recipe that will quickly become a staple.
---
2 tablespoons

olive oil

1½

pounds chicken breast, sliced into thin strips

1 teaspoon

kosher salt

½ teaspoon

ground pepper

1

red onion, thinly sliced

1

red bell pepper, thinly sliced

2

garlic cloves, minced

1 tablespoon

minced ginger

½ teaspoon

crushed red pepper flakes

3 tablespoons

rice vinegar

3 tablespoons

soy sauce

1½ teaspoons

cornstarch

1 tablespoon

water

1

bunch green onions, diced

1

head butter lettuce, separated into individual leaves
---
Instructions
In a large skillet over medium-high heat, add olive oil. Once the oil is heated, add chicken, salt and pepper. Saute until chicken is cooked through. Transfer to a plate and set aside.
Add onion, peppers, garlic, ginger and crushed red pepper. Saute until vegetables are softened, about 10 minutes. Once vegetables are cooked, add rice vinegar and soy sauce. Stir well.
In a small bowl, combine cornstarch and water. Stir well and add to the pan, saute until chicken and vegetables are coated. Add green onion and serve chicken stir-fry in lettuce cups.
Prep Time:

10 minutes

Cook Time:

20 minutes

Category:

Dinner
Keywords: Chicken, lettuce wraps