It is always a tragedy when a restaurant closes because it usually means the recipes die along with it. One recipe I have been longing for is the Souplantation tuna tarragon salad. Remember Souplantation? I know it as that while in other parts of the country, it was Sweet Tomatoes. Souplantation became a victim to the Covid-19 pandemic. Really any buffet restaurant that survived it should get a gold medal. A buffet restaurant is enemy number one to a pandemic.
I haven't been to Souplantation since I lived in California over 12 years ago. And I still remember it really well. We lived in Rancho Cucamonga, CA, right on Route 66. Down the street from our house was a Souplantation. Many a dinners were spent there. It was there that I got my first well-behaved child compliment as a mother. I had a chubby, busy toddler parked in one of those wooden high chairs and I kept feeding him pasta, cucumbers and those little soup crackers all restaurants have. He was happy as can be. And a nice older woman came up to me and said he was such a good little boy. I almost exploded with pride.
Every trip to the salad bar included a scoop of Souplantation tuna tarragon salad. They used to have a variety of prepared pasta salads along the salad bar and I would go back for that tuna tarragon salad every time. It was three kinds of pasta dressed in a creamy tangy dressing with chopped celery and pickles throughout. It really is such an odd combination when you think about it, but man does it work.
Let's dive into the ingredient list.
Pasta
The recipes I found online for Souplantation tuna tarragon pasta called for three kinds of pasta. Shells, spinach fettuccine and penne pasta. That seemed a little overkill to me. I stuck with two kinds. I could have done all shells, but I like the green spinach fettuccine and how it makes the salad look. Finding it was tricky. I did have to go to a different grocery store than my usual one to find spinach fettuccine, but it wasn't a big deal. It was worth the effort to me.
Creamy stuff
To make this pasta salad creamy, we use both mayonnaise and sour cream. They do a great job bringing in flavor and the perfect creamy pasta salad texture we all love. I know people like to sub greek yogurt for sour cream. If that is your jive, do it.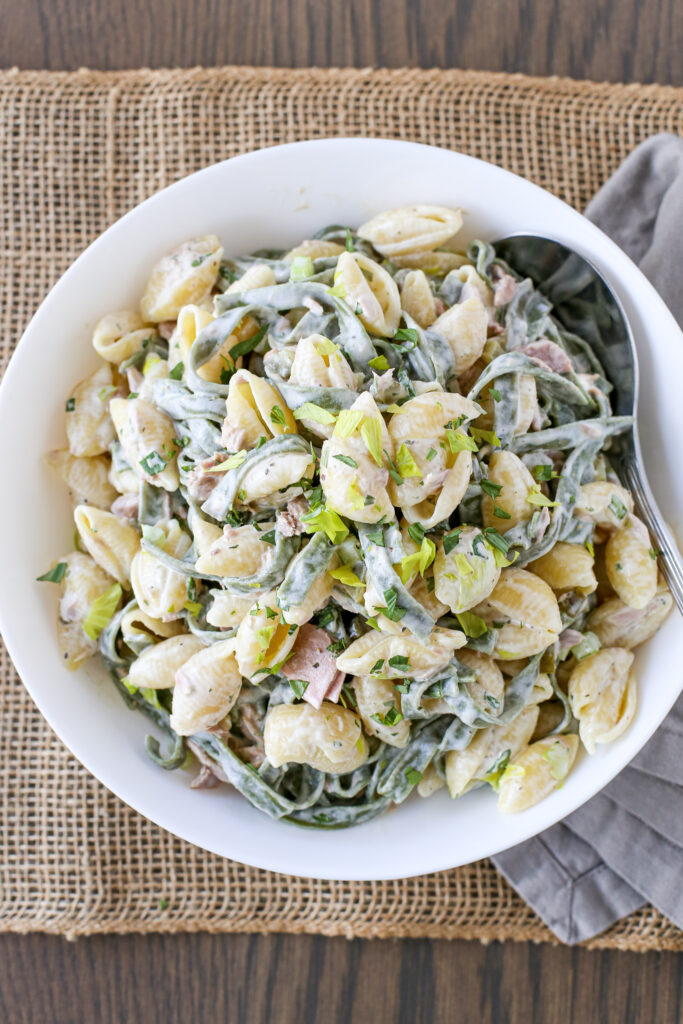 Sweet pickles
If you don't like sweet pickles, I am sorry. You won't like Souplantation tuna tarragon salad. I happen to love sweet pickles. Pickle sidenote: do you love the Famous Dave's Signature Spicy Pickles? I am obsessed. All of my sisters and my dad are too. And one night while watching TV, my sister spilled a whole jar of those pickles on her girlfriend. I bet that smell never comes out of their couch. Now while I love those pickles, they won't work in this recipe. Go buy a jar of just regular sweet pickles.
Celery
We love the celery in this because it adds crunch and texture. I also add leaves from the celery bunch because I love the flavor and the color. Don't waste celery leaves!
Tuna
So you don't like tuna? Fine. I forgive you. Try adding some chicken in this. Or just forgo any protein at all. It will still be great. I know the next time I make this, I am adding more tuna. I would add a whole extra can. It can handle more. And I love tuna.
Taste of yesteryear
Recreating the Souplantation tuna tarragon salad has been on my radar since I moved away from California. It feels so good to finally nail it down. The first bite I took once it was finished put the biggest smile on my face. It was the whole thing where my brain did the fast rewind and I was sitting in a booth with my husband and baby, eating at Souplantation when life seemed so simple. Good memories with good food. Rest in peace, Souplantation.
Print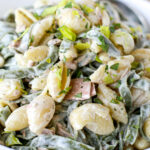 Souplantation Tuna Tarragon Salad
---
Description
Remember Souplantation? The pandemic permanently closed it, but you can still get your Souplantation tuna tarragon salad fix!
---
1

pound medium shell pasta

1/2

pound spinach fettuccine, broken into

2

inch pieces if possible

3/4 cup

mayonnaise

1/4 cup

sour cream

1/2 cup

sweet pickle juice

1 teaspoon

dried tarragon

1 teaspoon

kosher salt

1 teaspoon

ground pepper

1 cup

diced sweet pickles

1/2 cup

diced celery

1/4 cup

chopped celery leaves

1

6 ounce can tuna, drained
---
Instructions
Set a large pot of water to boil over high heat. Once boiling, add shell pasta. Boil, stirring occasionally, until pasta is cooked through and al dente, about 10 minutes. Using a small strainer, scoop out the cooked pasta and pour into a large mixing bowl, leaving the water in the pot. Add the spinach fettuccine and boil until cooked through and al dente, about 8 minutes. Drain pasta into a colander in the sink. Add fettuccine to the same mixing bowl. Set aside to cool.
In a medium bowl, combine mayonnaise, sour cream, pickle juice, tarragon, salt and pepper. Whisk well to combine. Pour over cooled pasta. Add diced pickles, celery, celery leaves and tuna, being sure to break up the tuna into smaller pieces.
Gently toss the pasta with a large spoon, being sure all the pasta is coated in the dressing. Serve immediately or chill.
Prep Time:

10

Cook Time:

20

Category:

pasta salad

Method:

stove-top
Keywords: tuna, tarragon, pasta salad