I am a salad girl through and through. I could eat some form of a salad for every meal. And if it has some kind grain or carb in it, even better. Quinoa is on deck for this salad. It makes it feel more like a meal than just a salad. Add some grilled vegetables and a tangy dressing and bingo. This dish also does great as a leftover or just sitting in the fridge as a lunchtime dish all week.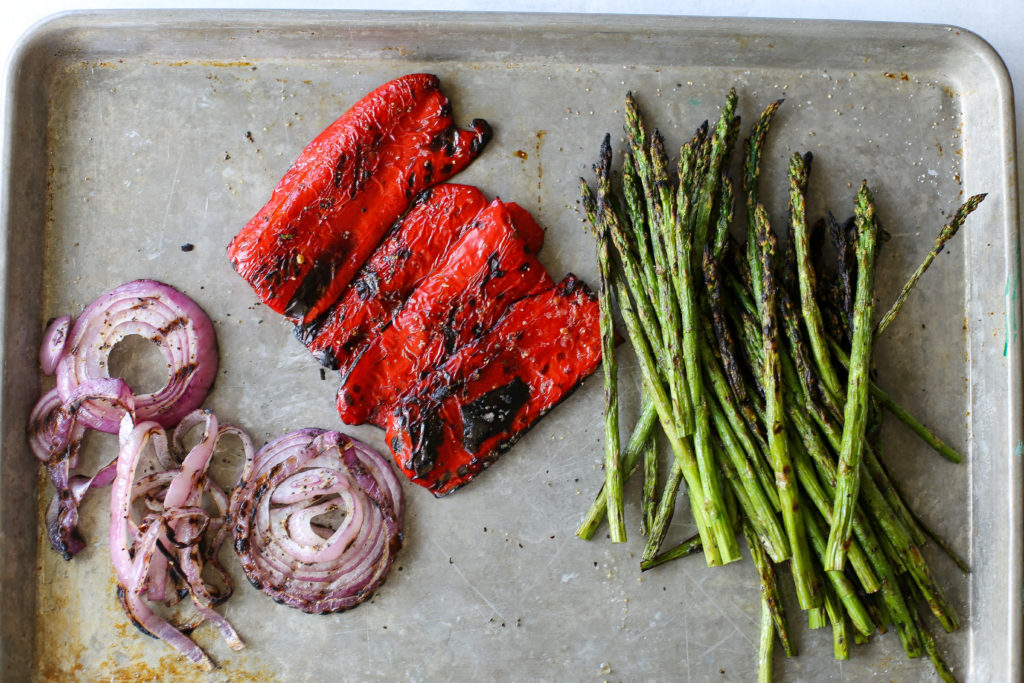 Which vegetables should I use?
This quinoa salad is definitely up for interpretation. You can change out the vegetables to whatever seems good at the moment. I used asparagus, red bell pepper and red onion. But some grilled zucchini, broccoli, green beans or even some cherry tomatoes. I have even added fresh spinach before. It's very friendly for whatever you have in the fridge.
What herbs should I use?
Once again, friendliest quinoa salad ever. Do you keep a herb garden? I only started to last summer in earnest. I sort of dabbled in the past, but last year I actually tended to it and it proved to be one of my better ways to spend my time. We were just so FRESH all summer. Sometime I will do a post on how to use fresh herbs in everything. But for now, we can talk salad dressing. In the recipe, it just says "mixed fresh herbs". That means anything goes. Sage, parsley, rosemary, thyme, basil, chives, oregano, dill, cilantro, mint (yes, I said mint), tarragon- whatever you either have in your garden or is on sale at the grocery store or farmers market. Here's a good list of fresh herbs to get you started. For this vinaigrette, I did sage, oregano, parsley and chives. But I can imagine anything else would taste amazing. You know, while you are at it, make double of the dressing and use it to marinate some chicken to grill for dinner.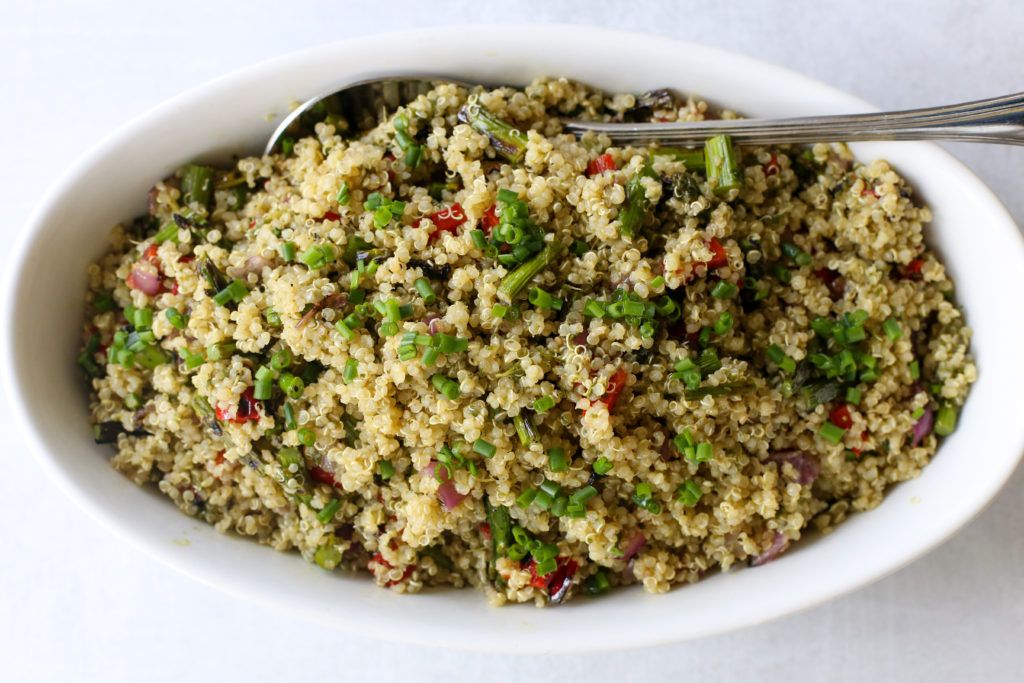 Quinoa for president!
In the past, I have thrown my support for quinoa in the ring, but I am going to do it again. Not only is quinoa delicious and super good for you, it also keeps really well in the fridge. So you can make a big batch and then throw it into whatever you are eating to make it more substantial and nutritious. Bonus points to you if you can get your kids to like it. Quinoa also takes on flavors like a champ. It's favorite food is salad dressing and it will drink it right up.
Tips for cooking quinoa
You can always cook quinoa on the stove top, but have you ever tried it in your rice cooker? My rice cooker has a "quick rice" setting and I use that for cooking quinoa. It's perfectly fluffy. You do not follow the usual measurements for cooking rice. Instead, you do one part quinoa to two parts liquid. And preferably you can use chicken or vegetable stock for your liquid. But water is fine too.
Feel ready to take on this quinoa salad? Good, let's get to the recipe!
Grilled Vegetable Quinoa Salad with Herb Vinaigrette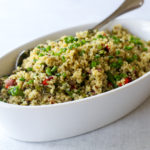 Print This
Ingredients
1/4 cup red wine vinegar

1/2 cup extra virgin olive oil

1/2 cup packed mixed fresh herbs

1 teaspoon kosher salt

1/2 teaspoon ground pepper

1 bunch asparagus, stems trimmed off

1 red bell pepper, cut into quarters, seeds and ribs removed

1/2 red onion, sliced into 1/2 inch thick slices

Extra virgin olive oil, for seasoning

Kosher salt and pepper, for seasoning

4 cups cooked quinoa
Instructions
In a blender, add vinegar, olive oil, herbs, salt and pepper. Blend until smooth and set aside.
Set grill to high. On a baking sheet, add all vegetables and toss with a few tablespoons of olive oil and a big pinch of both salt and pepper. Toss until the vegetables are all coated. Grill vegetables until softened and charred. Remove from grill and allow to cool. Chopp vegetables into bite-sized pieces and set aside.
In a large bowl, combine quinoa, vegetables and vinaigrette. Stir to combine. Serve cold or at room temperature.