How do you feel about a wedge salad? Are you a lover or a hater? I am a lover. This chipotle wedge salad is just what I have needed these days. I get tired of the usual mixed baby greens or chopped romaine. When eating healthy on purpose, its important to change it up or you will lose steam. I feel all kinds of excited that I brought wedge salad back into my life.
Like a virgin…
I remember the first wedge salad I ever had. It was at a restaurant in Glendora, California called Choppers. It was one of those little bistro-type places that is in a cute downtown area with tables outside along the sidewalk. Sadly, it went out of business. It almost makes me angry when small restaurants go under because the local community didn't support it. We all lose out when local businesses like that close.
At Choppers, the wedge salad was with ranch instead of blue cheese dressing. That is great for me because I don't like blue cheese. The Choppers wedge salad had cherry tomatoes, croutons and red onion. It was completely perfect. This chipotle wedge salad is a close second. Let's talk ingredients.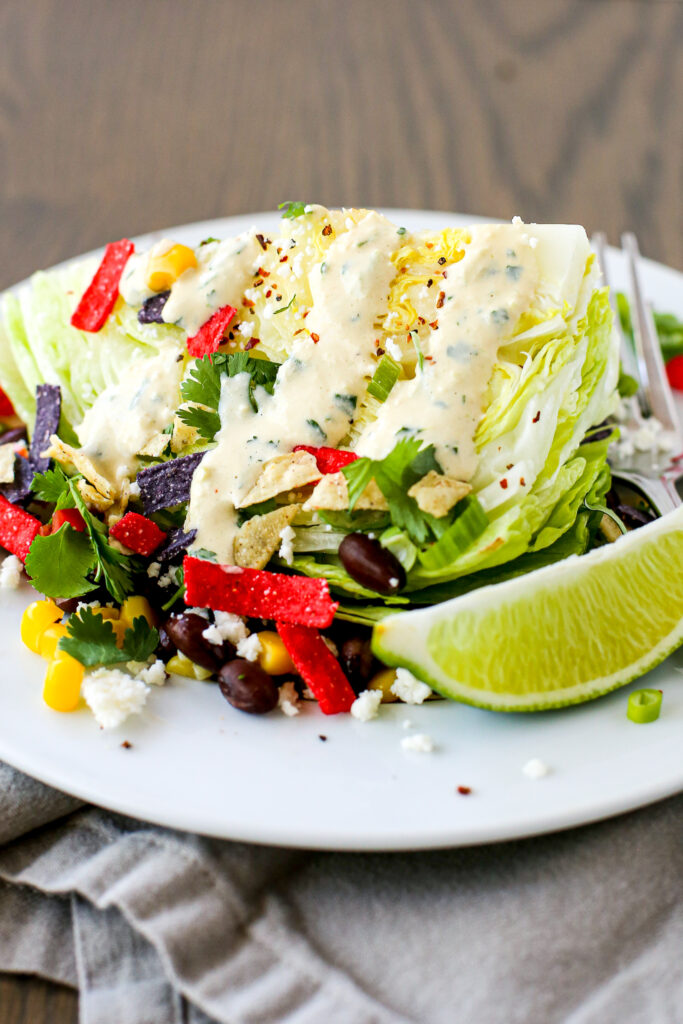 Chipotle tomatillo ranch
Buttermilk and mayo
These two ingredients are what forms the main consistency of the dressing. It makes things tangy and creamy. If you are not into mayo, go ahead and sub in the usual greek yogurt like you are most likely used to.
A bunch of tasty veggies
The vegetables we add to this dressing make it super savory and flavorful. We add tomatillos, garlic, jalapeno and green onion. And we add lime juice. I like to remove the seeds from the jalapeno so my family doesn't bitch and moan about the heat. They are a bunch of babies.
Chipotle pepper
Again, I take the seeds out of the chipotle pepper before adding it to the blender. If you are wanting more intense adobo flavor, add a tablespoon of the sauce from the chipotle pepper can.
Cilantro
When I add cilantro to a blender dressing like this, I don't like it completely obliterated. I like to see some bigger flecks of cilantro. So I add it at the end once everything else is smooth. Then just pulse the cilantro.
The wedge
Iceberg lettuce
The wedge is only possible with iceberg since it is just one big bowling ball of lettuce. If you live with hungry hippos, just cut the lettuce into quarters instead of 6ths. I use one head of iceberg for my family and it is plenty. I like to save one wedge and use it for lunch the next day.
More tasty veggies
More good vegetables get added to this chipotle wedge salad. We do corn, black beans, tomatoes, green onion and cilantro. If you have one, add some diced avocado.
Tortilla strips
Crunch is an essential texture for a good salad. The crunch for this comes from tortilla strips. I used THESE ONES. You can also use crushed up tortilla strips.
Queso fresco
Do you keep queso fresco in your fridge? It isn't a constant at our house, but when I buy it, my family loves it. It melt so easily. You can use whatever cheese your family likes. This wedge salad is perfect for queso fresco.
Frequently Asked Questions
How do you crumbled queso fresco?
I like to hold the round of queso fresco over a bowl while running a fork over the surface of the cheese. It creates easy, even crumbles.
Do you have to remove the core of the iceberg lettuce when making a wedge salad?
I think that is a personal preference thing. I do not cut out the core. I just tell my family to cut it out and not eat it. It can be a little tough. but the core of a head of iceberg lettuce isn't very big.
How long will the chipotle tomatillo ranch dressing keep in the fridge?
You have a good 3-4 days with that dressing, if it even lasts that long. My son used some of the dressing on some leftover chile verde tacos.
Print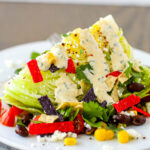 Chipotle Wedge Salad
---
Description
Change up the salad routine of chopped romaine or mixed baby greens. A wedge salad will surprise everyone! This chipotle wedge salad has an irresistible creamy dressing that you will want to pour over everything.
---
For the dressing
1 cup

buttermilk

1 cup

mayonnaise

2

tomatillos, husked and roughly chopped

1

jalapeno, seeded and roughly chopped

1

green onion, roughly chopped

2

garlic cloves

1

canned chipotle in adobo sauce, split open and seeds scraped out

1/2

lime, juiced

1 teaspoon

kosher salt

1 cup

packed cilantro leaves
For the salad
1

head of iceberg lettuce, cut into

6

wedges

1

15 ounce can corn, drained and rinsed

1

15 ounce can black beans, drained and rinsed

1

10.5 ounce carton grape tomatoes

1/2 cup

chopped green onion

1/2 cup

chopped fresh cilantro

1

4 ounce package tortilla strips

1 cup

crumbled queso fresco
---
Instructions
In a blender, combine buttermilk, mayonnaise, tomatillos, jalapeno, green onion, garlic, chipotle chile, lime juice and salt. Blend until smooth. Add the cilantro and pulse until the cilantro is finely chopped but not completely pureed. Pour into a squeeze bottle or a bowl and set aside.
To prepare each wedge, add a scoop of corn, black beans, a few grape tomatoes, green onion, cilantro, tortilla strips and a sprinkling of queso fresco. Serve with dressing drizzled on top.