Have you ever made orzotto? It is orzo pasta prepared like risotto. I have had a tricky past with the rice used in risotto. Arborio rice acts weird for me. I find that I get more consistent results with orzo pasta instead. This sun-dried tomato chicken orzotto is approachable while also feeling like a technical feat. Once you have this method down, you can create all kinds of versions. However I made orzotto, my family are big fans.
How to make sun-dried tomato chicken orzotto
Saute
We begin by sauteeing the chicken. Once it is cooked through, we saute the shallots and garlic in some butter. They will get buttery and soft and the perfect consistency to flavor the orzotto. We add the orzo pasta after the vegetables are softened and use the heat to warm up the pasta in preparation for simmering in stock.
Simmer
We could dump all the chicken stock into the pan at once, but that would just create a soup. Instead, we add the chicken stock gradually, allowing it to absorb a little with each addition. I like to have the stock already warm so that the pan doesn't have to come to temp in order for the stock to begin absorbing into the orzo pasta.
Once all the chicken stock has been added, we will cover the whole dish and let the stock finish being soaked up into the orzo pasta. Make sure you stir it occasionally during this period so the pasta doesn't stick to the bottom. As it absorbs the stock, it will stop sticking to the bottom. That is how you know you are close.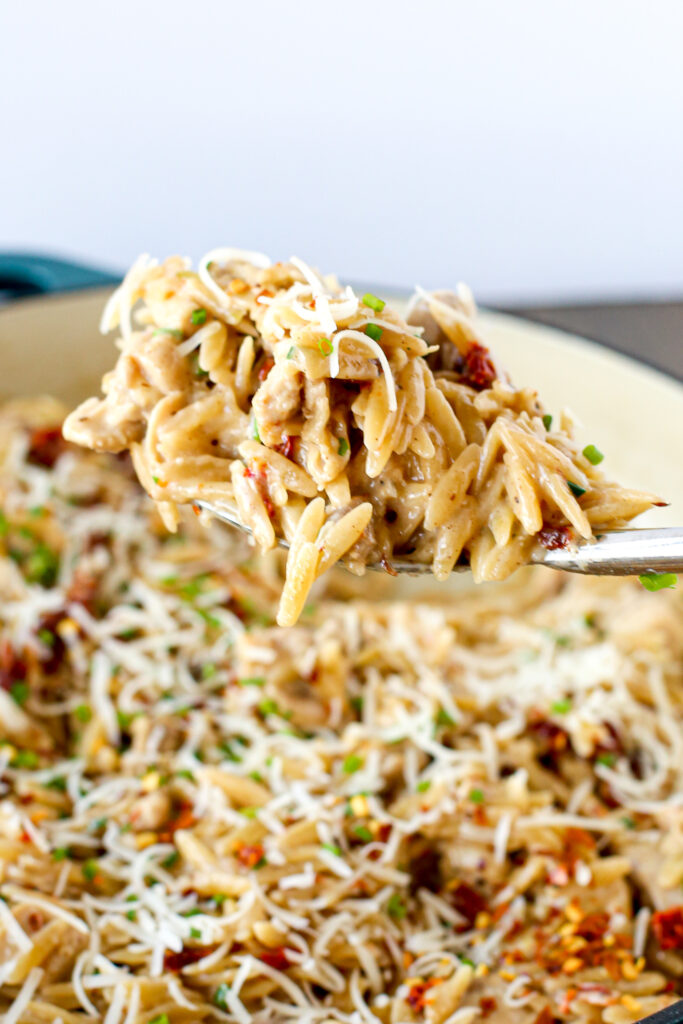 Stir
Go ahead and taste a piece of the orzo pasta to see if it is tender, or as the fancy people say "al dente". Once you reach that point, stir in the Parmesan cheese and the heavy cream. This gives us max flavor and creaminess. The heavy cream also helps develop the flavor because it has a high fat content and the vehicle for flavor is fat! Repeat after me: fat is your friend.
After the cream and cheese are melted and incorporated. Fold in the sun-dried tomatoes and the fresh chives. Now your sun-dried tomato chicken orzotto is complete! Now let's talk ingredients.
Chicken stock
When making orzotto, I like to have the chicken stock warm and ready to party. This helps keep the temperature of the pan even while adding the stock. I recently made a batch of the most incredible homemade chicken base. Think Better Than Bouillon, but, well… better. I added a big spoonful of it to 3 cups of water and let that simmer on the stove while I started preparing the other ingredients.
Boneless, skinless chicken thighs
I turn to chicken thighs far more often than chicken breast. It has a much better texture for just about any dish you are making that asks for chicken breast. Of course, if you don't have any chicken thighs on hand, switch those out for chicken breasts. I would think two big chicken breasts would suffice.
Shallots
I used shallots only because they feel fancier and orzotto is sort of fancy because it's the less-pretty sister to risotto. Use onion if you don't have shallots.
Garlic
Again, I went a little fancier here. I sliced the garlic cloves thin instead of putting them through the garlic press. I love getting a sharp bite of garlic in a dish like this. It's like finding a little treasure.
Orzo pasta
You can't change out the orzo for a different pasta shape. It won't work. We use orzo because it is shaped similar to rice.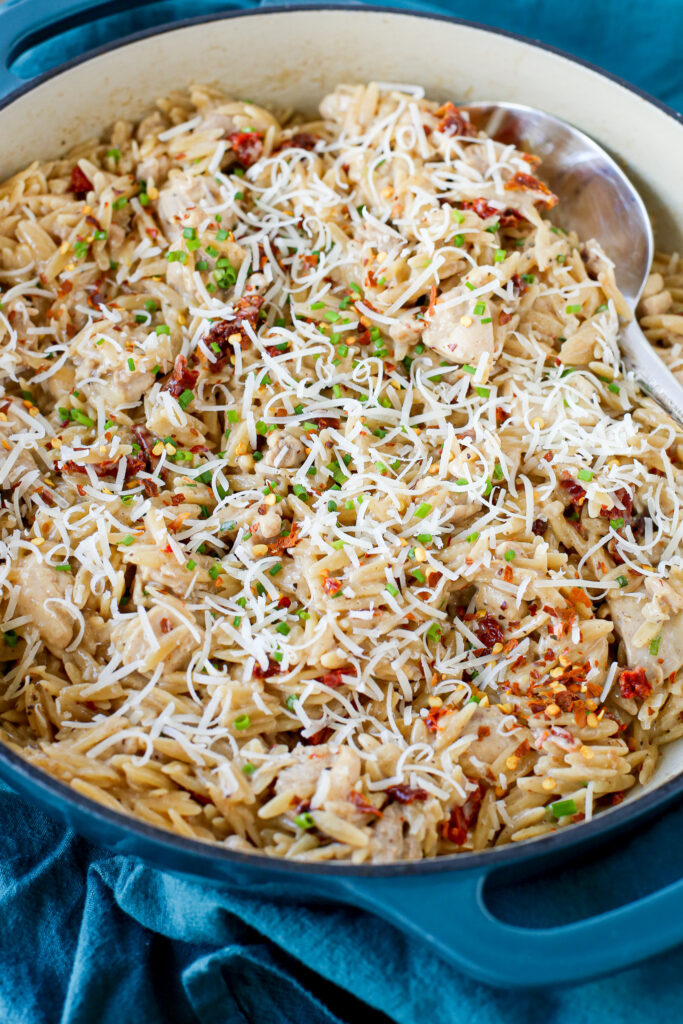 Parmesan cheese
A well-established fact is that I am total wimp about cheese. Parmesan is as creative as I get in a dish like this. I think my cheese-fan husband would say you could add something like gruyere instead of Parmesan if you want.
Heavy cream
The heavy cream helps in another way besides making this dish creamy. Heavy cream is high in fat, which is a good thing. Fat is the carrier of flavor. I learned this from Samin. And in my mind, Samin is a near-perfect human. In her book, she talks about fat as a flavor carrier. You can do an experiment to prove this. Add some water to a saucepan and some garlic cloves. Simmer it for 15 minutes and then taste it. It won't taste like garlic. It will just taste gross. Now do the same thing but with a stick of butter. The garlic will turn it into garlic butter and that is the opposite of gross.
Sun-dried tomatoes
I choose to rinse my sun-dried tomatoes instead of adding them all oily. This is so they don't give the whole dish a weird color. You are welcome to not rinse them, but your orzotto might not look too appetizing.
Chives
Just do it. Add chives. They add a lovely fresh bite to the whole dish.
Print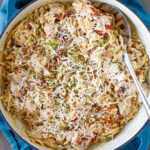 Sun-Dried Tomato Chicken Orzotto
---
Description
This one-pot sun-dried tomato chicken orzotto is tangy, creamy and savory. It is up for changes and ready to satisfy!
---
3 cups

chicken stock

4

boneless, skinless chicken thighs, cut into bite-sized pieces

2 tablespoons

unsalted butter

1

shallot, minced

2

garlic cloves, thinly sliced

1 1/2 teaspoons

kosher salt

1 teaspoon

ground pepper

1 1/2 cups

orzo pasta

1/3 cup

Parmesan cheese

1/4 cup

heavy cream

1/2 cup

oil-packed chopped sun-dried tomatoes, rinsed and patted dry

1/4 cup

minced fresh chives
---
Instructions
Add chicken stock to a small saucepan and set over medium low heat. Bring to a low simmer while preparing the other ingredients.
Set a large skillet over medium high heat. Once the pan is heated, add the chicken thighs. Season with salt and pepper. Saute until the chicken is cooked through, about 10 minutes. Remove the chicken from the pan with a slotted spoon onto a plate and set aside.
Reduce the heat to medium and add the butter. Once the butter is melted, add the shallot, garlic, salt and pepper. Saute until vegetables are softened, about 10 minutes. Increase heat to medium high and add orzo pasta, stirring well to combine. Saute for an additional 2 minutes.
Add chicken stock about 1/2 cup at a time, stirring well between additions. The whole process of adding and simmering the stock should take 10 minutes. Once all the stock is incorporated, reduce the heat to medium low and cover. Allow orzotto to simmer for 15 minutes, stirring occasionally. The orzotto will soak up almost all of the stock during simmering.
Once the orzotto is tender and the stock is absorbed, add the chicken back in the pan along with the Parmesan cheese and heavy cream. Remove the pan from the heat and stir gently until the cheese is melted. Add the sun-dried tomatoes and the fresh chives.
Prep Time:

10 minutes

Cook Time:

45 minutes

Category:

pasta

Method:

stove-top
Keywords: one-pot meal, chicken, sun-dried tomatoes, orzotto, pasta