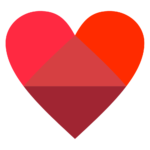 I have great news, team. Your pal Whitney has grown up. And I have grown up in the form of cheese. If you don't know me well, you might not know I don't like cheese. I know, I know. I am in the wrong. I know I am out of line. But at least I am conscious of it, right? I just can't do the smell. It is too much for my immature, ignorant self. I didn't grow up with eating a lot of cheese and I suppose I never really grew up. But this creamy gnocchi with ham and peas marks a milestone for little Baby Whitney.
Do you gruyere?
How did I grow up? I used gruyere cheese in this sauce. I would normally do something mild, like parmesan. But I decided it was time to branch out and it was a success. I am not being hyperbolic when I say I am really proud of myself, so you had better be too.
The sauce is made with cream, chicken stock and shredded gruyere cheese. Actually, my original plan was to use cream and milk, but I didn't have milk. After a mild, unnecessary freakout, I saw a carton of chicken stock in my fridge and used that instead. It was absolutely perfect. So much better than milk would have been. It added a nice flavor that milk wouldn't have. Once I got the cream and stock simmering, I added the shredded gruyere and was so pleasantly surprised at how nicely it melted.
The taste of the sauce wasn't overly cheesy for an imbecile like myself. So for all the rest of the world, basically everyone who likes cheese, will love this sauce. Creamy, not overly rich (thank you chicken stock) and packed with hammy, rosemary flavor.
Best store-bought gnocchi
My favorite store-bought gnocchi is the one from Trader Joes. I use the one on the shelf, not the frozen one. It cooks up so light and fluffy. And then pairing it with this creamy sauce makes is like a cloud, just how gnocchi should be. I keep a packet or two of TJ's gnocchi in the pantry. It's great for a dish like this creamy gnocchi with ham and peas, but also for a quick dinner with marinara.
I have never made homemade gnocchi. So someone tell me that that is stupid and send me a good recipe. I should have done something like that long ago, but when TJ's gnocchi tastes so good…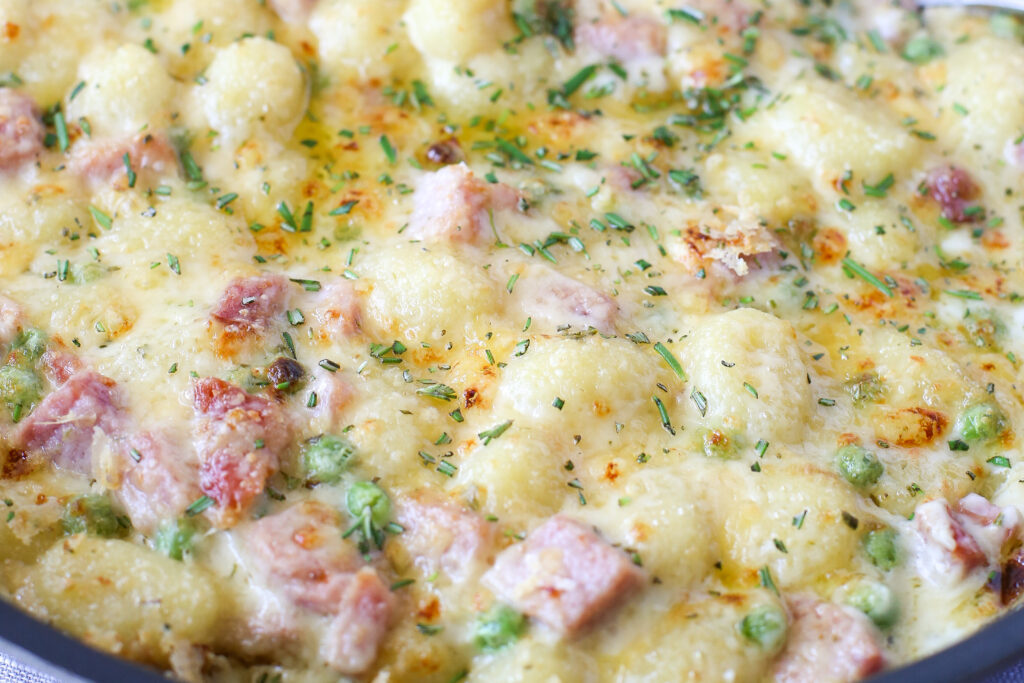 Notes on preparation
I talked about using chicken stock instead of milk, but you can totally do milk. Really, just do what you have. If you do use milk, I would recommend a spoonful of a chicken base like Better Than Bouillon.
Chances are you won't use all the ham you bought for this creamy gnocchi with ham and peas. Chop up the leftovers and freeze it. Save it for some ham fried rice. Or add it to scrambled eggs for breakfast. That's what I ended up doing and my kids were stoked.
Can you use something other than gruyere? Of course. My cheese-loving husband said fontina or a white cheddar would be great.
Print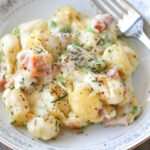 Creamy Gnocchi with Ham and Peas
---
2 tablespoons

unsalted butter

1

shallot, minced

2 teaspoons

minced garlic, about

2 teaspoons

2 teaspoons

minced fresh rosemary

1 teaspoon

kosher salt

½ teaspoon

ground pepper

12 ounces

diced ham, about

2 cups

3 tablespoons

all-purpose flour

1 cup

heavy cream

⅓ cup

chicken stock

1½ cups

shredded gruyere cheese, divided

1

package gnocchi (

16 oz

to

17.6 oz

), prepared according to package directions

½ cup

frozen green peas

½ cup

shredded parmesan cheese
---
Instructions
Heat broiler to high. In a large skillet over medium heat, add butter. Once butter is melted, add shallot, garlic, rosemary, salt and pepper. Saute until shallot is softened, about 10 minutes. Add ham and saute until warmed through, about 3 minutes. Sprinkle flour on top and saute until flour is absorbed and the flour smell is gone, about 3 minutes.
Pour in cream and chicken stock. Bring to a simmer, stirring often, for 5 minutes. Sprinkle 1 cup of the gruyere cheese on top and stir until cheese is melted, being sure to scrape the bottom of the pan. Remove pan from the heat.
Stir in gnocchi and peas until combined. Sprinkle remaining ½ cup shredded gruyere and parmesan on top. Put under the broiler until the cheese is melted and the top is lightly browned, about 5-7 minutes.
Prep Time:

15 minutes

Cook Time:

25 minutes

Category:

Main Course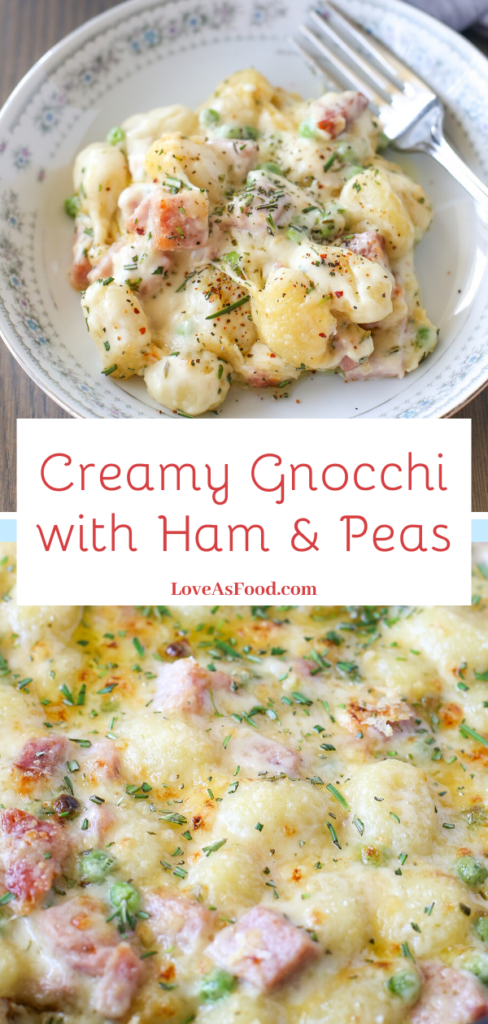 Cooking equipment used in this recipe
Listened to while in the kitchen
My oldest son's playlist on Apple Music, which is a combination of Drake, 80s rock, every Taylor Swift song ever recorded and music from the MLB The Show video game. It's like an acid trip in a playlist.