I am always on the prowl for new ways to get my kids to eat vegetables. I want them to like all varieties of vegetables. But that means I have to sell it to them. And I usually can if they are coated in something sweet. Like the honey butter brussel sprouts on here, if I add honey, maple syrup or brown sugar, I can pretty much guarantee plates will be cleaned. These spicy honey-glazed carrots renew my family's love of carrots in a sweet, slightly spicy way.
How to make spicy honey-glazed carrots
We start by peeled a bunch of carrots. This is a great way to get your kids involved. We are doing 2 pounds of carrots. That was about 10 big carrots for me. I like to cut the carrots on an angle, creating more surface area that can get caramelized. Could you do this with baby carrots? Absolutely.
Next, we make a glaze. In a pan with a lid that can go in the oven, make a little sweet glaze with honey, butter, chile powder, salt and pepper. Use a rubber scraper to stir everthing around and fold it on top of itself.
Now we add the carrots. Toss them around the pan, being sure they get coated in the honey. Then the lid goes on and it we take a trip into the oven for about 30 minutes. In that time, the carrots will cook and get softened. To test for doneness, just stab one with a fork and see how easily it comes off the fork.
Once we have cooked them in the oven, we are going to give it one final saute on the stove to brown up the outsides of the carrots. Before serving, I like a big dose of fresh thyme. It gives the carrots that little fresh, herby bite you need. A sprinkle of some course salt is a good idea too. There is major flavor levels going on with these spicy honey-glazed carrots.
Let's talk about the ingredients, shall we?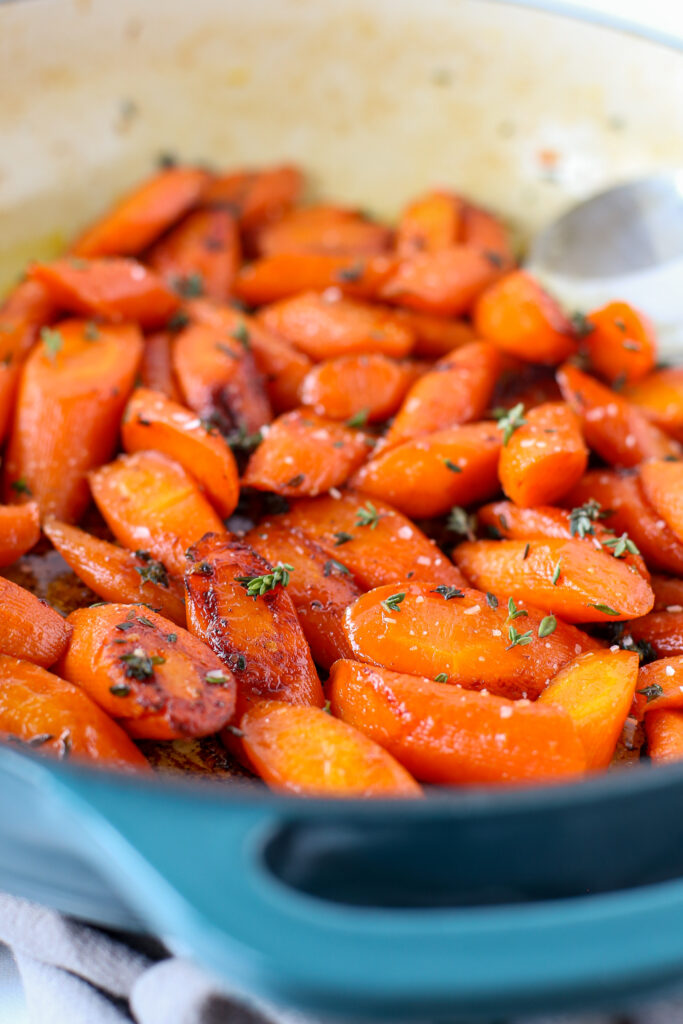 Honey
Recently, my friend gave me a 5 pound bucket of this most wonderful creamed honey for Christmas. It has been fun to find ways to use it. Yes, you can use creamed honey in this. It melts up like regular honey. Could you do another sweet, sticky something? Yes. Try maple syrup. Pure maple syrup please. Give you kids the crappy Mrs. Buttersworth syrup on their pancakes. Save the good syrup for recipes like these.
Butter
We add butter (or you could do olive oil) because of two reasons. One, the fat in the pan will help things not stick. Second, fat is a carrier of flavor. I chose butter for that purpose. The flavor of butter with these spicy honey-glazed carrots is just lovely.
Chile powder
I know when I had littler kids, I was leary of anything with "spicy" in the title. Do not fear, you can leave the chile powder out. You can do what I would do back in the day and just add the slightest dash of it so that my kids get used to a little heat. If spice is a total no-go in your house, go ahead and leave it out all together. It will still be lovely.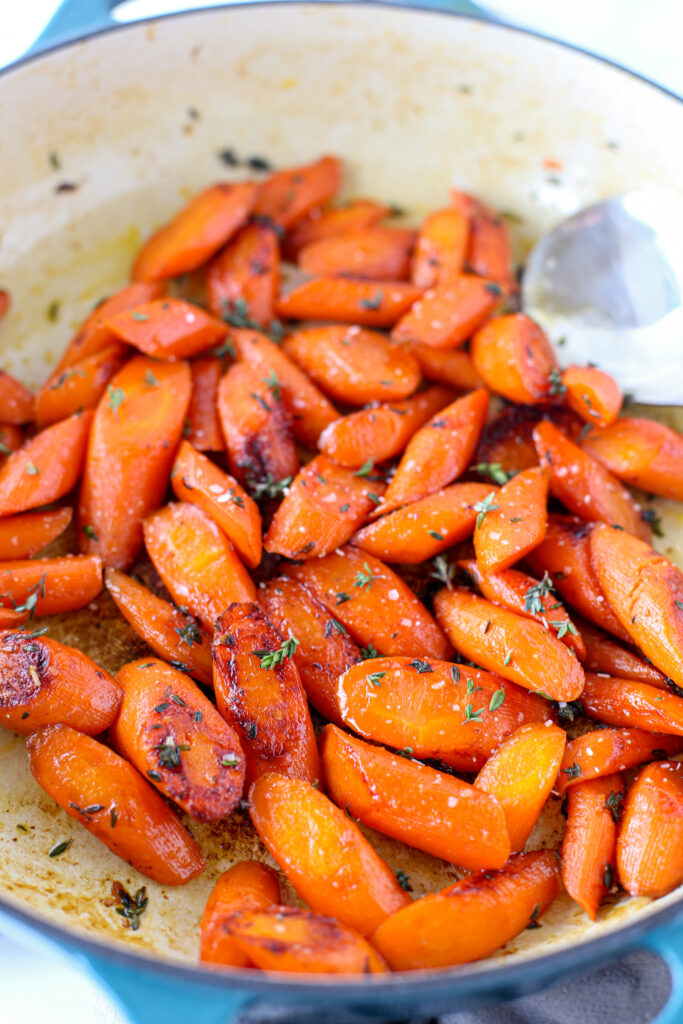 Carrots
Could you throw in a new parsnips to liven things up? Absolutely. And it would make it so pretty. This would be a good way to introduce another veg to the family table.
If you don't want the hassle of peeling carrots, by all mean, use some baby carrots. Thinking about it now, it is stupid that I didn't in the first place.
Fresh thyme
I actually hate using thyme. It isn't even added to my herb garden. I see it as a giant pain in the ass. It has so many tiny leaves needing to be taken off a tender stem, it is just a pain. So I rarely use fresh thyme. And actually, after I used what I needed of this thyme, I put it in a bag and put it in the freezer. I will add it to my next batch of chicken stock.
Print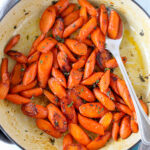 Spicy Honey-Glazed Carrots
---
Description
We can always use new ways to prepare vegetables. Spicy honey-glazed carrots are just the right amount of variety for your family!
---
1/4 cup

honey

2 tablespoons

butter

1 teaspoon

kosher salt

1/2 teaspoon

ground pepper

1/8 teaspoon

chile powder

2

pounds carrots, peeled and cut into

1

-inch pieces

1 tablespoon

fresh thyme leaves
---
Instructions
Set oven to 425 degrees F. In a large oven-proof skillet over medium high heat, add honey, butter, salt, pepper and chile powder. Using a rubber scraper, stir the ingredients together, and simmer for a few minutes until slightly thickened. Add carrots and stir to coat them in the honey mixture.
Put the lid on the pan and put in the oven. Roast, covered, for 25-30 minutes, until the carrots are tender. Remove from the oven and set back on the stove over medium high heat. Saute, uncovered, for 5 minutes until carrots begin to caramelize. Add thyme and serve.
Prep Time:

10 minutes

Cook Time:

40 minutes

Category:

side dishes

Method:

stove and oven
Keywords: side dishes, vegetables, vegetarian, carrots