I am always looking for ways to forgo meat in our meals. It's good for the planet, it's good for our health and also good for letting my kids know that meat doesn't need to be apart of every meal. Us Americans are big on meat in meals. This roasted leek and cauliflower pasta helps bypass meat for a healthful, substantial meatless meal.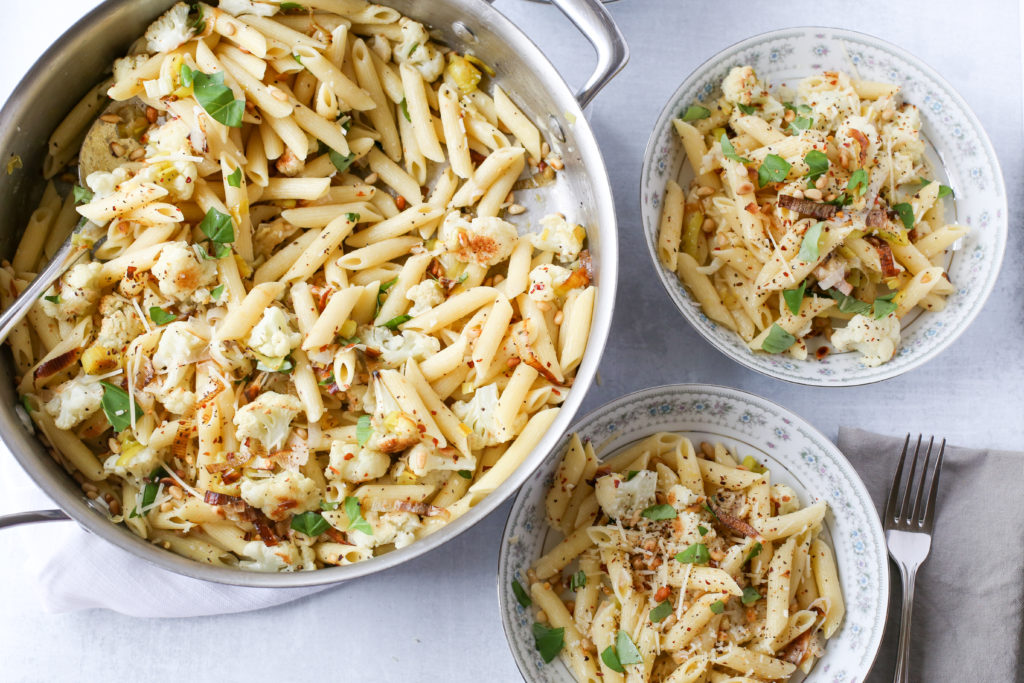 Meatless Monday
For my other job, I write about all kinds of historical moments in both the United States and the world. Part of writing about history is doing lots of research. I have become a well of useless knowledge that literally no one needs. But it does make my kids think I am genius when I can rattle off something random while they are working on school project or watching a movie. "Did you know Al Capone died of complications from syphilis?" Just kidding, I don't tell them that stuff.
One bit of history I have talked about with them is Meatless Monday. Yes, it has quite a history behind it. It isn't just an Instagram hashtag. The idea of going without meat for one day of the week came from World War I. The United States wanted Americans to take part in the war effort by going without meat, thus making more meat available for troops. The trend picked up again during World War II. Meat was rationed, just like sugar and cheese. People felt like they were doing their part when they went without meat. Even little kids could feel like they were part of the war effort. I wonder if something like that could ever take root as a way for everyone to do their part. It seems everything is too partisan these days for that to be a possibility. I suppose big social movements like that are a thing of the past now.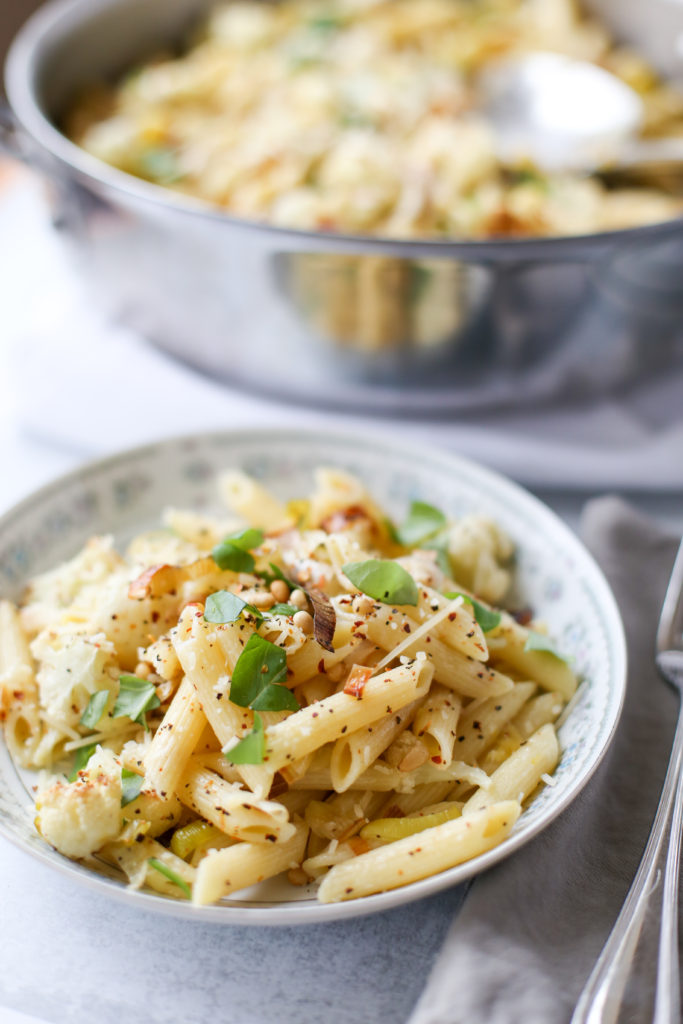 Pasta, the great commonality between us all
If I am going to get my kids to be cool with meatless meals, I am going to have to use pasta. Everyone loves pasta, even the gluten-free folk try their damndest to have pasta. Pasta is also a great blank canvas. You can go in so many different directions with pasta. And if you know a couple of tricks, you can use the very water it was boiled in to make a sauce. I would click on through to that link and give it a good read before you make this recipe. It's going to give you a great in-depth tutorial on using pasta water for a sauce.
I think one of the hardest things about using pasta water to make a sauce is forgetting to save some! I have a trick for that. When you set out the colander to drain the pasta, put a liquid measuring cup in the strainer. You can pour the pasta right on top and it will catch some of the water. Or the measuring cup serves as a reminder to dip it in to save some water before you drain it. Give it a try, it really does help!
Notes on preparation
I use pinenuts in this roasted leek and cauliflower pasta because I love them. But I do recognize that they are so stupidly expensive. If you want something less spendy, go with walnuts. Toasting them is also important. So don't forget that step.
The shape of pasta you use in this is totally up to you. With the type of saucy we are using, any shape will do.
Print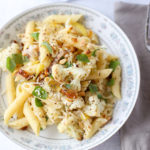 Roasted Leek and Cauliflower Pasta
---
4 cups

cauliflower florets

4 cups

sliced leeks

1/4 cup

extra virgin olive oil

1 teaspoon

kosher salt

1 teaspoon

ground pepper

1/2 cup

pine nuts, toasted

1

pound penne pasta

2 tablespoons

unsalted butter

1/2 cup

shredded parmesan cheese, plus more for garnish

1/4 cup

torn fresh basil leaves
---
Instructions
Set oven to 425 degrees F. On a baking sheet, combine cauliflower, leeks, olive oil, salt and pepper. Toss well to combine. Roast in oven for 30-35 minutes, until vegetables are caramelized.
In a large pot of boiling water, boil pasta until al dente. Before draining, reserve 1/2 cup of the pasta water. In a large skillet over medium high heat, add butter. Once butter is melted, add 1/2 cup of the pasta water. Add drained pasta and toss well. Sprinkle cheese on top, making sure the cheese melted evenly and isn't sticking to the spoon.
Add roasted vegetables to the pasta and toss well. Add pine nuts and basil leaves. Garnish with parmesan cheese and serve.
Prep Time:

15 minutes

Cook Time:

35 minutes

Category:

Main Course
Keywords: Pasta, roasted vegetables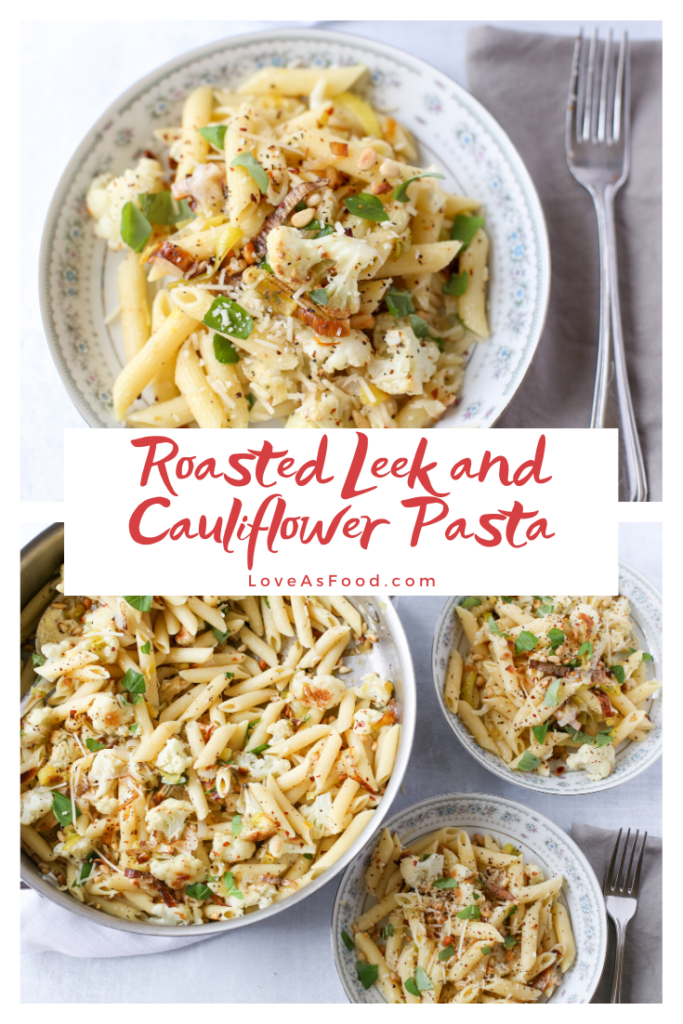 Looking for another pasta dish? Try the One-Pot Cajun Chicken Pasta.