If I didn't have to feel a bunch of kids, I would be a vegetarian. Or at least a very selective meat-eater. I am a vegetable-lover through and through. So a dish like this roasted red cabbage with tomato parsley relish is right up my alley. It is colorful, zesty and completely satisfying. If you love vegetables like me, you are in for a treat.
How to make roasted red cabbage with tomato parsley relish
As is with most vegetable dishes, the prep is easy. We start by slicing a red cabbage into big, thick 1-inch slices. A whole cabbage will get you about 6 slices. For me, I only did two. One for lunch now and one for lunch later. Side note: to reward slices of roasted cabbage, put one in the microwave for 1 minute, just to warm it through. Then put it under the broiler for another minute or two, just to get it crisp on top. And then you're in business.
We roast the slices of cabbage for 30 minutes. We want it softened and also browned. The most outer edges of the cabbage are going to get crispy, and those bits are delicious. While the cabbage roasts, we make the relish. It is tangy from the tomatoes and sharp from the garlic. I decided to do grated garlic. That will break down the garlic as much as possible, thus releasing all the flavor. If you don't have a reliable microplane or grater, just use minced garlic. No biggie.
Once the cabbage is out of the oven, spoon the relish right on top. If you have a bottle of balsamic glaze in your pantry, drizzle some of that on top before serving. It brings everything together so nicely. Let's talk ingredients.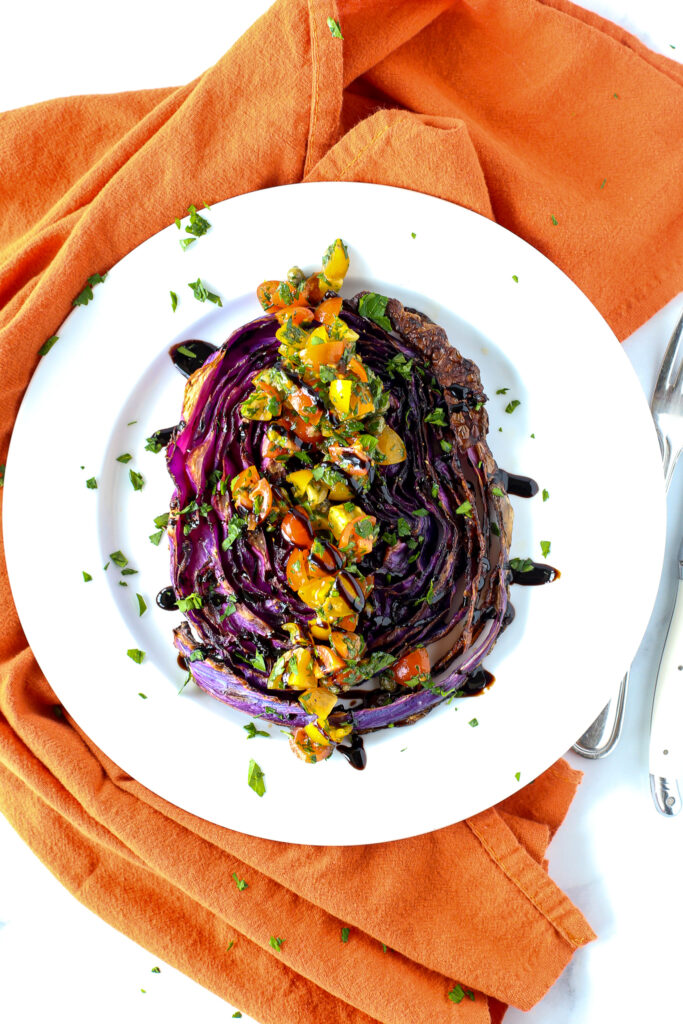 Red cabbage
The first time I made this was many years ago after my friend gave me a red cabbage from her mother's garden. Homegrown vegetables are always going to be yummier than store-bought. So that time of roasted red cabbage with tomato parsley relish was off the hook. If you have a green cabbage on hand, go ahead and use that. I wouldn't use napa cabbage since it doesn't slice well or hold it's shape.
Balsamic vinegar
I like to brush balsamic vinegar on the cabbage slices to help balance out the bitterness of the cabbage. The tang of the balsamic vinegar rounds out the flavor nicely. Any kind of vinegar would work great. I just used balsamic for the flavor, but also the color it would add.
Cherry tomatoes
I prefer using cherry tomatoes as opposed to a bigger tomato like a roma because with a cherry tomato, I can add more colors. Yellow, orange and red tomatoes make the whole thing pop!
Parsley
Why parsley? Well, I was thinking along the lines of tabbouleh. Basil would work wonderfully, basically make it a bruschetta. And when is bruschetta ever a bad thing? I would say switching out all the parsley for basil would work well, but I wouldn't recommend switching out all the parsley for any other herb. Maybe add a combination of parsley and sage or parsley and oregano.
Garlic
Lately in my cooking, I have been changing up my garlic application. I have been thin-slicing it more often and I love the punch of flavor it adds to a bite. Grating the garlic in this dish brought out the sharpness of the garlic. By grating it, we are breaking down the cell walls and releasing more flavor. I highly recommend it. Looking for a good microplane for grating garlic? Here is the one I have.
Capers
Funny caper story: I wrote a cookbook a number of years ago. In the final editing process, I gave a copy of the book to a few friends and family member to have them take a whack at editing it. My mom was one of the people I gave a copy to. She made excellent corrections and found errors. And then on a recipe for a cucumber salad, she wrote "Take out the capers. They are gross." ? That isn't how editing works, Mom. And she is wrong, capers are lovely. They are the perfect little note of acid. We also use some of the brine from the jar of capers because why not.
Print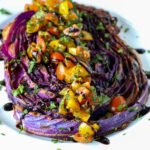 Roasted Red Cabbage with Tomato Parsley Relish
---
Description
This is a color explosion! Roasted red cabbage with tomato parsley relish is fresh and hearty while being beautiful and bright!
---
For the cabbage:
1

head red cabbage, sliced into

1

-inch thick slices

1/4 cup

extra virgin olive oil

2 tablespoons

balsamic vinegar

2 teaspoons

kosher salt

1 teaspoon

ground pepper
For the relish:
10 ounces

cherry tomatoes, diced

1/2 cup

chopped fresh parsley

2

garlic cloves, grated

1 tablespoon

capers

1 teaspoon

caper brine

1/2 teaspoon

kosher salt

1/2 teaspoon

ground pepper

2 tablespoons

extra virgin olive oil
---
Instructions
Set the oven to 425 degrees F. Add slices of red cabbage to a baking sheet, using two baking sheets if needed. Drizzle olive oil and balsamic vinegar over the top. Using a pastry brush, evenly brush the oil and vinegar on each cabbage slice. Sprinkle salt and pepper on each slice. Roast cabbage for 30 minutes, or until the cabbage is tender and browned.
While the cabbage roasts, prepare the relish. In a medium bowl, combine all relish ingredients and fold together with a rubber scraper. Taste and add more seasoning if needed.
Serve roasted cabbage slices with a scoop of tomato parsley relish.
Notes
If you have some balsamic glaze in your pantry, drown your roasted cabbage in it before serving.
Prep Time:

10

Cook Time:

30

Category:

vegetarian

Method:

baked
Keywords: vegetarian, cabbage, tomato