It is February, which means if you live in a four-seasons climate, you are in the hell of winter. Truly, what is worse than February? However, if we are in February, we are still in soup season. We could all use plenty of soup recipes to get us through until spring. White bean and sausage soup with gremolata is primed for a first-place spot in your soup rotation. Creamy cannellini beans, flavorful Italian sausage and a perfectly punchy gremolata are just what you need.
How to make white bean and sausage soup with gremolata
We are starting with baking off the sausage. We could remove the sausage from the casings and saute them in the pan, but I want thick slices of sausage instead. So I get my quarter-size rimmed baking sheet and cook the sausages whole in the oven.
Like most soups, we saute all the aromatics together first. Onion, bell pepper, celery and garlic. To season things up, we use rosemary, salt and pepper.
Next, we add the beans and chicken stock. You can definitely use vegetable stock here too. We simmer things for a little while before adding the sausage, just to get the beans softened.
While the soup is simmering, put together the gremolata. Gremolata is just a condiment. It isn't complicated or fancy. We are merely combining parsley, lemon zest and garlic. It goes on top of each soup serving and it is stirred in while eaten. I think you will really love the flavor it adds to the soup.
Let's talk ingredients now.
Italian sausage
I buy the big pack of 20 Italian sausages at Costco and then separate the packs for the freezer. You might also find sausage in packs of four. That is just fine too. Stick with 4 instead of buying two packs of sausage and using one out of a second package.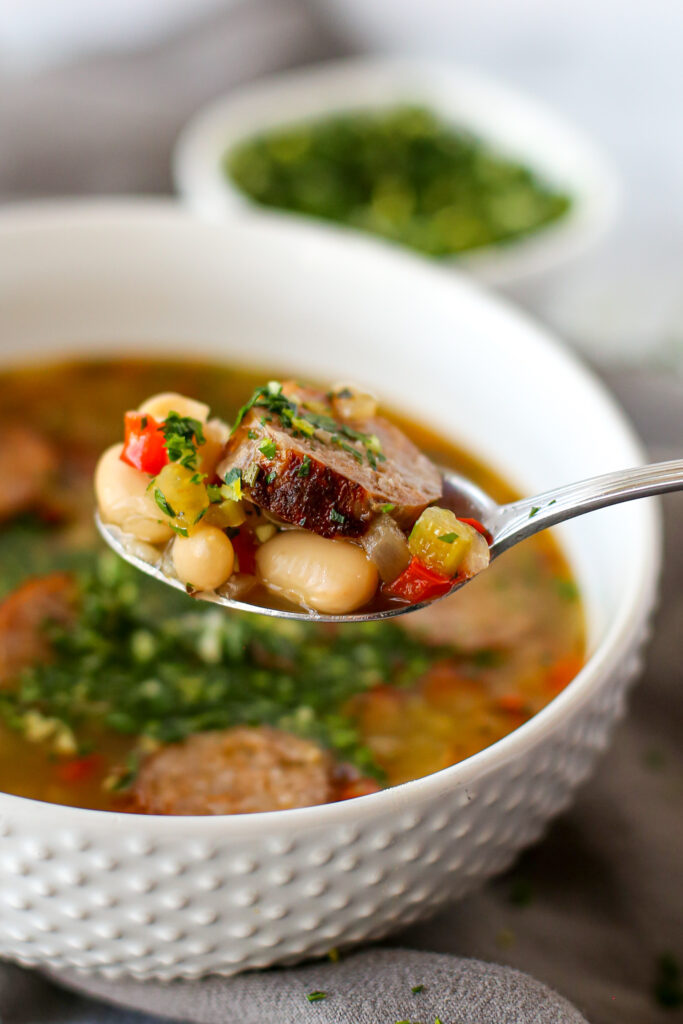 Onion, bell pepper and celery
Really, the only reason I used a red bell pepper instead of carrots is because I wanted the red color. If you are short on red bell peppers, use carrots. But if you have both carrots and red bell peppers, do both! Pump up the flavor and nutrition!
Rosemary
I love fresh rosemary. It is easy to grow, keeps in the fridge for a long time and is really pungent. Pungent in a good way. Softer herbs don't keep as long in the fridge, but rosemary is more "woody" and lasts for a long time.
Cannellini beans
Cannellini beans are really just white kidney beans. Bigger in size, super creamy, stand up well to a lot of simmering. If you and yours don't like cannellini beans, you can use kidney beans or really whatever beans you like.
Chicken stock
Recently on Instagram, I did a story on how I made homemade chicken base, like Better Than Bouillon. All I basically did was make chicken stock like regular, but after straining, I boiled the stock down until it was a syrup. Once it sat in the fridge overnight, it was like a thick paste. SO EXCITING! I am not sure I will ever make regular stock again because it takes up so much space in my freezer. It went from about 6 quarts of liquid stock to one pint container of chicken base. I am converted.
Gremolata
I had forgotten all about gremolata until I was working on this recipe. I knew this soup needed something extra, but it wasn't coming to me. The last time I used gremolata in a recipe was ages ago and it was made with orange zest instead of lemon and I added olive oil to it. It was served on grilled pork chops and it was excellent. This gremolata is just perfect. I am excited to bring it back in our house and start putting it on everything. With some of the leftover gremolata from this recipe, I added a couple spoonfuls to my lunchtime chicken salad with balsamic vinaigrette. It was just perfect.
Print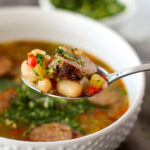 White Bean and Sausage Soup with Gremolata
---
Description
White bean and sausage soup with gremolata is comforting, bright and warm. The gremolata is what makes it extra special! It brings in parsley, lemon and garlic to add a whole new dimension of fresh flavor.
---
For the soup:
5

Italian sausage links

2 tablespoons

olive oil

1

yellow onion, diced

1

red bell pepper, diced

2

celery ribs, diced

1

garlic clove, minced

1 tablespoon

, minced fresh rosemary

1 teaspoon

kosher salt

1 teaspoon

ground pepper

2

15 ounce cans cannellini beans, drained and rinsed

8 cups

chicken stock
For the gremolata
1 cup

chopped fresh parsley

2

garlic cloves, minced

1/2

lemon, peel removed with a vegetable peeler
---
Instructions
Set oven to 425 degrees F. Spray a baking pan with non-stick spray and add sausage links. Bake for 20 minute, or until an inserted thermometer reaches 160 degrees F. Once cooked, allow to cool until easy to handle and slice into rounds. Set aside.
In a large pot over medium high heat, add olive oil. Once the oil is heated, add onion, bell pepper, celery, garlic, rosemary, salt and pepper. Saute until vegetables are cooked through and caramelized, about 10 minutes. Add beans and chicken stock. Bring to a simmer and simmer for 10 minutes. Remove from heat and add sausage.
In a small bowl, combine all gremolata ingredients. You may want to use a food processor to make the gremolata, just be sure to not over-process the ingredients.
Serve soup with a spoonful of gremolata on top.
Prep Time:

10

Cook Time:

30

Category:

soup

Method:

stove and oven
Keywords: soup, sausage, white beans, gremolata