Years ago, I was asked to bring a breakfast casserole to the church Christmas breakfast. I couldn't bring myself to follow the directive. An egg casserole seemed so boring. So I just did whatever I would want to eat. And it was this baguette french toast. Slices of baguette soaked in a creamy custard, topped with streusel and then baked until golden. Now I do it for my family on the weekends. Prep it the night before and then just pop it in the oven in the morning. It makes anytime of year feel special.
How to make baguette french toast
We start this recipe with a baguette. Nothing crazy fancy. Just what your grocery store has in the bakery. Slice it up into 1/2 inch-thick slices and then tuck it all into an 8×8 inch baking dish. If you need to cook for a crowd, you can do two baguettes and a 9×13 inch pan. You won't be able to shove two whole baguettes into the pan, but that just means you get to snack on the leftover slices.
If you can plan ahead enough, let this baguette french toast sit in the fridge for a couple hours so the bread can soak up all the custard mixture. The longer the better. This is ideal to make the night before and then just pop it into the oven in the morning. Just don't put the streusel topping on until you bake it. Keep that topping in a container in the fridge until you are ready to use it. If you were to put it on the baguette french toast overnight, it would soak up some of the custard and we want all of that to stay with the bread.
Baguette
My grocery store sells baguettes in a big basket up by the checkout stands. It is easy to grab on my way out. I know you can buy frozen baguettes. They are Pepperidge Farms and they are about half the size of regular baguettes. So buy two.
Eggs
Eggs are what makes this rich and custardy. That's a word, right? You could whisk the custard mixture in a bowl, but it won't break up all the egg whites. So I like to blend it so we get a truly smooth mixture.
Milk and heavy cream
You will find similar recipes that call for whole milk, but really, you can just use what you have. I use 2% milk. As for the cream, don't skimp on that. That is where we get a rich, creamy texture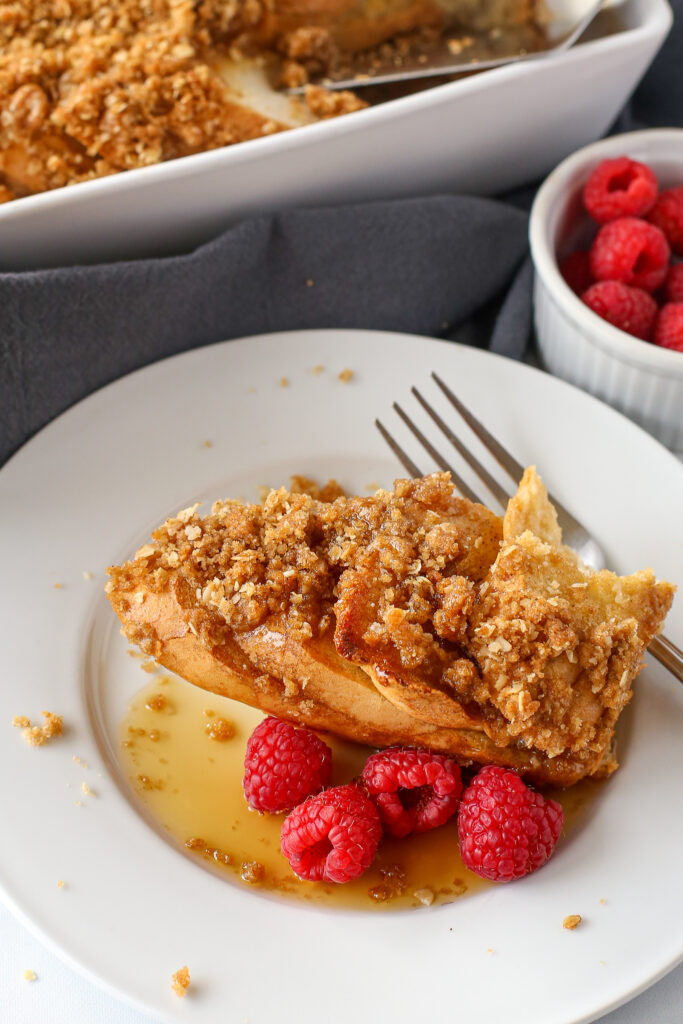 Honey
Honey, instead of granulated sugar, is going to give us a smooth texture. And I just have a ton of honey and I need to use it up.
Pure vanilla extract and cinnamon
These two ingredients will give great flavor to our baguette french toast. I have added nutmeg before, but I don't love it. So I just stick with cinnamon. When I am feeling extra fancy, I add orange zest. Ina Garten does that with her pain perdu and it is excellent.
Streusel topping
We are doing a really simple pantry-staple streusel. Brown sugar, oats, flour, cinnamon and butter. My husband and I own a catering company and one of the regular dishes we make is a black and blueberry crumble. My husband will make huge amounts of the crumble topping and then freeze it. It makes it really easy to throw together big pans of our crumble. You can do that too. Double the streusel topping recipe and keep a bag of it in the freezer. There are so many ways to use it.
Print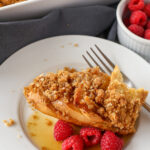 Baguette French Toast
---
Description
Baguette french toast makes breakfast a special occasion. Custard-soaked baguette slices & crunchy topping make mornings feel special.
---
For the french toast:
1

baguette, sliced

4

eggs

1 cup

milk

1/3 cup

heavy cream

1/4 cup

honey

1 teaspoon

pure vanilla extract

3/4 teaspoon

cinnamon

1/4 teaspoon

salt
For the topping:
1/2 cup

brown sugar

1/3 cup

oats

2 tablespoons

all-purpose flour

3/4 teaspoon

ground cinnamon

1/4 cup

cold butter, cut into thin slices
---
Instructions
Add slices of baguette to an 8×8 inch pan, arranging the slices side-by-side. It will be a tight fit.
In a blender, combine eggs, milk, cream, honey, vanilla extract, cinnamon and salt. Blend until smooth and then pour over the baguette slices. Allow the milk mixture to soak into the bread slices for at least 30 minutes or up to overnight.
When ready to bake, set oven to 350 degrees F. In a medium bowl, add all topping ingredients. Combine with a pastry blender or your fingers, working the butter into the dry ingredients, until the butter is like small pebbles. Sprinkle the topping over the soaked baguettes and bake for 40-45 minutes, until the topping is browned. Serve with maple syrup.
Notes
The longer the baguette slices have to soak up the milk mixture, the better. This is what will give the french toast that custardy texture we all love.
Prep Time:

10 minutes

Cook Time:

45 minutes

Category:

breakfast

Method:

baking
Keywords: french toast, baguette, breakfast, casserole