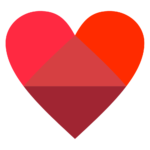 For the longest time, my subconscious told me I had to use fresh tomatoes for tomato soup. I think I blame Michael Chiarello. Whoever is to blame, I can thank my friend Elizabeth Bryant for casually mentioning somewhere that she uses Cento San Marzano canned tomatoes. If Elizabeth is using canned tomatoes, we all have permission to. Parmesan tomato soup is the warm hug in a bowl you need. And it uses canned tomatoes!
"But fresh is best!"
If you read or watch anything food, you will have the whole fresh-is-best phrase hammered into your brain. And yes of course fresh is best. But I am about to relieve the pain with a new phrase: Fresh isn't always convenient. This is where high-quality canned goods come into play. If I ever make tomato soup, it is usually for a last-minute, unplanned dinner. And it's usually with grilled cheese sandwiches. I am either using a pile of fresh garden tomatoes from my back neighbor or I am dusting off a couple of cans of the good tomatoes I save for such meals.
If you are using canned ingredients as your main star of a dish, you will want to spring for the good stuff. For example, if you are making a corn chowder with canned corn, I would spend the extra money for the best quality you can find. If you are just adding a can of corn to a pot of taco soup, don't stress and just use the regular store brand. For parmesan tomato soup, you want to spend the extra money on the good tomatoes.
Mr. Marzano is your friend
The San Marzano tomatoes are most often on the bottom shelf, at least they are in my store. They sit there, lonely, collecting dust, waiting for someone who appreciates their natural sweetness and convenient lack of peels. When I say natural sweetness, I am not just putting in a fancy food phrase. you will notice they smell sweeter right out of the can instead of acidic like regular canned tomatoes. It also helps that they are canned with fresh basil.
I save these good tomatoes for dishes like parmesan tomato soup or marinara sauce. I really don't like to use them up if I don't need to. Like they aren't going to be used in a pot of spicy chili. I save the plain old diced canned tomatoes for that. Which ps, a quick tip. I like to make sure I buy the petite diced tomatoes. My kids are way less weird about tomatoes in stuff if they are so small they can barely see them. So do that because kids are obnoxious.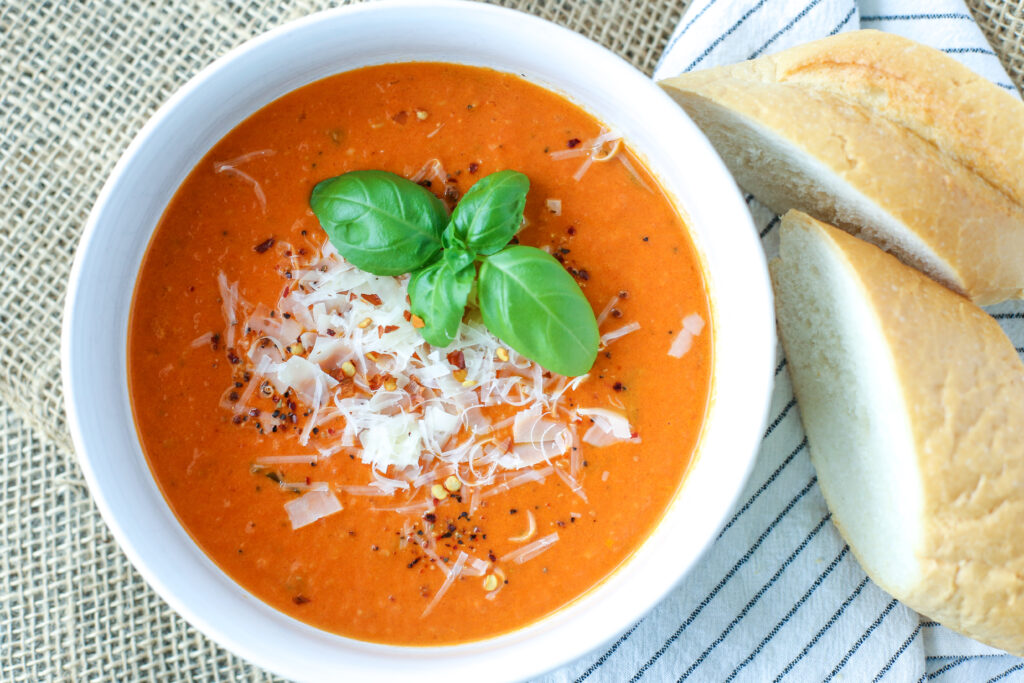 Notes on preparation
Freeze freeze freeze! Yes, you can freeze this soup no problem.
A grilled cheese tip I just learned. Instead of spreading butter on the bread for grilled cheese sandwiches, use mayo. It is way less expensive and you don't need it to be softened. It works just as good as butter for getting a nice golden crust.
You will get 100 bonus points for simmering the soup with a parmesan cheese rind.
Print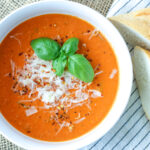 Parmesan Tomato Soup
---
2 tablespoons

unsalted butter

1

yellow onion, diced

1 tablespoon

minced garlic, about

3

cloves

2 teaspoons

kosher salt

1 teaspoon

ground pepper

2

28 ounce cans San Marzano peeled tomatoes, undrained

½ cup

fresh basil leaves, plus additional for serving
OR

1 tablespoon

dried basil

1 cup

heavy cream

¾ cup

shredded parmesan cheese, plus additional for serving
---
Instructions
In a large pot over medium heat, add butter. Once the butter is melted, add onion, garlic, salt and pepper. Saute until vegetables are softened, about 10 minutes. Reduce heat to medium and add tomatoes. Bring to a simmer.
While tomatoes simmer, break them up with either a wooden soup or a potato masher. Simmer for 20 minutes. Reduce heat to medium low if the soup is bubbling too much.
Add basil and blend soup with an immersion blender. Alternately, you can blend the soup in batches in a blender and pour back into the pot.
Stir in heavy cream and simmer over medium-low heat for an additional 10 minutes. Serve soup with extra basil and parmesan cheese on top.
Prep Time:

5 minutes

Cook Time:

40 minutes

Category:

Main Course, Soup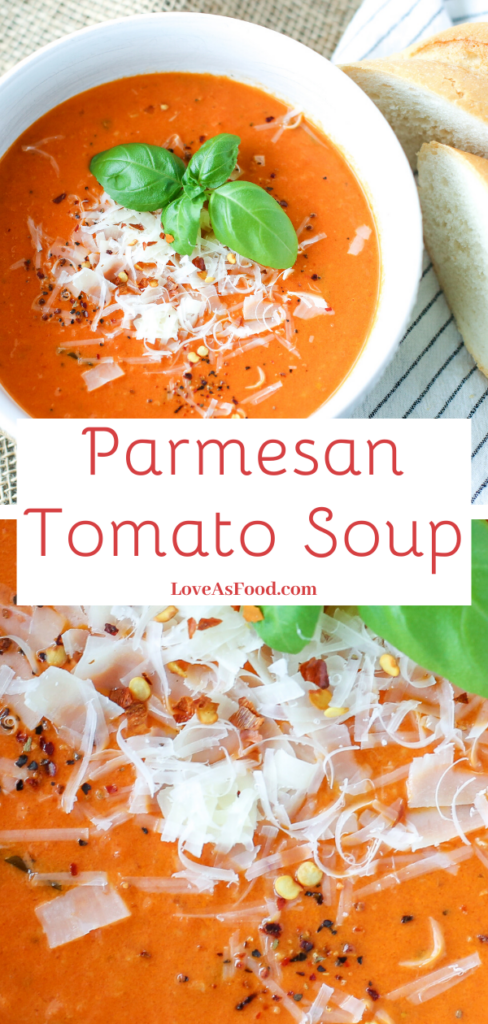 Cooking equipment I used in this recipe
Listened to while in the kitchen