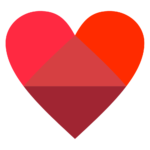 There are few things not made more exciting by honey butter. That could be a bumper sticker. Someone get on that for me. Run-of-the-mill brussel sprouts become exciting with honey butter. Honey butter brussel sprouts are how you get your people to load up on vegetables.
Roasted or not at all
As of this writing, my husband and I have been married for 16 years and 10 months. The first few years of marriage are showing each other the norms we lived with our whole lives. For my husband, he was happy to teach me all about sushi, "Blazing Saddles" and homemade fried chicken and I was excited to show him the glory of dry cleaning, "The Great Escape" and chicken tamale pie. I was also excited for him to find out that brussel sprouts are actually not ever supposed to be steamed.
I remember the first day I made roasted brussel sprouts. He said he had never known you could buy them fresh instead of frozen. Pro-tip #1: steer clear of frozen brussel sprouts. Back in the early married days, I didn't know a ton about cooking being that I was basically a child. But I did know the basics of roasting vegetables. A couple of tablespoons of olive oil, salt and pepper and put in a 425 degree oven and let it do its thing for about 30 minutes. My husband was stoked. He didn't know brussel sprouts could taste so dang good.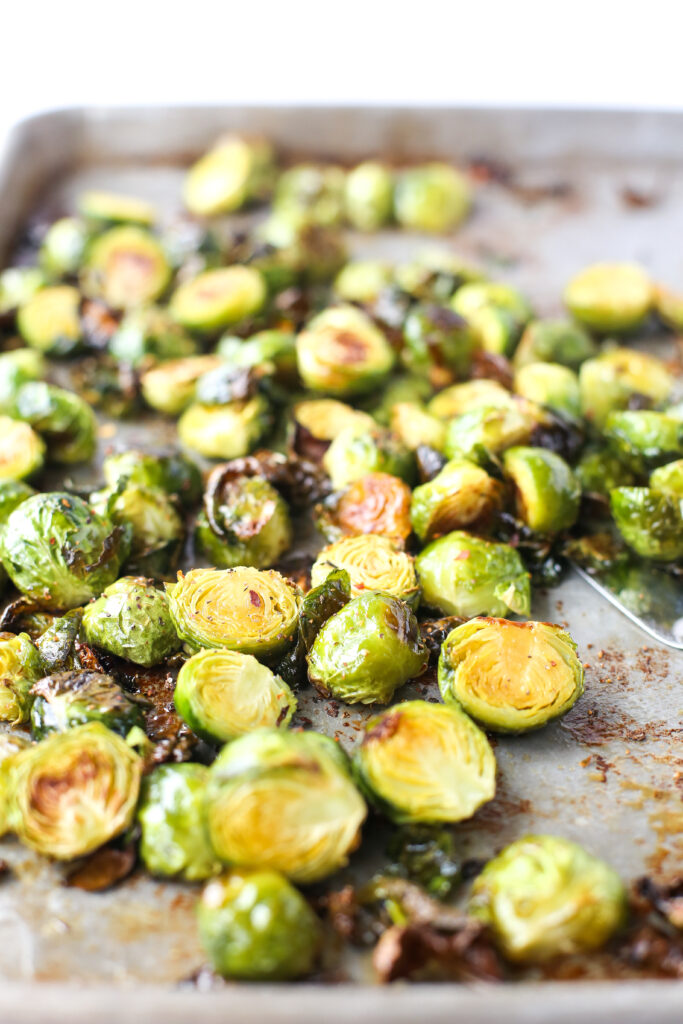 Honey butter brussel sprouts
These honey butter brussel sprouts make something so normal into something a little bit more special. We are using the basic idea of pairing bitter with sweet and salty. The honey adds just an extra little something that makes these brussel sprouts interesting, maybe even addicting. You will find yourself searching the pan for the sprout that has soaked up the most honey and butter.
We could start this recipe out with roasting the brussel sprouts in just butter, but I am a little leary of that. I am not going for brown-butter brussel sprouts. So we start with just a tablespoon of olive oil, just to help with browning and then we add the honey butter towards the end of roasting time. They come out just right.
Notes for preparation
When I roast brussel sprouts, I slice off the end, where the stem is. And then I cut it in half. That cut side gets caramelized. If we just put them on the sheet pan without being cut, you don't have enough surface area to get properly browned. And that's where the flavor is. Cutting them also helps some of the leaves come off and those little leaves are what you steal off the pan before everyone else comes to dinner. They are so crispy and salty. But it's up to you if you want to do the extra step of cutting them in half.
This is something you can get prepped ahead of time. Just get everything cut, oiled and seasoned and cover with a towel and leave on the kitchen counter. They can sit out all day just fine. But I wouldn't cook them ahead of time. They taste best when they are fresh out of the oven.
Print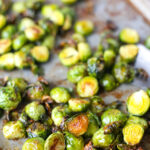 Honey Butter Brussel Sprouts
---
Total Time:

35 minutes

Yield:

6

servings

1

x
1½

pounds fresh brussels sprouts, halved

1 tablespoon

olive oil

1 teaspoon

kosher salt

2 tablespoons

honey

2 tablespoons

butter
---
Instructions
Set oven to 425 degrees F. Add brussel sprouts to a rimmed baking sheet. Add oilve oil and salt, toss to combine. Roast brussel sprouts for 20 minutes.
While brussels sprouts are in the oven, add honey and butter to a small bowl and melt in the microwave. Mix together to combine.
After 20 minutes, take brussel sprouts out of the oven and pour honey butter over the top. Toss the brussel sprouts with a spatula or rubber scraper, making sure they are coated in honey butter. Roast for an additional 10-15 minutes.
Prep Time:

5 minutes

Cook Time:

30 minutes

Category:

Side Dish