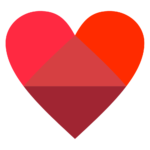 This is an oldie, but a goodie. This came from that old Everyday Food Magazine, may it rest in peace. They were these little mini magazines you could find at the grocery store check out. They had such great recipes that were simple but from scratch. I can't tell you how many times I have almost bought some on eBay during late-night phone scrolling. This black bean and corn tortilla pie is from back in those days. I had added a few of my own tweaks, like extra vegetables, and clearer instructions.
Everyday Food Magazine
It was such a sad day when the Everyday Food Magazine shut its doors, or pages:). There hasn't been a magazine like it since. It took all of the simple, perfect Martha Stewart recipes and put them in a cute simple booklet. All the recipes were so approachable. I remember being in the check out line at the grocery store with my cart full of little kids, Cheerios and apple juice and being so excited when a new issue was on the stands. Then in 2012, it was no more as the world became more digital.
Sure, we were given Pinterest in place of all our favorite food magazines. But I say nothing beats an afternoon moment on the couch, while my little kids took naps and I had a snack and time to flip through magazine pages. Something about a magazine feels more in-depth and focused. And for that reason, more inspiring.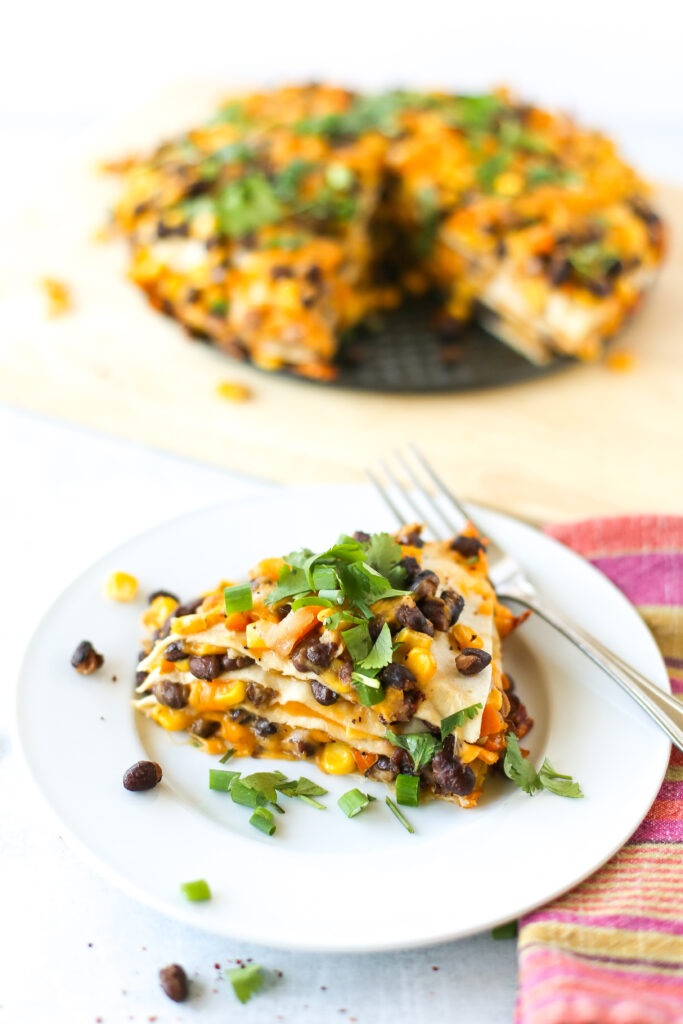 A favorite from the beginning
I have made this dish probably 30 times, seriously. It is such a hit with my family. I love when it has fallen out of the usual rotation and I remember it. It's always a nostalgic dish too, a reminder of our family life being so much more simple back in the day. In those days, I had leftovers. Now I could probably make two of these and that might suffice my hungry kids. My teenage son could probably down half of this on his own. I wonder if he even tastes the food he eats because he eats so fast, it seems like the food disappears.
This black bean and corn tortilla pie reminds me of the dish of my childhood: chicken tamale pie. From what I remember, it was green chiles and chicken and some kind of cornbread mix over the top. It was so good!
Notes on preparation
Super cool- this black bean and corn tortilla pie works so great as a make-ahead meal. I have actually made this for a vegetarian family with a new baby and had it ready for them to bake off themselves. So dinner was hot and ready when they were. It would work great as a freezer meal too.
Can't get your people to eat a meal without meat? No worries. Add some ground beef or chopped up chicken thighs to this. It would taste excellent and maybe be a little more filling. You could also do different beans. Pinto beans would taste delightful.
Print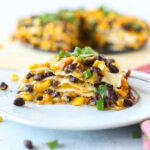 Black Bean and Corn Tortilla Pie
---
4

burrito-sized flour tortillas

2 tablespoons

olive oil

1

yellow onion, diced

1

red, yellow or orange bell pepper, diced

1 tablespoon

minced garlic, about

3

cloves

1 teaspoon

kosher salt

½ teaspoon

ground pepper

½ teaspoon

cumin

½ teaspoon

smoked paprika

2

15 ounce cans black beans, drained and rinsed

2 cups

frozen corn kernels

1 cup

chicken stock or water

2½ cups

shredded cheddar cheese
chopped cilantro and green onions, for serving
---
Instructions
Set over to 400 degrees F. Using the bottom of a springform pan, cut the tortillas to the size of the pan using a paring knife. Discard extra pieces of tortilla.
In a large skillet over medium high heat, add olive oil. Once the oil is heated, add the onion, bell pepper, garlic, salt, pepper, cumin and paprika. Saute until the vegetables are softened, about 10 minutes. Add black beans, corn and chicken stock and simmer, stirring frequently, for 10 minutes or until the moisture has evaporated. Set aside to cool slightly.
Spray the springform pan with non-stick spray. Lay one tortilla on the bottom of the pan. Spread ¼ of the black bean mixture on top and then ½ cup cheese. Repeat with the remaining tortillas and end with black bean mixture and remaining cheese on top.
Bake for 20-25 minutes, or until the cheese on top is melted and lightly browned. Remove springform from around the pan and slice tortilla pie into slices to serve. Top with chopped cilantro an green onion.
Prep Time:

15 minutes

Cook Time:

20 minutes

Category:

Main Course, vegetarian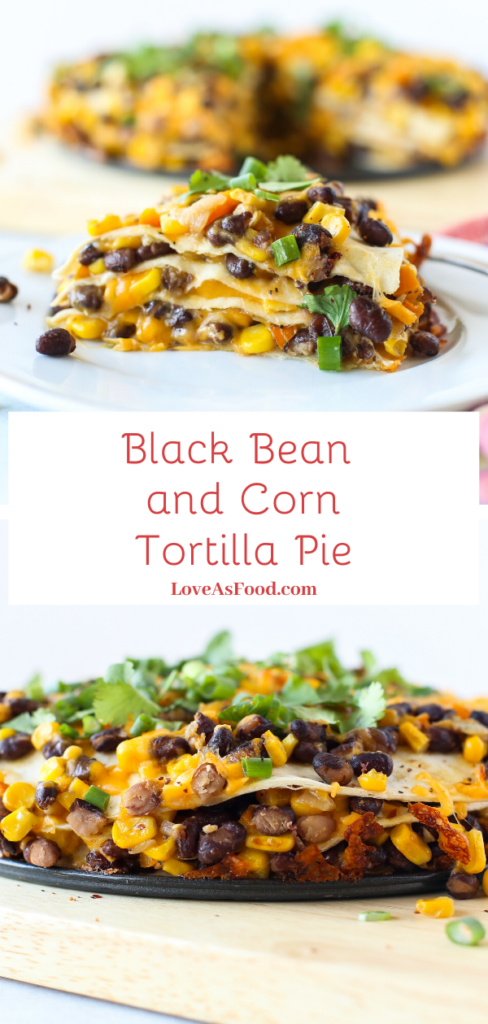 Cooking equipment used in this recipe
Listened to while in the kitchen