Both my husband and I can cook. We both are pretty good in our own right. We own an event catering company in Salt Lake City and my husband is the one running the show with that. Which side note: it is sure a funny time owning a business during a pandemic that depends on large gatherings ? Anyways, since both my husband and I can cook, we often debate on how to do it right. And we have had a mighty debate about smashed potatoes. I claim my browned butter smashed potatoes are better than his seared smashed potatoes. What I need you to do is make these and then leave a comment telling my husband that my potatoes are better.
One of God's greatest gifts
When you say your prayers at night, be sure to thank God for potatoes. Because along with eggs, they are one of the best foods on earth. Potatoes can become to many things. They stand up to just about any method of cooking. Potatoes are a sponge for flavor and work with any cuisine. Actually, I would venture to say that potatoes are a big part of every cuisine.
Potatoes have quite a few best friends, but their one true love is butter. Butter shines best when it is soaked into potatoes. My family laughs that when I make mashed potatoes, it's really just mashed butter. Any potato cooked in any way is made better with butter. These browned butter smashed potatoes take two best friend-ingredients and turn the volume way up.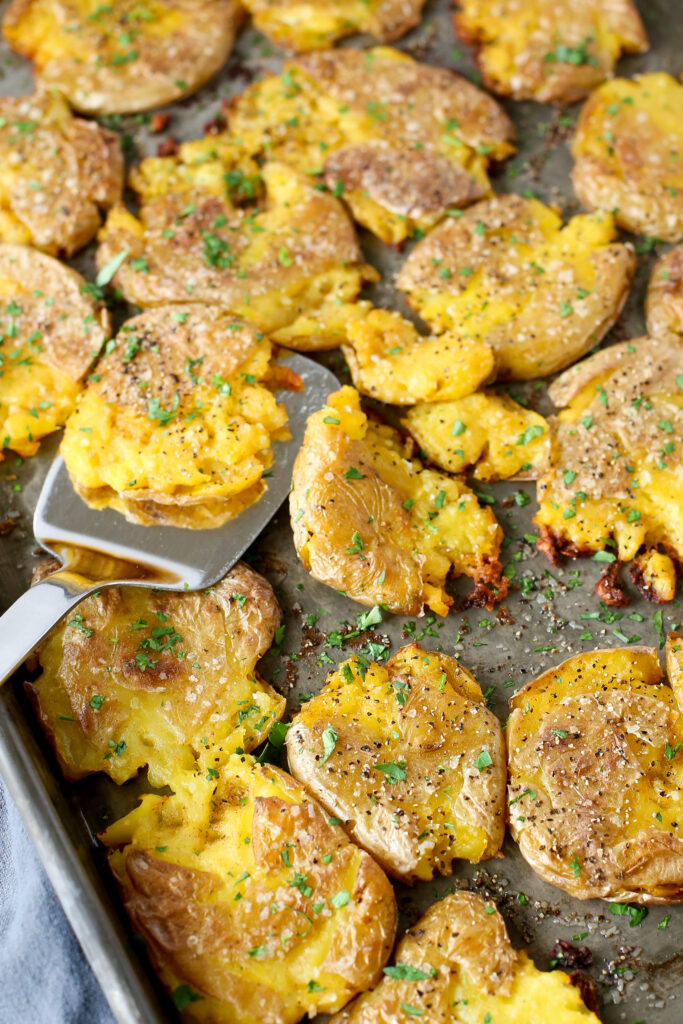 Browned butter
I have had a browned butter awakening recently. It all started with the shortbread I made a few weeks ago. The nutty browned butter in the tender shortbread was decadent. While on my browned butter kick, I decided to make magic with potatoes.
The way I made browned butter is simple. In melt a stick of butter in a small pan over medium heat. I stir constantly as the butter goes through the various stages of melting, bubbling and then foaming. As the foam begins to subside, the butter is ready. I make sure a heat-proof bowl is nearby so I can get it out of the pan as soon as it is browned. If I just set the pan aside, it will burn.
I am usually pretty chill about using salted butter when a recipe calls for unsalted. But with browned butter, you cannot. This is because any extra moisture or water in the butter cooks away and concentrates the flavors in the butter. So the salt in salted butter is pronounced. Use unsalted butter in this recipe if you can.
Yukon gold potatoes
I like to use Yukon gold potatoes in this recipe. Yukon gold potatoes are known for being extra creamy. The starch content isn't as high as Russet potatoes. I use Russets for fluffy, light mashed potatoes. For roasted potatoes, I like Yukon golds.
With these browned butter smashed potatoes, the most important factor is probably size. The smaller, the better. This will make the potatoes boil up quicker and roast up quicker. So look for the smallest potatoes you can find at the grocery store. If you are a Costco shopper, the bag of little yellow and red potatoes works great with this recipe.
Print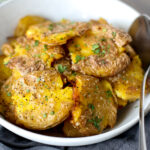 Browned Butter Smashed Potatoes
---
Description
It is time to take your potato game up a notch. Browned butter smashed potatoes are crispy, creamy, crunchy & salty all in one bite!
---
2 1/2

pounds small potatoes, about

24

total

1/2 cup

unsalted butter

1 teaspoon

kosher salt

1/2 teaspoon

ground pepper

2 tablespoons

chopped fresh parsley
---
Instructions
Set oven to 425 degrees F. Add potatoes to a large pot and add water. You want the water to go 3-4 inches above the potatoes. Set over high heat and bring to a boil. Boil uncovered for 20 minutes, until the potatoes are very tender.
While the potatoes cook, prepare the browned butter.
In a small saucepan over medium heat, add butter. Once butter is melted, stir constantly. First the butter will bubble and then begin to foam. Continue stirring until the butter smells nutty and the milk solids in the butter have turned brown. Immediately remove from the heat and pour into a heat-proof bowl. Set aside.
Once the potatoes are very tender, pour into a colander to drain the water. Add the potatoes to a rimmed baking sheet, spreading them out evenly. With another rimmed baking sheet, press down on the cooked potatoes, smashing them between the two pans. You may want to use a towel since the top pan will get hot from the potatoes. Smash the potatoes down as much as you can.
Give the cooled browned butter a final stir and then brush it on the potatoes with a pastry brush. Drizzle any remaining butter on the potatoes. Season with salt and pepper.
Roast potatoes for 40-45 minutes, until the edges are crispy. Sprinkle chopped fresh parsley on top and serve.
Cook Time:

1 hour

Category:

side dishes

Method:

boiling and roasting
Keywords: potatoes, starch sides