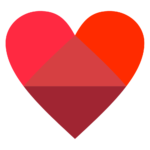 Supposedly, eating black-eyed peas on New Years Day is a way to ensure prosperity for the coming year. Who knows if it is true, but believing in it isn't going to hurt anything. There is no reason to wait for New Years Day to get some good luck. You can make slow cooker black-eyed peas any time. These are simple and delicious and you will be going back for more.
My real job
This recipe is from my back neighbor, who also happens to be my boss. I have a job that I don't often talk about. I work for a non-profit civil rights foundation as the social media and content manager. The foundation provides educators with classroom curriculum about the Civil Rights Movement, specifically from the experiences of a white Freedom Rider named Joan Trumpauer Mulholland. The foundation also creates documentaries about all kinds of civil rights issues and history. They are excellent. You can find them HERE on Amazon Prime. Start with "An Ordinary Hero".
ANYWAYS, my back neighbor has made these black-eyed peas twice now for his annual New Years open house. I finally got the recipe and knew it had to be on the regular rotation at our house. Both my husband and I couldn't stop going back for seconds. They are packed with flavor. Spicy, salty, porky, bacony. All the best things.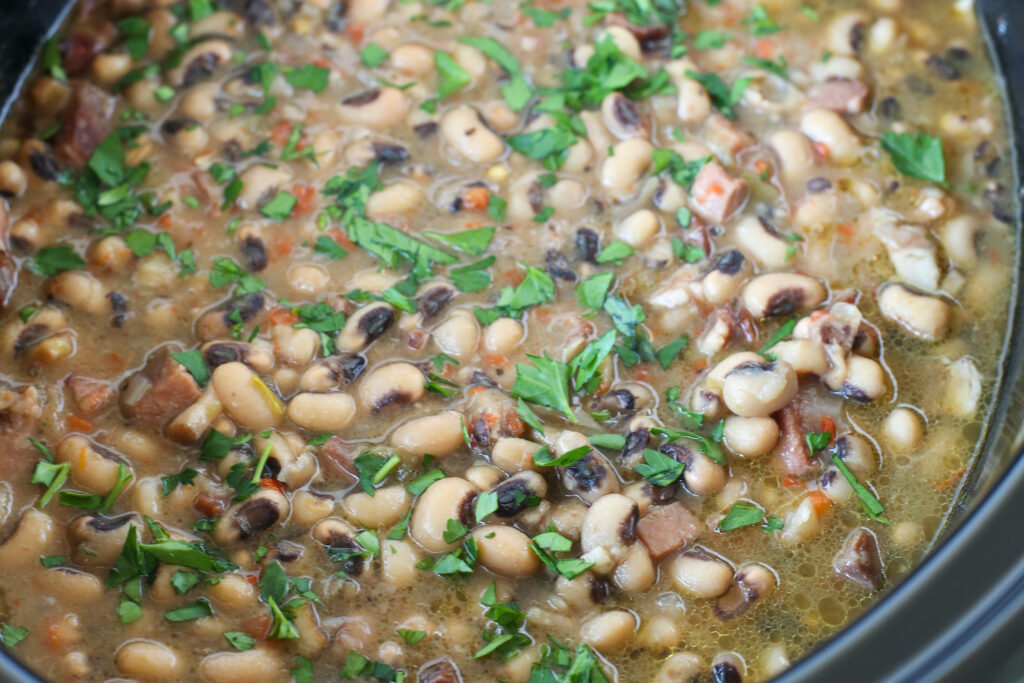 Couldn't be easier
This recipe couldn't be easier. Just dump everything in and wait for it to make your house smell fabulous. We get a double punch of pork from both ham and bacon. The bacon can be done in one of two ways. You can chop up the bacon and put it in with everything else or you can leave it whole and take out the strips when it's finished cooking. Some people might not be keen on bacon that is simmered instead of crispy. If you are like that, just add the bacon strips whole and take them out after, once all the flavor has been sucked out of them and soaked up by the beans. Personally, I like bacon in any form I can get it in. So I chopped mine up.
I also appreciate that you don't have to do any extra soaking of the beans. I guess peas. But there isn't extra soaking. Just put them in and 5-6 hours later, they are perfectly cooked.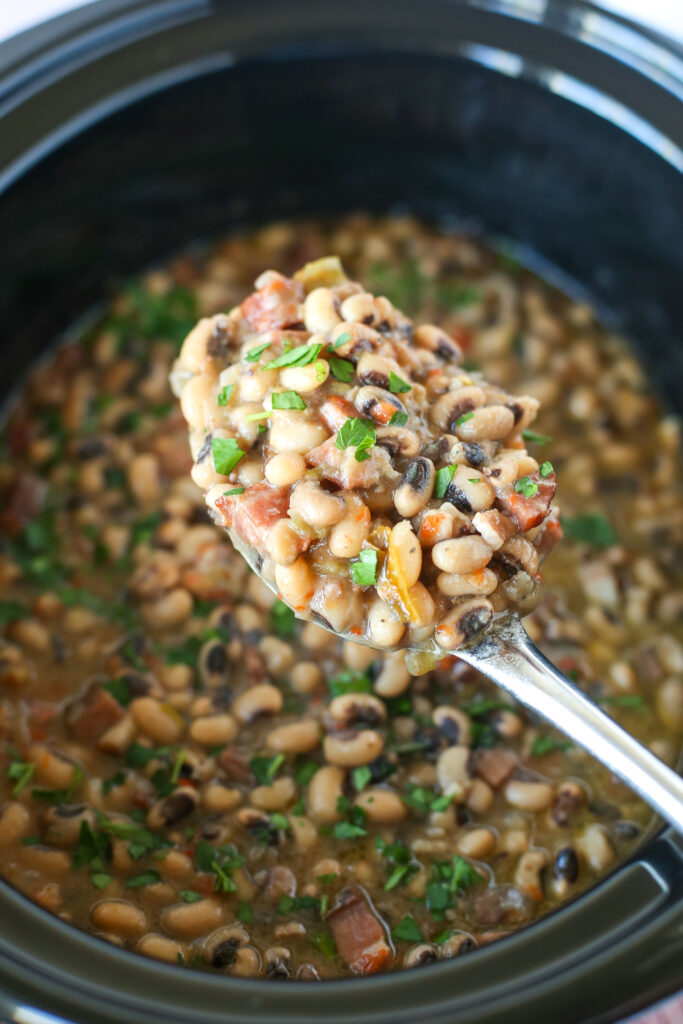 Notes on preparation
I made these slow cooker black-eyed peas on one day and then served them a couple of days later. I left them in the slow cooker, let them cool and put the whole pot in my garage fridge. When I was ready to serve, I put the pot in the slow cooker and set it on WARM. I didn't want to do LOW because I didn't want to cook the beans anymore than they already were. These beans were perfect after sitting in the fridge for a couple of days. So go ahead and make these ahead of time. They work great.
What can you serve with these? I have done roast chicken and biscuits. Or even just biscuits. I also would do BBQ ribs or even burgers. Think of these as an alternative to baked beans.
Print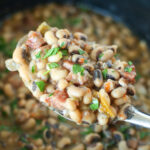 Slow Cooker Black-Eyed Peas
---
1

pound dried black-eyed peas

6 cups

water

1 tablespoon

chicken base/chicken bouilion

1

yellow onion, diced

1

red bell pepper, diced

1 tablespoon

minced garlic, about

3

cloves

4 ounce

can diced green chiles

8 ounces

diced ham

4

slices thick-cut bacon, diced

1½ teaspoons

cumin

1 teaspoon

kosher salt

½ teaspoon

ground pepper

½ cup

chopped fresh parsley
---
Instructions
Rinse peas in a strainer, removing any discolored peas. Add to a slow cooker. Pour in water. Add chicken base, onion, bell pepper, garlic, green chiles, ham, bacon, cumin, salt and pepper. Stir well and set slow cooker to low. Cook for 5-6 hours, until peas are cooked and soft.
Stir in parsley and serve.
Prep Time:

10 minutes

Cook Time:

360 minutes

Category:

Side Dish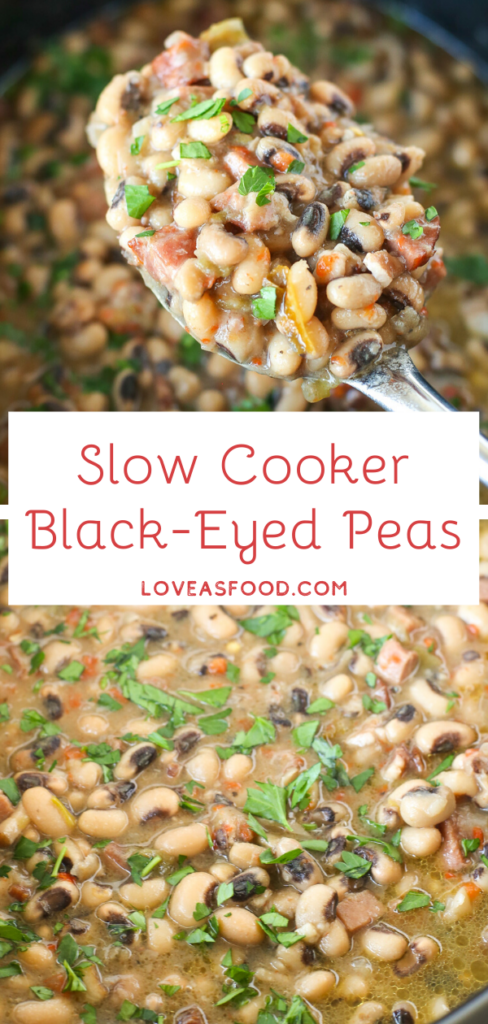 Cooking equipment used in this recipe
Listened to while in the kitchen