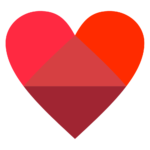 One of the biggest tragedies of living in Utah is the lack of Panera Bread. You probably think I am being dramatic, unless you have been to Panera Bread. The things I love on that menu, let me count the ways! Everything from the chocolate chip cookies to the Spicy Thai Salad is perfectly delicious. And the broccoli cheese soup is marvelous. Creamy and hearty and begging for something to dip with it. This soup is my best attempt at bringing Panera to Utah.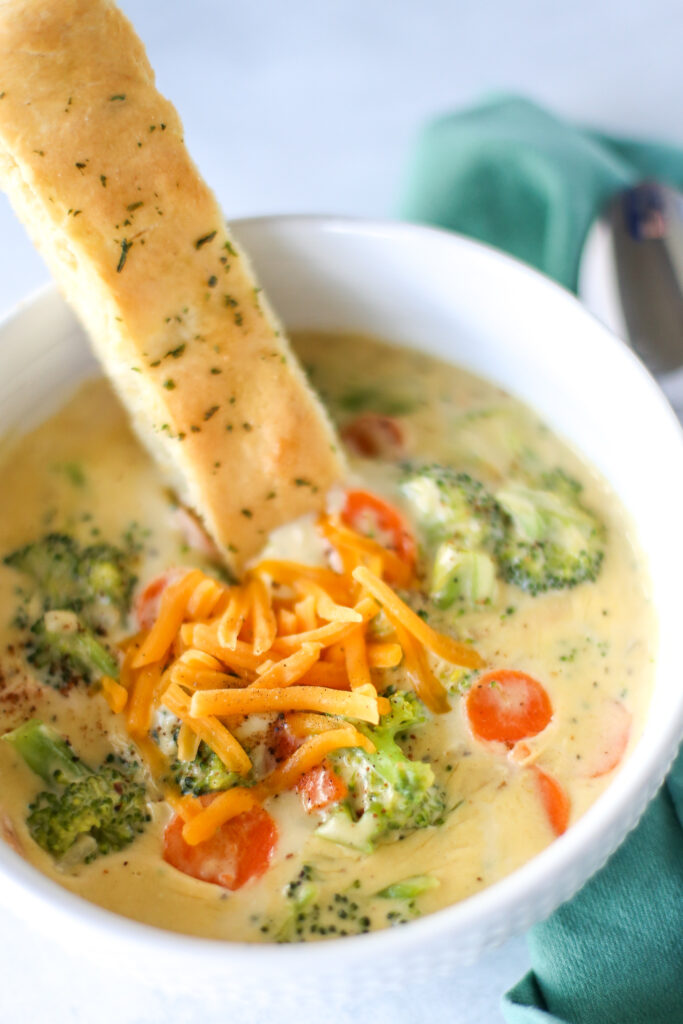 The most bizarre dream, I guarantee it
A couple of weeks ago, I woke up one morning trying to process the most insane dream of my whole life. The dream was that I was at Panera Bread for some kind of work/lunch meeting. I had my laptop and was situated in a cozy booth. The meeting was with Bobby and Karamo from Queer Eye. Tan, Jonathan and Antoni couldn't make it. The meeting went really well and we were making great headway. But suddenly, it seemed that the day had zipped by and the restaurant was beginning to close. The three of us decided to just sleep at Panera and then continue our productive meeting in the morning. We got all situated in our booth for the night and Bobby spooned me all night. It wasn't sexual at all, because hello, Bobby is gay. It was just very comforting and sweet. Just Bobby and I spooning, all night, in a booth at Panera Bread.
Now whenever you make this soup, please think of that dream. Sorry, not sorry that you will have the visual of me and Bobby, spooning and sleeping as you slurp your broccoli cheese soup.
On a separate note, if you haven't watched Queer Eye yet, please hup two. They bring pure sunshine into this world. Netflix. There are like 4 seasons, I think.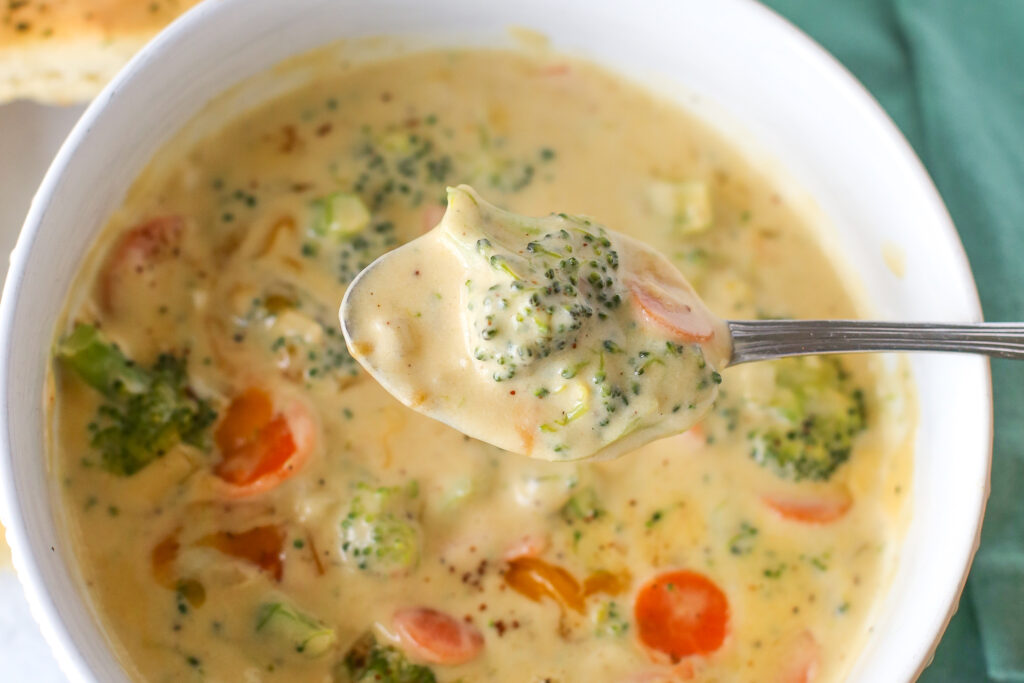 Broccoli, cheddar and cream OH MY!
My husband and I own a catering company here in Utah. It's called Rockwell Catering and we have been in business for a little over 10 years. If you get me started talking about it, you will hear me talk about how proud we are of our business. I am actually a little overly prideful about it. It takes a lot of time and effort to build a business that can sustain a family. And by George, we have done it.
When COVID-19 began its tyranny on our whole lives, my husband had to empty our commercial kitchen of perishable goods. So we've got things like smoked salmon, potatoes, onions and broccoli that came home to our refrigerator. Our home kitchen was already well-stocked with fresh broccoli, so I had to have us start eating loads of broccoli so nothing would go bad. And a batch of broccoli cheese soup was made posthaste. And there will most likely be another batch in the next couple of days. No one will fight me on it because it's so delicious. Simple ingredients, quick preparation and totally substantial.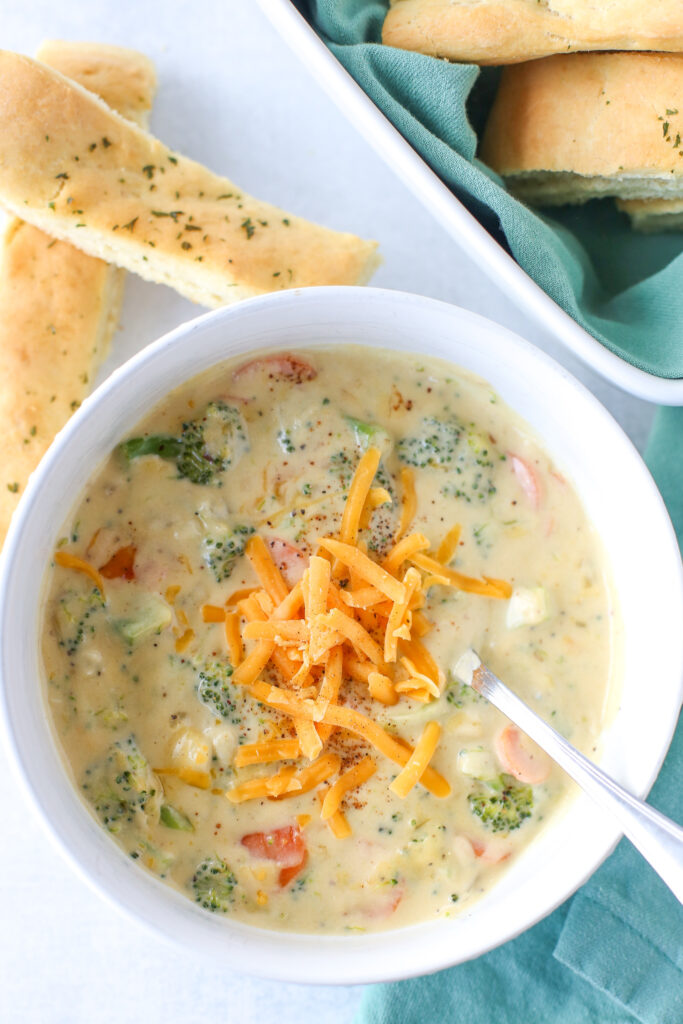 Notes on preparation
Could you use frozen broccoli in this recipe? Absolutely. I have before. The boiling time is slightly less, so keep an eye on it.
Can you use another type of cheese? My cheese-loving husband claims gruyere would be delicious.
This recipe doesn't make a ton of soup. My family never has any leftovers. If you are wanting leftovers, I would double it up. With my recipe plugin, you slide the servings number up and down to increase the number of servings for the recipe. It will show you how much more of each ingredient you should use.
Print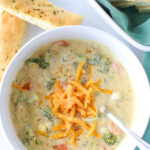 Broccoli Cheese Soup
---
Description
Broccoli beginning to turn? Lots of cheddar cheese in the fridge? Broccoli cheese soup to the rescue and everyone is happy and satisfied.
---
¼ cup

unsalted butter

1

yellow onion, diced

2

carrots, peeled and sliced

3

garlic cloves, minced

1 teaspoons

kosher salt

½ teaspoon

ground pepper

¼ teaspoon

ground nutmeg

4 cups

fresh broccoli florets, cut into bite-sized pieces

4 cups

chicken stock

1 cup

heavy cream

2 tablespoons

cornstarch

2 tablespoons

water

2 cups

shredded cheddar cheese
---
Instructions
In a large pot over medium-high heat, add butter. Once butter is melted, add onions, carrots, garlic, salt, pepper and nutmeg. Saute until vegetables are softened, about 10 minutes.
Once vegetables are softened, add broccoli, chicken stock and heavy cream. Bring to a boil and cook, stirring occasionally, until broccoli is softened, about 10 minutes.
Reduce heat to medium-low. In a small bowl, combine cornstarch and water and stir well. Pour into the soup, stirring constantly until soup is thickened. Add shredded cheese and stir until cheese is melted.
Prep Time:

10 minutes

Cook Time:

20 minutes

Category:

Soup
Cooking equipment used in this recipe