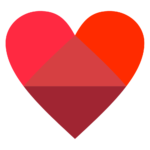 If you don't already, we could all use more meatless recipes in our arsenal. What's fun about getting older is having doctors tell you you should eat less red meat. Fun, eh? Kids, don't grow up. It's stupid. This vegetarian chili won't make you feel like you are going meatless. There's plenty of stuff to make you feel like you are being actually fed. You can have this as regular chili or pour some over a baked potato, which is a favorite meal of my kids.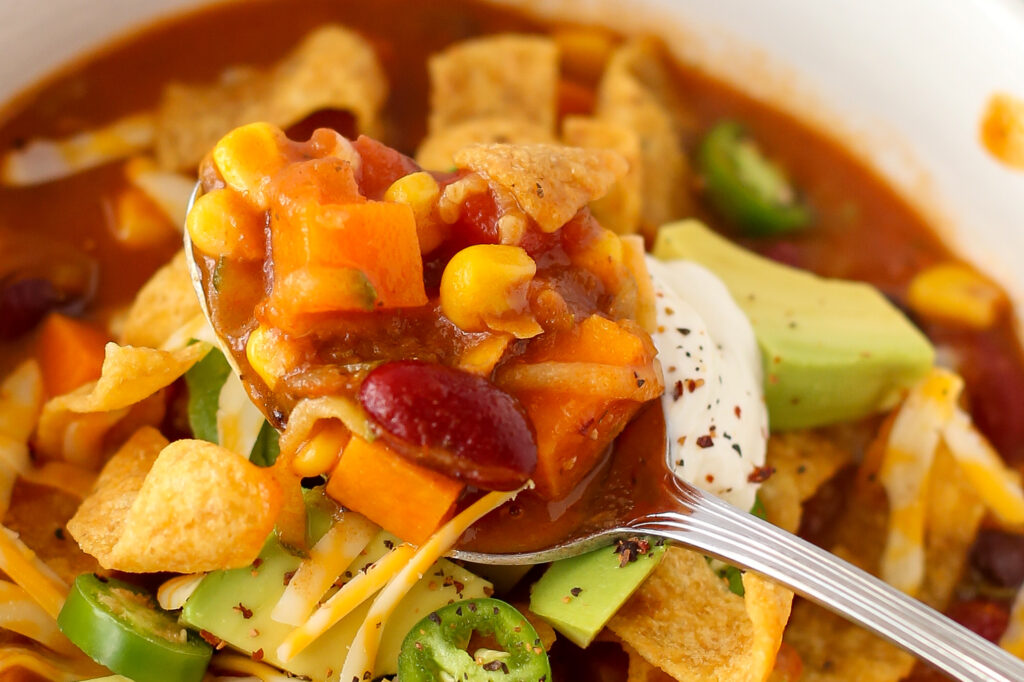 Ingredients for vegetarian chili
Onion
I use a plain old yellow onion here. But if you are after a little more natural sweetness, go for a sweet onion or red onion.
Green bell pepper
I prefer the flavor of green bell peppers in this as opposed to red bell peppers. It seems to add a nice sharpness. But if you are my mother and you are lame, you don't like green bell peppers. Sorry Sue, but you are just wrong.
Garlic
I recently discovered the Oxo garlic press. I know, I am late to the game. But I am careful about the things I add to my little kitchen. I don't want to use up more space than needed. But this tool was worth it. I usually would keep a jar of minced garlic in the fridge, which is greatly frowned upon in the culinary community. It isn't flavorless, but truly not as flavorful. Once I bought the garlic press and started buying lots of fresh garlic, my cooking changed. That sounds like hyperbole, but it's true. Now I keep a bulb of garlic in a tiny little bowl in the same place I keep my kosher salt and coarse ground pepper.
I am prone to adding lots of garlic when it calls for it in a recipe. More than probably most people would use. A vegetarian chili like this would only be made better with more garlic.
Ground cumin
I sort of wish I would use cumin seeds more often. I always turn to ground cumin and my cumin seeds get left behind. Anyone use cumin seeds often?
Oregano
I like oregano in this dish. An herbaceous note that isn't too sharp like rosemary or too sweet like basil. I've got some fresh oregano from my summer herb garden that needs to all be picked and tied together to dry. I think next summer, I will plant two oreganos so that I get enough oregano to dry and last all year.
Sweet paprika
Do you prefer smokey paprika or sweet? I have both and I used sweet in this since I already had smokey from the cumin. You can do whatever you prefer. I also like using paprika because it adds a lot of color.
Tomato paste
Someone please remind me to only buy the tomato paste that comes in a tube. Thanks.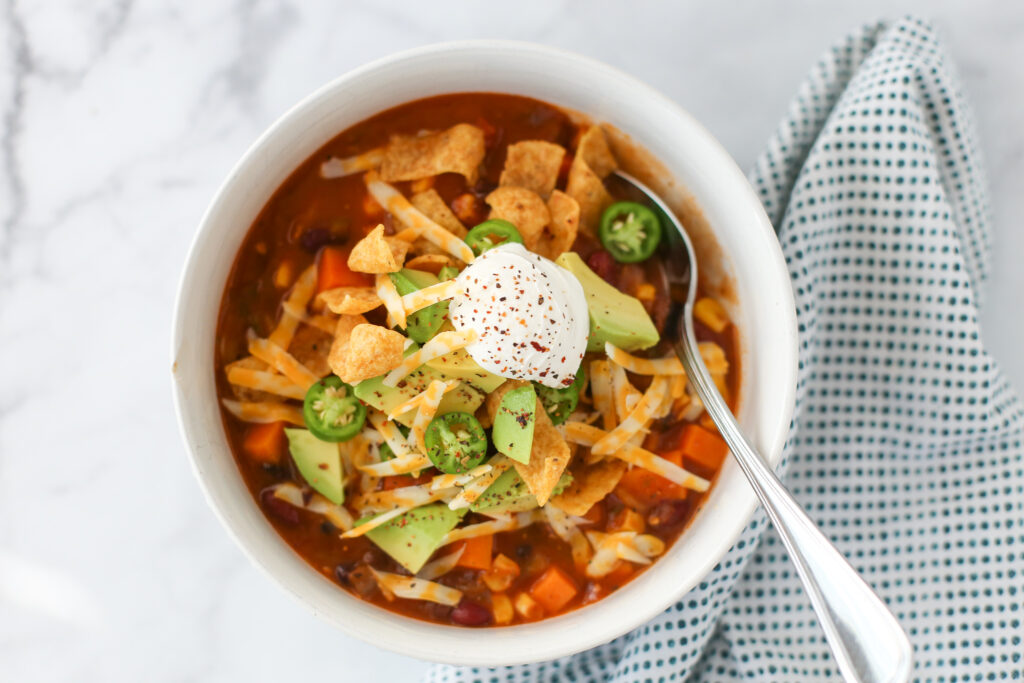 Tomato sauce and diced tomatoes
I have some blended up tomatoes in the freezer from my summer garden that I could have used for this, but I am saving that stuff for a good pasta sauce for spaghetti. This is a good time to pull out the cans of tomato sauce in your pantry. Same goes for the diced tomatoes. Tip for parents of grumpy eaters: buy the petite diced tomatoes. They break down in a simmered soup to almost nothing and then no one is picking out big pieces of tomatoes. It is aboslutely infuriating to watch my kids do that.
Canned beans
Vegetarian chili can really use whatever beans you and yours prefer. I used kidney beans and black beans. I might have traded the kidney beans for pinto beans if I had them. Do whatever beans you like.
Canned corn
If you have frozen corn you need to use up, go ahead and use that in place of canned corn. It's about 1 1/4 cup.
Sweet potatoes
Maybe it's more like yams. Can we all just agree that sweet potatoes are the orange ones? I know, they aren't. But I like that better. One big sweet potato peeled and diced is about 2 cups. And that's what we use here. I suppose you can leave the peels on, but I get rid of them and they go in my compost which apparently is really good for compost? I don't know.
Shredded zucchini
I suppose you could shred the sweet potatoes or dice the zucchini, but it's really up to you. My kids will eat the zucchini better if they can't see it. Also, I have lots of shredded zucchini in my freezer. I shredded a ton of it from my garden and then portioned it out into 2 cups portions and froze them in sandwich bags. Makes for easy quick meal additions. And bonus, it can be added frozen.
Vegetable Stock
You might not have veggie stock in your pantry. Don't stress. You can use chicken or beef stock. It would make it a less official vegetarian chili, but it would still taste fantastic. No stock at all, add water and don't cry about it.
Toppings
Let's be honest, a good bowl of chili is almost more about the toppings than it is about the chili itself. You can do whatever you and yours like. Here is a good list of ideas and maybe you get a new one.
Sour cream
Creme fraiche
Corn chips (Fritos)
Tortilla chips
Tortilla or won ton strips (look where the croutons are sold in the grocery store)
Sliced chiles
Green onions
Red onion
Fried onions
Cilantro
Avocado
Fresh limes
Shredded cheese
Crumbled queso fresco
BACON❤️
Print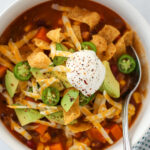 Vegetarian Chili
---
Description
We can all use more meatless meals in our arsenal, right? Vegetarian chili is a great staple to get more vegetables in your diet!
---
2 tablespoons

olive oil

1

yellow onion, diced

1

green bell pepper, diced

4

garlic cloves, minced or pressed

1½ teaspoon

kosher salt

1 teaspoon

ground pepper

1 teaspoon

dried oregano

½ teaspoon

ground cumin

½ teaspoon

sweet paprika

¼ teaspoon

chile powder

2 tablespoons

tomato paste

1

15 ounce can kidney beans, drained and rinsed

1

15 ounce can black beans, drained and rinsed

1

15 ounce can corn kernels

2 cups

peeled and diced sweet potatoes

2 cups

shredded zucchini

1

15 ounce can tomato sauce

1

15 ounce can diced tomatoes

3 cups

vegetable stock
Varios chili toppings, for serving ((sour cream, cheese, chips, avocados, etc.))
---
Instructions
In a large pot over medium high heat, add olive oil. Once the oil is heated, add onions, bell pepper, garlic, salt, pepper, oregano, cumin, paprika and chile powder. Saute for 10 minutes, until the vegetable are softened and beginning to caramelize.
Add tomato paste and stir well to coat all the vegetables. Add both beans, corn, sweet potatoes and zucchini. Stir well and cook for 5 minutes. Pour in tomato sauce, diced tomatoes and stock. Bring to a simmer and partially cover, allowing steam to escape.
Simmer for 20 minutes, stirring occasionally. Serve chili with whatever toppings you prefer.
Prep Time:

20 minutes

Cook Time:

30 minutes

Category:

Dinner
Keywords: soup, Vegetarian