It's soup season pals! Yeah yeah yeah, it's delicious and comforting and all that crap. But it's more that I love soup season because it's so easy. Soup comes together so quick, uses easy ingredients and leftovers can be frozen for later. This roasted butternut squash soup is all those things.
Soup Guide
Eons ago, I had a food blog called Rookie Cookie and I put together a soup guide. A guide on how to make soup out of anything you've got in the fridge or pantry. I have to say, it's been probably 10 years since I made this, but I'm still so proud of it. It really does work! Print it out and give it a try. It's useful to keep taped to the inside of your kitchen cupboard. Give it a try. Let me know what you think.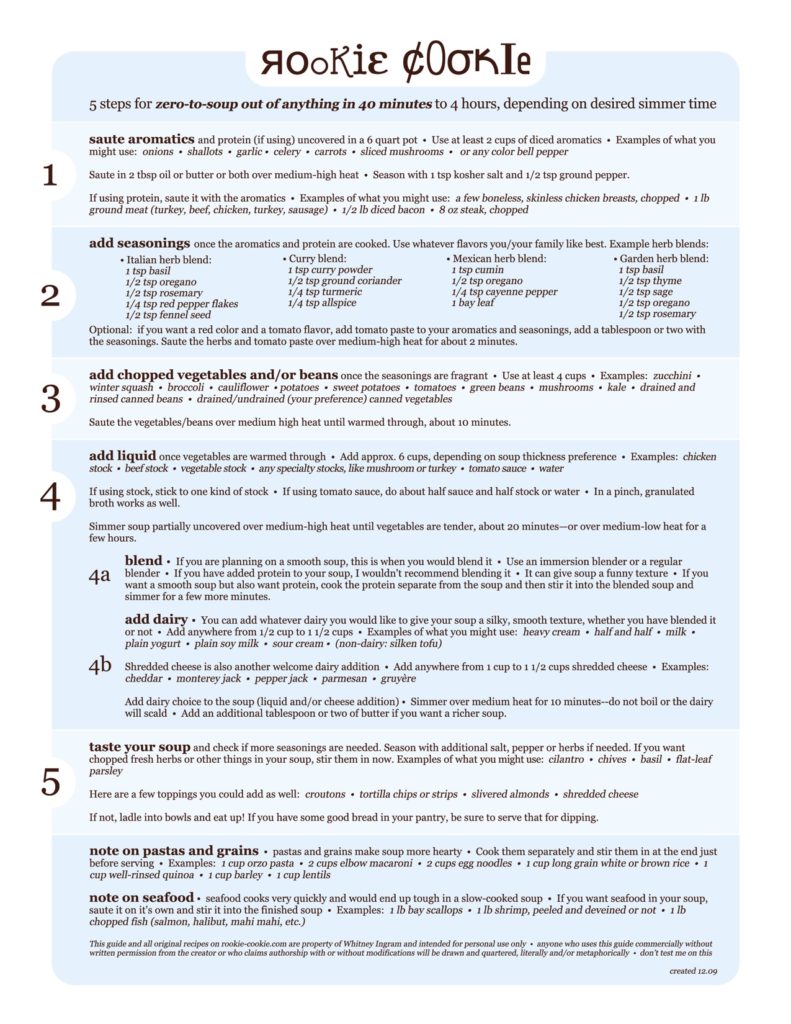 Roasting is for winners
For this roasted butternut squash soup, roasting is the key. It might seem like a step that will just complicate things, but it really doesn't. By roasting the butternut and parsnips, you don't have to have it boil them, which is more to babysit than roasting. So get the veggies roasting while you get the rest of dinner ready to go.
What other veggies could you roast for this soup? Go for some carrots, rutabaga, sweet potatoes, celery root, beets turnips- just about any root vegetable. I added parsnips to this recipe because I like the earthiness it adds paired with the sweetness of the butternut squash and onions. And as you have probably heard in my post of kale apple salad, I am a big fan of adding new vegetables to my recipes because it's different kinds of nutrients. Roasting is a great way to try out new veggies. It brings out the natural sweetness of everything and creates a nice texture.
Baby food or roasted butternut squash soup?
There are a lot of recipes for roasted butternut squash soup out there, but I feel like a lot of the pictures of it look like baby food. Go do a quick search and you will see what I mean. I think I know why some recipes look like that. And I think it's not using enough, or any at all, heavy cream. Blended squash can look a little transparent. Pureed baby food can have that transparent look. Adding cream gets rid of that. Plus, adding cream makes it delicious.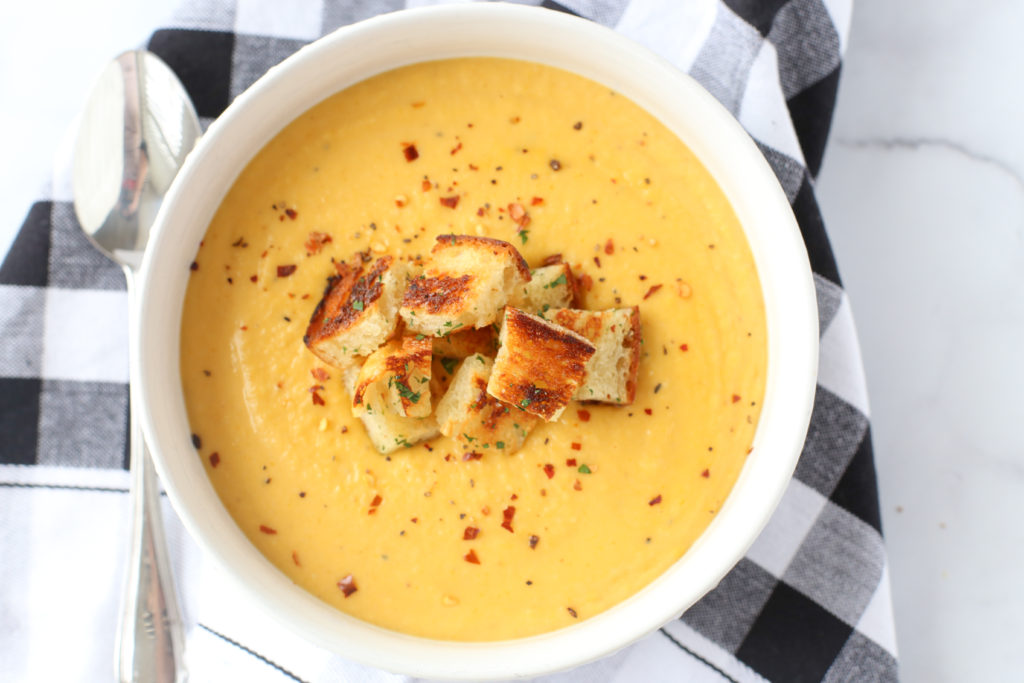 Notes on preparation
I served this soup with homemade croutons. They are simpler than they sound. I keep leftover french bread in the freezer and use it for croutons. Defrost a few slices, cut them up and saute them low and slow on the stove with olive oil and salt. They are great for soups and salads.
If you can find it, buy the butternut squash already peeled and chopped. It's worth the extra money because peeling a butternut squash is a pain in the ass. And it leaves a weird sticky film on your hands.
Print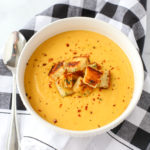 Roasted Butternut Squash and Parsnip Soup
---
2

pounds chopped peeled butternut squash

3

parsnips, peeled and roughly chopped

1

yellow onion, roughly chopped

2 tablespoons

olive oil

1 teaspoon

kosher salt

1 teaspoon

ground pepper

4 cups

chicken stock

2 cups

heavy cream

1/2 teaspoon

ground nutmeg

1/2 teaspoon

ground ginger
---
Instructions
Set oven to 425 degrees F. On a baking sheet, add butternut squash, parsnips, onion, olive oil, salt and pepper. Toss well and roast for 30-35 minutes.
Once roasted, add vegetables to a blender. Add enough chicken stock to be able to blend the vegetables until smooth. Pour blended mixture into a large pot over medium heat. Add remaining chicken stock if it wasn't already blended with the soup. Add heavy cream, nutmeg and ginger. Simmer for 10 minutes.
Prep Time:

5 minutes

Cook Time:

45 minutes

Category:

Main Course, Soup