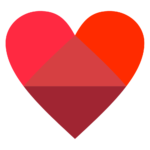 I am going to be really real right out the gates. This isn't real chocolate mousse. I feel like a real mousse would defeat the purpose of a sheet cake. Sheet cake is made for its convenience, so a real mousse just doesn't match for me. But we are calling this chocolate mousse sheet cake because it sounds better than fake chocolate mousse sheet cake. It's all you want in a sheet cake. Super moist cake and a perfectly sweet topping.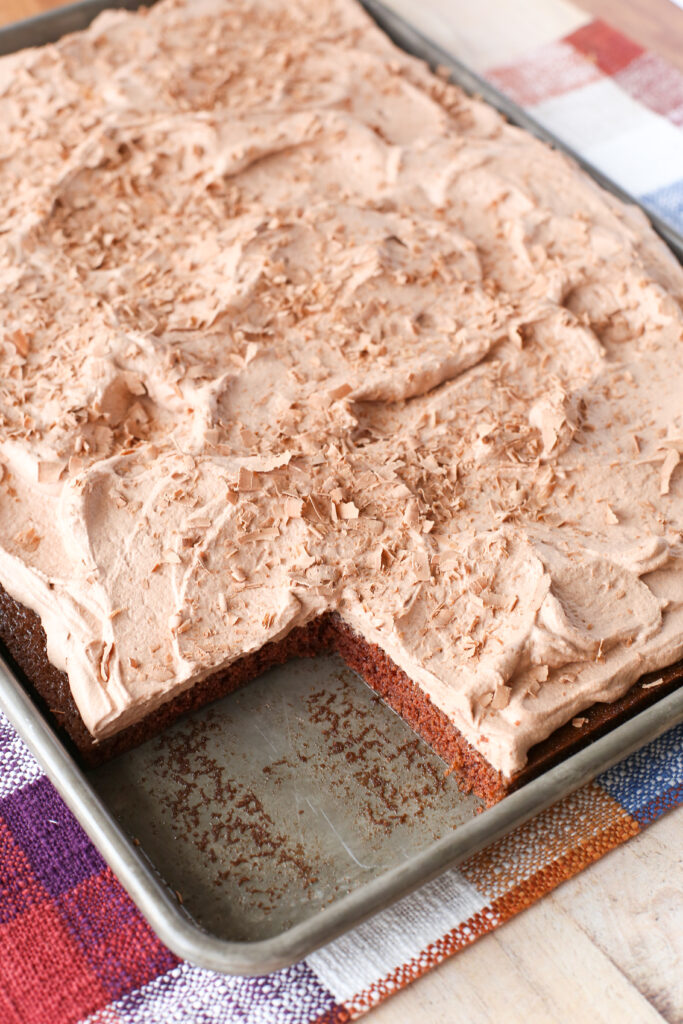 So I wrote this book one time…
If you are new to Whitney recipes, you might not know I wrote a cookbook some years ago. Honestly, it feels like a hundred years ago. My life was so different back then. But the cookbook's recipes still stand. They are really good and I worked incredibly hard on them. Here's a funny thing: I actually had a brother in-law say to me "So did you like get all these recipes online?" Yeah bro, I plagiarized all of them and I didn't work super hard to develop them and learn how to properly write a recipe all on my own. Insert like a ton of eyerolls.
There is an excellent sheet cake recipe in my cookbook. Pat's Cinnamon Chocolate Sheet Cake. If you have the book and you haven't made that one, get to it. You won't be sad. I used that sheet cake recipe as a base for this chocolate mousse sheet cake. And actually, I made it 3 days ahead of time and wrapped the whole pan in plastic and put it in my garage fridge until I was ready to frost it. It tastes as good now as it would have a couple of days ago.
If you don't have my book, it's called "The Family Flavor: 125 Practical Recipes for the Simple and Delicious". Click HERE for the Amazon link. If you are big on photographs for every recipe, you're in luck. The photographs are so so good.
What do you make a sheet cake for anyways?
Sheet cake doesn't really feel like a celebratory cake. It isn't all that grand. It's pretty flat, doesn't do a great job of holding candles and doesn't draw a lot of attention. But a sheet cake is perfect for that church function you signed up to bring a dessert to. It's ideal for the PTA teacher luncheon at school. And everyone would love to see you bring it to the family BBQ at the park. It travels super easy and can feed a good amount of people. It does great as a leftover, especially if you have one of those sheet pan covers. Click here for the one I got on Amazon. You can slide it under the carton of eggs and package of deli cuts.
If you want to really wow your kids, make a chocolate mousse sheet cake and let them decorate it with all the sprinkles you have hiding in the back of your cupboard. You will be the hero of the day.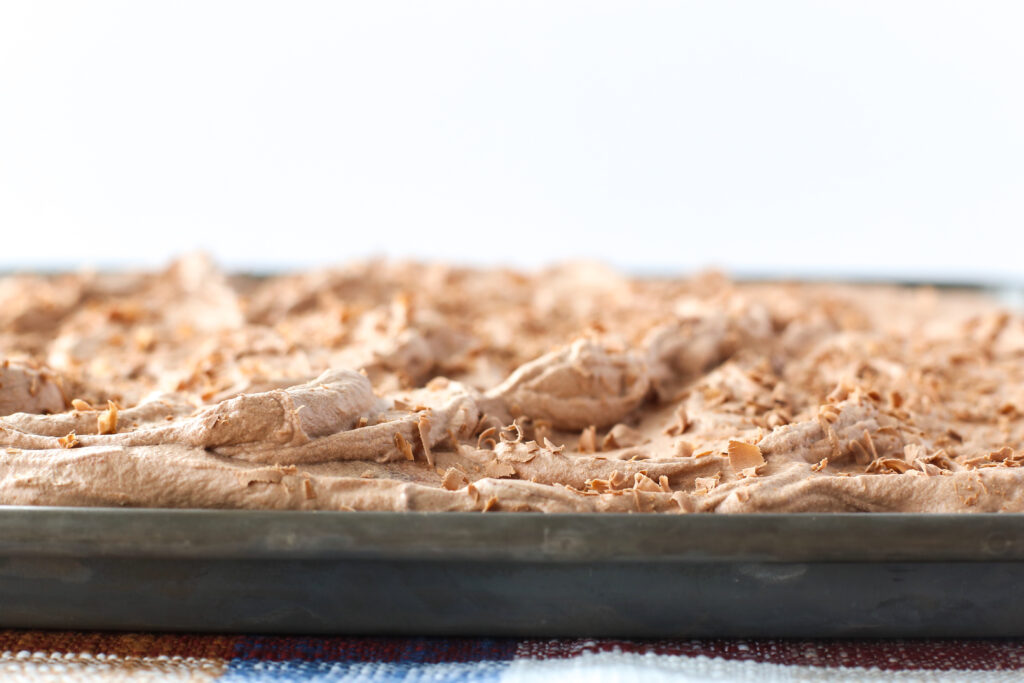 Notes on preparation
Like I said previously, you can make this cake a couple of days ahead of time and let it sit in the fridge. But don't do the chocolate "mousse" ahead of time. The whipped cream will deflate along with your happiness.
I am going to leave it up to you to use whatever chocolate you like. I prefer something a little more bitter, so I use semisweet. But if you are more of a milk chocolate person, go for it. I bet white chocolate would be great too. Whatever you choose, the end result will be the same.
When you rinse the bowl out after making the cake batter when it's time to make the mousse topping, run it under cold water before you dry it off. Whipped cream won't come together as well in a warm bowl.
Print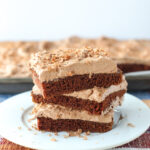 Chocolate Mousse Sheet Cake
---
For the "mousse" topping:
1½ cups

mini marshmallows

1 cup

semisweet or milk chocolate chips

½ cup

milk

2 cups

heavy cream

¼ cup

powdered sugar
For the cake:
2 cups

all-purpose flour

2 cups

granulated sugar

1 teaspoon

baking soda

½ teaspoon

salt

2

eggs

½ cup

buttermilk

1 teaspoon

pure vanilla extract

1 cup

water

½ cup

unsalted butter

¼ cup

vegetable shortening

¼ cup

unsweetened cocoa powder
grated chocolate bar, for garnishing
---
Instructions
Before baking the cake, start the mousse topping. In a medium saucepan over medium-low heat, add marshmallows, chocolate chips and milk. Stir the mixture often until smooth and the marshmallows are melted. Once smooth, set aside and allow to cool completely.
Set oven to 350 degrees F. Spray a 13×18 inch baking sheet with non-stick spray and set aside.
In a mixing bowl fitted with the paddle attachment, add flour, sugar, baking soda and salt. Whisk well to combine. In a small saucepan over medium-high heat, add water, butter, shortening and cocoa powder. Stir occasionally, until the butter and shortening are melted and the mixture is smooth. Pour over the flour mixture and mix until combined. Add buttermilk and eggs and mix on medium speed until mixture is well combined.
Pour batter into the prepared pan and spread evenly. Bake for 15-20 minutes, or until an inserted toothpick comes out clean. Allow cake to cool completely.
To finish the mousse topping, clean out the mixing bowl and add heavy cream and powdered sugar. Mix on medium-high speed using the whisk attachment. Mix until cream is thickened and soft peaks form. Fold in cooled marshmallow chocolate mixture. Spread over the cooled cake and garnish with chocolate shavings.
Prep Time:

10 minutes

Cook Time:

20 minutes

Category:

Dessert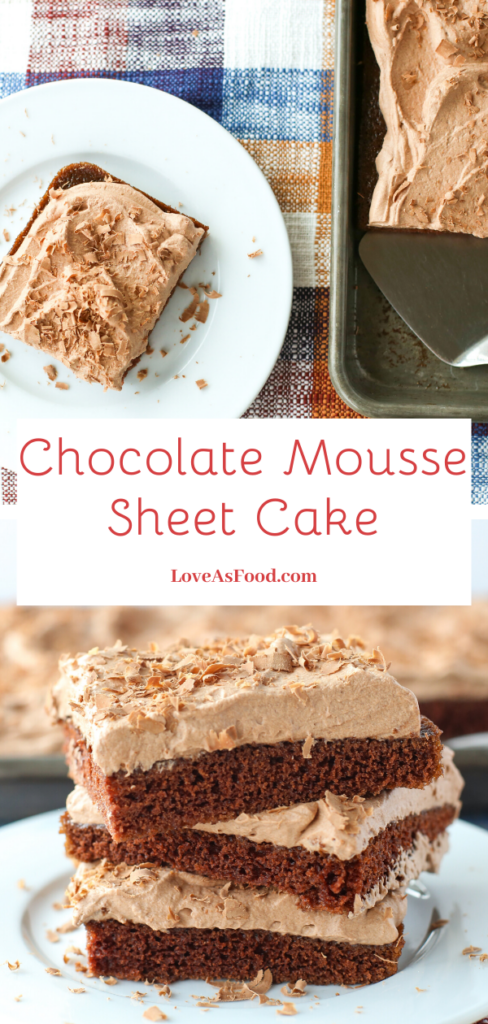 Cooking equipment used in this recipe
Listened to while in the kitchen
Jonas Brothers – What A Man Gotta Do