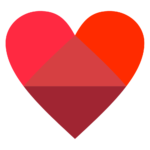 I hate to admit, I have been off my chocolate chip cookie game for a couple of years. Like I haven't made a KILLER chocolate chip cookie in a while. I don't know why. I have changed out my baking soda and even bought new pans. I have changed how I make the cookie dough balls. I have been refrigerating the dough. It all works for everyone else but me. It's fine though, I am not losing sleep over it. I know my cookie game will come back someday soon. For now, I will keep making cookies like these oatmeal cherry chocolate chunk cookies
Chewy, tart, sweet, chocolatey
I love a good oatmeal cookie. Over the years, I have changed how I make them because I have found that too much oatmeal dries them out too quick. It's sort of the same as having a bowl of oatmeal for breakfast. The longer it sits, the thicker it gets. It does the same thing in cookies. When I first started making oatmeal cookies, I was using 4 cups of oats. WHAT. Now it's down to 2. This makes for a nice, soft chewy cookie with a little oat texture.
For these oatmeal cherry chocolate chunk cookies, I am using my usual oatmeal cookie but adding some pizzazz. Tart dried cherries and melty semisweet chocolate. You get the perfect balance of chewy, tart, sweet and chocolatey. It's actually quite a dangerous combination because it's so addicting.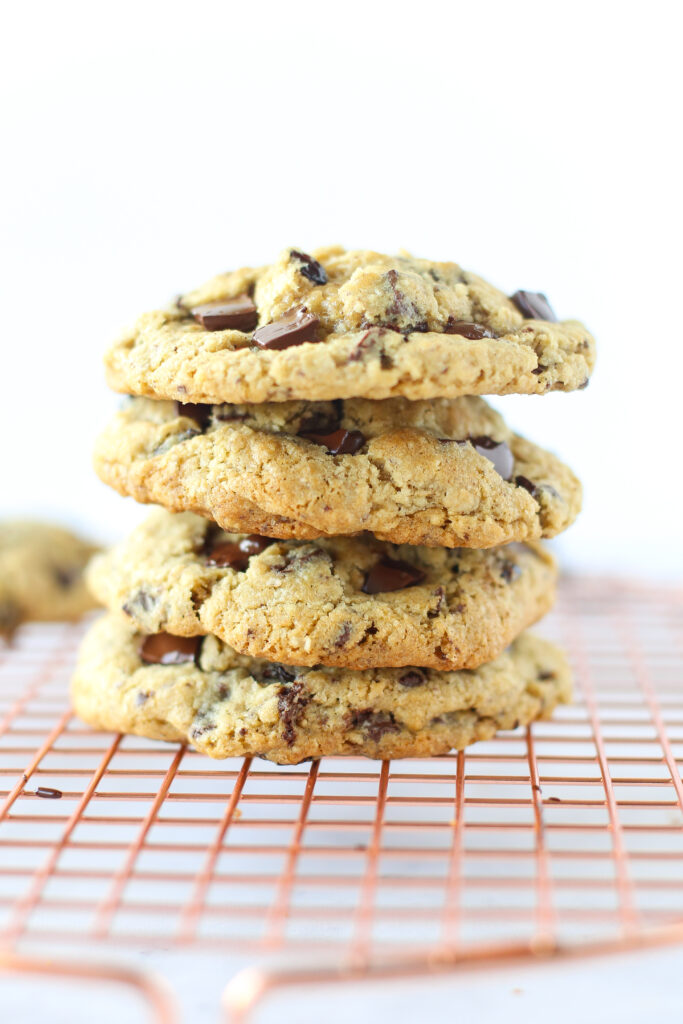 Quit being so weird about raisins
Yeah, I am talking to you. Quit being so weird. Because if you are weird about raisins, you are probably weird about dried cherries. Dried cherries are the perfect chewy tart bite for whatever you are cooking or baking. Like at this restaurant near me called Cubby's, one of their most brilliant creations is this tri-tip salad and it has dried cherries in it. The cherries are such a nice surprise. I have also had dried cherries in this pork belly dish at a restaurant in Salt Lake City and they are a revelation.
If you are Team Hate Raisins, I get it. I really do. But don't close yourself off completely to dried fruit. Dried cherries would be great in the coconut granola recipe I have on here. Stir them in after baking the granola. They would also be great in a pan sauce for some pork chops. Pork and fruit are unofficial best friends.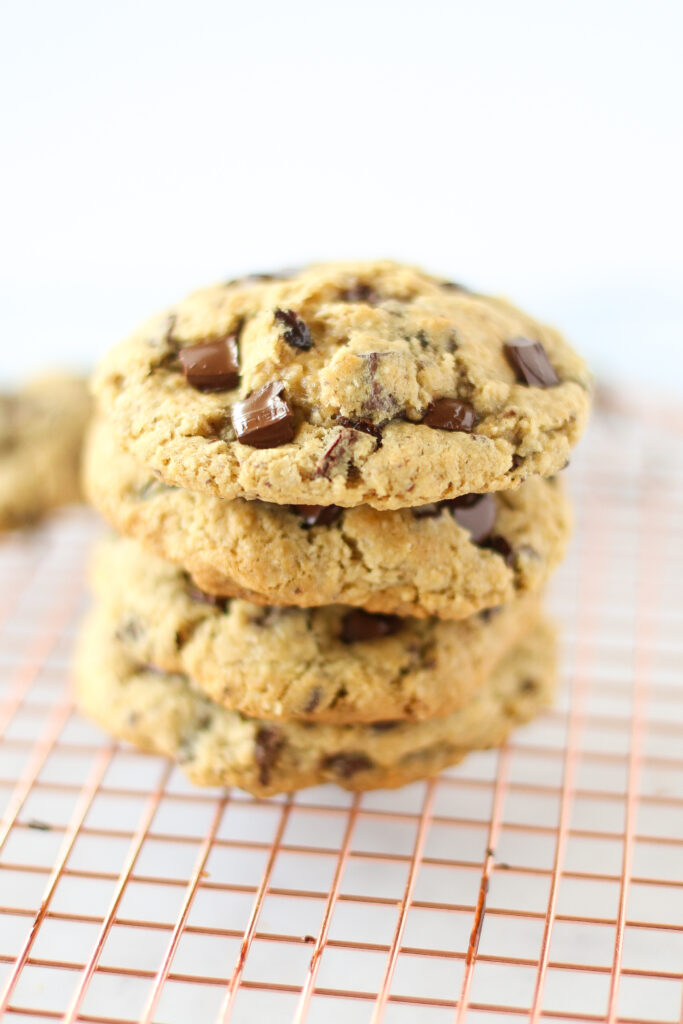 Notes on preparation
Whenever I bake with oats and combine the dry ingredients, I don't stir it up with a wire whisk. The oats get stuck in the whisk a little the ingredients don't combine as well. Instead, I take both of the mixing attachments for my hand mixer and hold them together in one hand and mix it with that. It works perfectly for stirring up bulkier dry ingredients.
I like to do giant cookies because everyone wants a big cookie instead of a little cookie. I have a 1/3 cup scoop and it makes for big ol' cookies. If you do big ones, your baking time will be between 15 and 17 minutes.
Print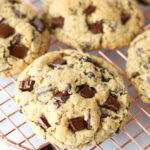 Oatmeal Cherry Chocolate Chunk Cookies
---
Total Time:

40 minutes

Yield:

24

cookies

1

x
2 cups

all-purpose flour

2 cups

quick oats

1½ teaspoons

baking soda

1 teaspoon

salt

1 cup

unsalted butter, softened

1 cup

brown sugar

¾ cup

granulated sugar

2

eggs

2 teaspoons

pure vanilla extract

¾ cup

dried cherries

8 ounces

semisweet chocolate, chopped, about

1½ cups
---
Instructions
Set oven to 350 degrees F. In a medium bowl, combine flour, oats, baking soda and salt. Stir together well and set aside.
In the bowl of a mixer fitted with the paddle attachment, add butter and mix until butter is light in color and smooth. Add both sugars and mix on medium speed for 3 minutes, until light and fluffy. Add eggs and vanilla extract. Mix well, being sure to scrape the side of the bowl with a rubber spatula. Add flour mixture and mix on medium speed. While mixing, pour in dried cherries and chopped chocolate.
Portion the cookie dough onto a baking sheet in 2 inch balls, spacing them about 2 inches apart. Bake for 10-12 minutes, or until the edges are lightly browned. Transfer to a cooling rack and repeat with the remaining dough
Prep Time:

12 minutes

Cook Time:

12 minutes

Category:

cookies, Dessert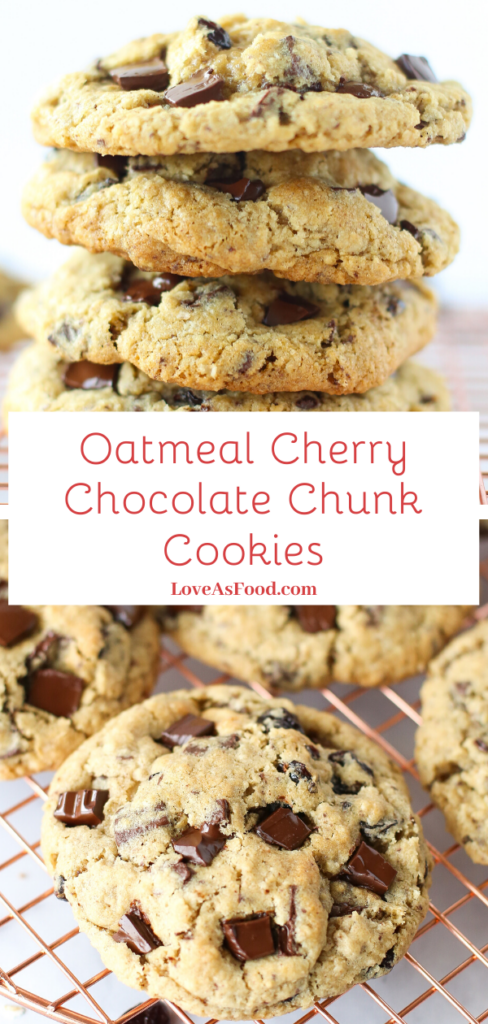 Cooking equipment used in this recipe
Listened to while in the kitchen