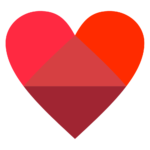 Oh boy, do I have a good recipe for you today. It's 4 ingredients, minimal preparation and maximum flavor. And everyone will love it. It's just good food made from likable ingredients. It will fill the tummies and bring everyone to the table happily. Baked ravioli with sausage could very well be you next go-to meal on your dinner rotation.
What are these 4 ingredients anyways?
Baked ravioli with sausage is as simple as can be. A bag of frozen ravioli, a jar of marinara sauce, some Italian sausage and mozzarella cheese. Boom done. These are ingredients that you can have in your fridge or freezer, ready to go when you've realized you didn't plan on dinner. You've got about 50 minutes from no-dinner to dinner with this recipe.
Really, in an ideal world, I have a list inside my cookbook of quickie dinners like this so when I am in a bind, I can figure out what to make quickly. And in a really really ideal world, I have these ingredients in my freezer and pantry all the time so I am ready. But that's the really really ideal world and that is probably not going to happen.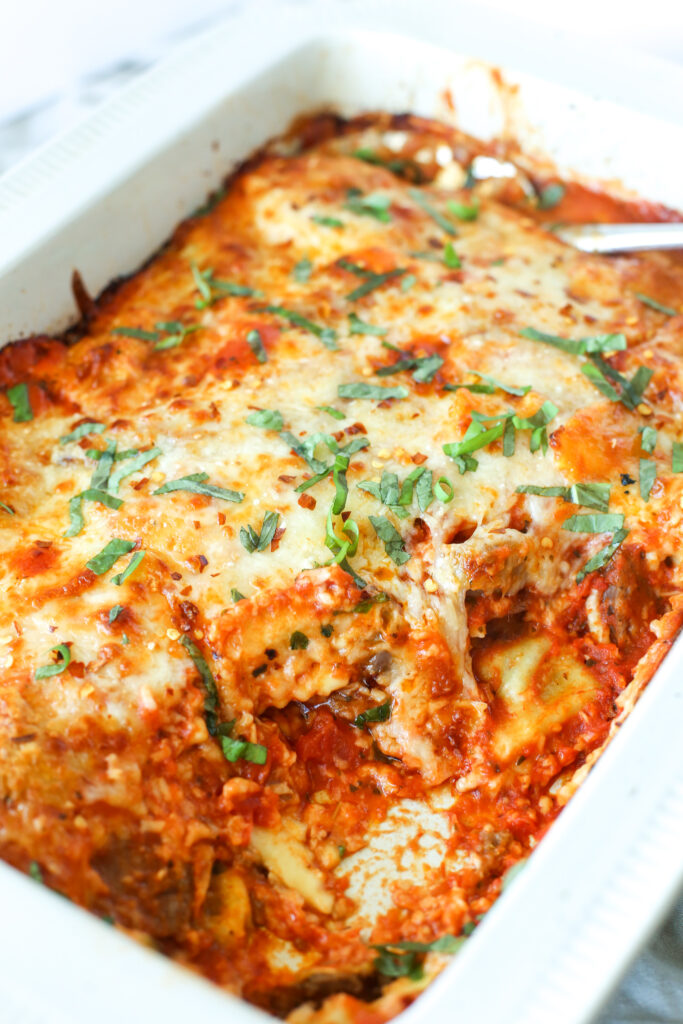 Open to variation
This recipe isn't fussy. She is open to variation and preference. And I would say more quickie recipes are. You are welcome to use whatever ravioli your family likes. I used a beef ravioli, but use all cheese if that's what you guys like. If you see some cheese tortellini by the frozen ravioli, try those. They would be delicious. At Costco, they have those fresh ravioli all the time in all kinds of delicious flavors. Try a thing of those. You can really do whatever is easiest or most delicious for you and yours.
When it comes to the sauce, I just keep basic jarred marinara on hand all the time. Nothing fancy. I sometimes will doctor it up with herbs and sauteed vegetables. But for a recipe like this, it's just dumped on top and done. Sometimes I notice some fun kinds of jarred pasta sauce at the store, like butternut squash. It would be exciting to use something like that with this recipe!
If you want to get crazy with the whole cheese situation, do it. Smoked mozzarella maybe? Or a little shredded cheddar too? I am not even going to pretend to know what right cheese to use with this. I am not a cheese person, which I count as a blessing. Less calories!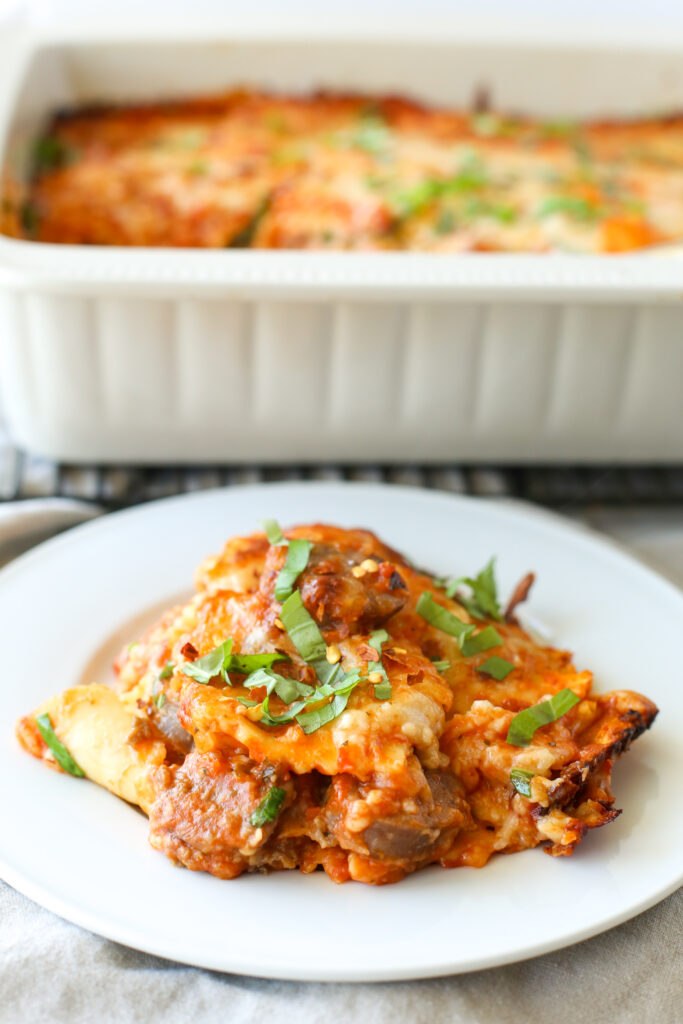 Notes on preparation
This baked ravioli with sausage would totally work as a freezer meal. The ravioli is already frozen, so why not? Here's a really tricky trick. Line your 9×13 inch pan with foil and then plastic wrap, enough to have a huge overhang. Then put your baked ravioli together. Wrap the plastic and foil over the top tightly. Then freeze. Once it's solid, take the whole frozen baked ravioli out of the pan. You can have your pan back and you just keep the block of frozen baked ravioli in the freezer. When ready to bake, remove all the foil and plastic and plop the whole block into the pan you used to freeze it. Great tricky trick, eh?
Print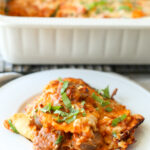 Baked Ravioli with Sausage
---
Author:

Whitney Ingram

Total Time:

1 hour 5 minutes

Yield:

8

servings

1

x
5

links Italian sausage

25 ounce

bag frozen ravioli

24 ounce

jar of marinara sauce

4 cups

shredded mozzarella cheese
---
Instructions
Set oven to 400 degrees F. Spray a small baking sheet with non-stick spray. Set sausage links on it and bake for 20 minutes, or until an inserted thermometer reaches 160 degrees F. Set cooked sausage on a cutting board to cool until able to handle.
Once cooled a bit, slice sausage and put into the bottom of a 9×13 inch pan. Pour ravioli, marinara sauce and 2 cups of mozzarella cheese on top. Using a spoon or your hands, mix everything together until well-combined. Top with remaining 2 cups of cheese.
Cover with foil and bake for 30 minutes. Remove the foil and bake for an additional 15 minutes, until the cheese is melted and browned. Allow to cool for 10 minutes before serving.
Prep Time:

20 minutes

Cook Time:

45 minutes

Category:

Dinner, Main Course, Pasta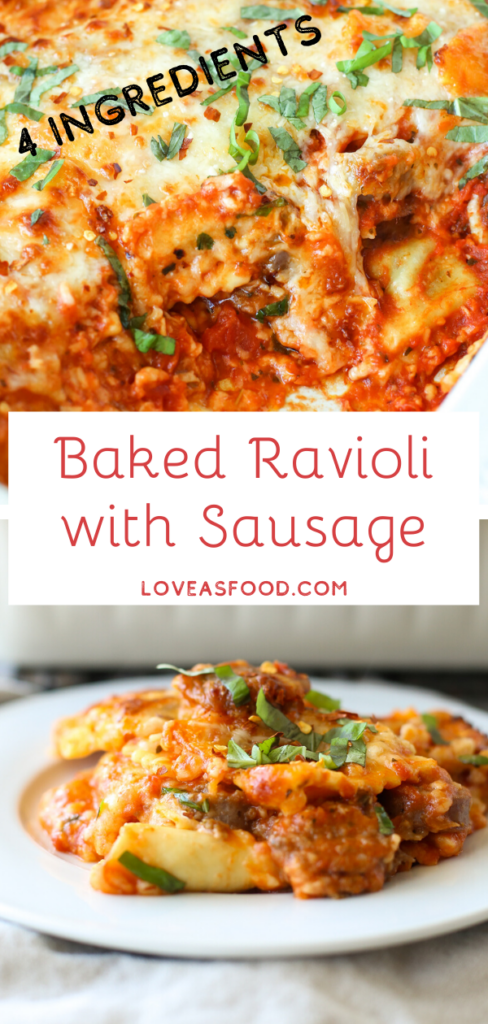 Cooking equipment used for this recipe
Listened to while in the kitchen