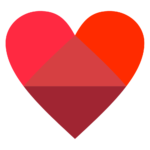 I cannot think of clam chowder without thinking of the Sundance Ski Resort. My childhood winter Saturdays were often spent skiing. For some reason, my dad wanted my sisters and I to learn to ski. So he would pack us up in the car in Novemberish and take us to the ski rental place to get us outfitted for the season. On Saturdays throughout the winter, he would take us skiing. My mom would stay home with my baby sister because OF COURSE. After having a house buzzing with 6 girls all week, I am sure she relished her quiet Saturdays.
Before we would head out on Saturday mornings, my mom would pack up a lunch for us. I have vivid memories of clam chowder and a loaf of French bread. On our lunch break in the ski lodge, the thermos would be opened and we would have steaming bowls of clam chowder with a hunk of bread. I bet any skier would come off the slopes for that.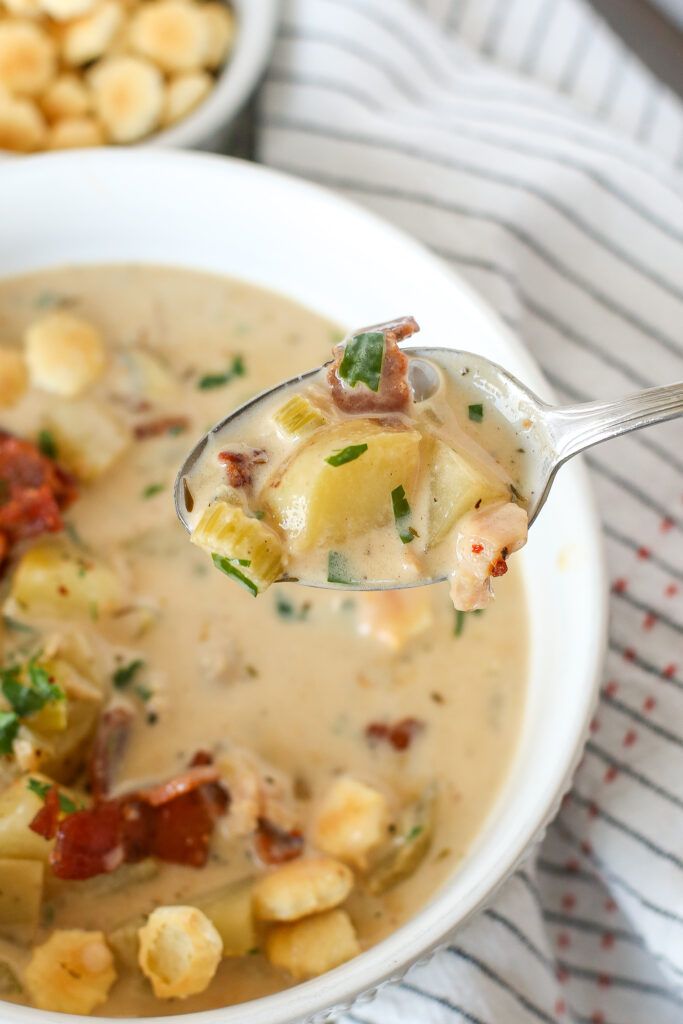 Always good memories
All my reference points with clam chowder involve good memories. Skiing with my dad and sisters is one. I also remember being out in Malibu in the winter a few years ago with my family, stopping off at a seafood place on PCH. Dinner was fried shrimp and bowls of chowder. After that dinner, we drove our kids to Topanga Canyon to tell them their Grandpa Ingram's ghost story about green ghost rock in the depths of the canyon. We sufficiently terrified them. Just doing our job as parents.
Clam chowder also reminds me of a snowy grocery trip to a local grocery store called Harmons. During a particularly intense snow storm, for some reason I thought it was a good idea to trek up to my favorite grocery store. Once inside, I headed straight for the prepared soup and ladled myself a cup of their perfect clam chowder. It was just the comfort I needed before having to head back out into the storm after my shopping.
Clam chowder isn't a difficult soup to make. The ingredients aren't special or complicated, which is what makes soup taste even better. Lets go through what you can plan on for this clam chowder recipe.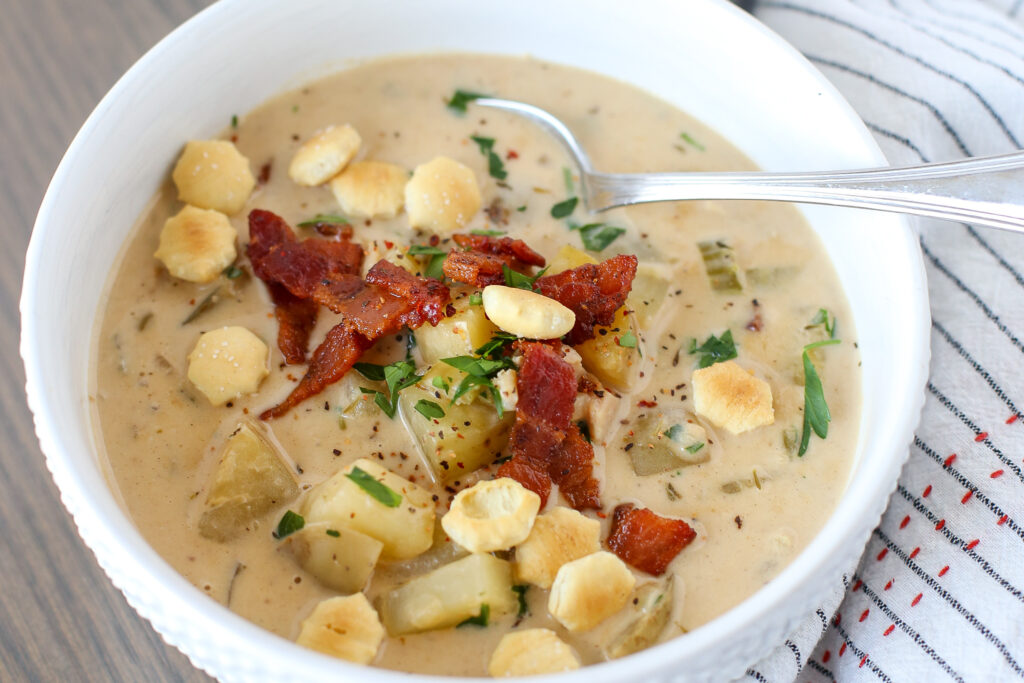 Bacon
There are two types of bacon in my grocery store- thick cut and regular. Always go for thick cut. With a recipe like this, you can't render enough fat from thinner cut bacon. And you want to get as much fat rendered as possible so you have enough to saute your vegetables.
Onion, celery and garlic
Our aromatic friends for this recipe are onion, celery and garlic. I am prone to adding bell peppers to my aromatic party, but for this clam chowder, I kept it simple. If you have a bell pepper, some carrots or a leek lying around, by all means, add it.
Thyme and bay leaves
I debated using rosemary instead of thyme, but then I didn't. Thyme seems a little more gentle whereas rosemary is a big punchier in my opinion. Sage would be nice here too. We also add bay leaves. Please remember to take them out of the soup before serving. There are plenty of horror stories of people choking on bay leaves. We don't want that to happen.
Has anyone grown their own bay leaves? I really like growing my own herbs and then drying them. But I haven't ever done bay leaves. Maybe this next summer will be my first time.
All-purpose flour
This is what we are going to use to thicken our soup. But it isn't to thick. If you prefer a thicker soup, by all means, add more flour. If you get to your finished soup and it isn't as thick as you would like, don't just toss the flour in. You need to combine it with a fat. I prefer using softened butter. Equal parts flour and butter mixed into a paste will think a soup quickly and easily without lumps. If you wanted to thicken this clam chowder further, I would start with 1/4 cup softened butter and 1/4 cup AP flour mixed into a paste. Stir that into the simmering soup and see if that gets you as thick as you want.
Vegetable stock
With my clam chowder, I use vegetable stock. Many recipes call for chicken stock, which you are more than welcome to do. When it comes to using vegetable stock, I rely on good ol' Better Than Bouillon. They have a seasoned vegetable base that does the trick. I highly recommend it. I do not use the exact amount of vegetable base that the jar would tell me to use. It can tend to be salty, so I add maybe half the recommended amount.
Canned clams
Clams might be the thing that makes people nervous about clam chowder. I assure you, it is as simple as opening a can. Canned clams are just lovely and easy to find in the grocery store (by the tuna). Make sure you do not get rid of the juice the clams are packed in. We want that. We are going to pour in the juices from the clams when we add the vegetable stock. This gives us more liquid for boiling the potatoes. So drain the clams, but reserve the clam juice.
Yukon Gold potatoes
Yes, you can use whatever potatoes you have, but I really like Yukon Golds with this recipe. They hold together well in a soup and are most starchy, which helps in thickening the soup. Just dice up a couple potatoes, enough to fill a 2 cup liquid measuring cup. No need to peel the potatoes. Yukon Gold potatoes have a thin skin and they add a nice texture to the soup.
Heavy cream
This clam chowder is asking for 1 1/2 cups of heavy cream. But a little less or a little extra isn't going to hurt anything. Why use heavy cream instead of plain milk? It is all about the fat. Fat is a vehicle for flavor. So if you want more flavor, add higher fat dairy. It carries flavor.
Parsley
I always buy fresh parsley at the grocery store. It is usually around $1 for a bunch and it makes any food prettier and it adds a nice fresh grassy flavor to everything. I grow parsley in my backyard and it still shows up in the winter, but maybe I am just too lazy to go out to the backyard and pick some.
Oyster crackers
If oyster crackers are served with clam chowder so much, why aren't they just called clam crackers???
Print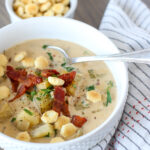 Clam Chowder
---
Description
Clam chowder takes me back to skiing Saturdays as a child. Warm soup like this after being on the slopes is as good as it gets.
---
4

slices thick-cut bacon, diced

1

yellow onion, diced

3

celery ribs, diced

3

garlic cloves, minced

1 teaspoon

dried thyme

2

bay leaves

½ teaspoon

kosher salt

½ teaspoon

ground pepper

¼ cup

all-purpose flour

4 cups

vegetable stock

2

6 ounce cans choppec clams, juices drained and reserved

2 cups

diced Yukon Gold potatoes

1½ cups

heavy cream

¼ cup

chopped fresh flat-leaf parsley
oyster crackers, for serving
---
Instructions
In a large pot over medium high heat, add bacon. Saute until bacon is browned and fat is rendered. Remove bacon with a slotted spoon, leaving the bacon fat in the pan.
Reduce heat to medium and add onion, celery, garlic, salt, pepper, thyme and bay leaves. Saute until vegetables are softened, about 10 minutes. Add flour and stir well, being sure the flour is absorbed into the vegetables and bacon fat. Saute for 3-5 minutes, until the flour smell has gone away.
Turn heat to high and add vegetable stock, reserved clam juice and potatoes. Stir well and boil potatoes until tender and cooked through, about 12 minutes. Reduce heat to medium and add heavy cream, clams and parsley. Bring to a simmer and simmer for 10 minutes. Serve with oyster crackers.
Prep Time:

10 minutes

Cook Time:

20 minutes

Category:

Soup
Keywords: chowder, seafood, soup