It's true. This really is the chicken noodle soup I make all the time. I have been making this very recipe for 10+ years. It is something all my family likes. I can make it without any recipe and it turns out great every time. For years, it was my middle child's favorite dinner. In the colder months of the year, I probably make this 5 times a month, maybe more. When my kids were littler, I would give them the leftovers in little thermos' for lunch at school the next day. Now, there are never leftovers.
Over time, I have changed what kind of bread I serve with it. Lately, it has been sourdough bread since I am all excited about my newfound skill of keeping a sourdough starter alive. In the past, it has been buttermilk biscuits or focaccia. My mom's dinner roll recipe had its round plenty. And I have bought countless loaves of bread from the grocery store bakery to serve with this soup. Bottom line: bread is essential.
Overall, this is a great staple recipe to have in your arsenal. It works great for feeding a neighbor that needs a meal or for bringing to a soup potluck for a school or church function. We all need a few good soup standbys and this is one of them.
Chicken
I prefer to use chicken thigh whenever a recipe calls for chicken. It is more tender and flavorful. And the calorie difference isn't enough to scoff at. Trust me, I have been a religious calorie counter for years now and I am happy to add the extra 20 calories for a few ounces of chicken thigh.
If I don't already have some cooked chicken in the fridge, for example, the chicken from a Costco rotisserie chicken, I will cook up whatever is in the freezer. Long ago, I would add the chicken to the stock and boil it. But it took forever. I have also sauteed it in the pot before sauteing the aromatics. But I have found my preferred way of cooking the chicken is putting it in the oven and roasting it. I don't have to tend to it barely at all.
Usually while I chop and saute my aromatics, I will put the chicken in the oven and let it do it's thing for 25 or so minutes. By the time it is done, the soup is ready to have chicken added. I will put the cooked chicken on a cutting board and go to town on it with a sharp knife, just randomly chopping away. Nothing fancy.
In the end, cook the chicken however you want. Whatever is your usual method, it will work here. You really can't go wrong. It is purely preference.
Carrots, Celery, Onion and Garlic
Those are the vegetables I use for the chicken noodle soup I make all the time. Occasionally I will have the odd red bell pepper in the fridge and I will add that too. Sometimes I don't have onions and I only have a single shallot. Whatever you have is great. I mainly like to stick with carrots, celery, onion and garlic.
Back at the beginning of ye ole pandemic, I started getting nervous about food shortages. About 5 days before we went into lockdown, I had gone to Costco before there was a run on everything. I bought the big bag of bell peppers and celery. At my regular grocery store, I bought a ton of onions and carrots. And then I asked my chef husband to diced all of it and freeze it into bags. And he did it. All of it. He just put a show on his ipad, put on headphone, honed his knife and cut for 2 hours. I mean he should be able to. He does have a big knife tattooed to his forearm like any real chef does. But I was so grateful for those frozen aromatics, even if there wasn't a shortage of vegetables. It felt nice to know they were there.
I later found out from my sister that whenever she has an extra bit of onion, she will dice it up and put it in a bag in the freezer, so she always has diced onion. GENIUS.
Dried sage and thyme
Both of those herbs are what I use for the chicken noodle soup I make all the time. Those are both common poultry herbs and I always have some on hand. I have one friend that likes to do her chicken noodle soup with dill and lemon. And it tastes amazing. Do what your family loves. Mine loves sage and thyme.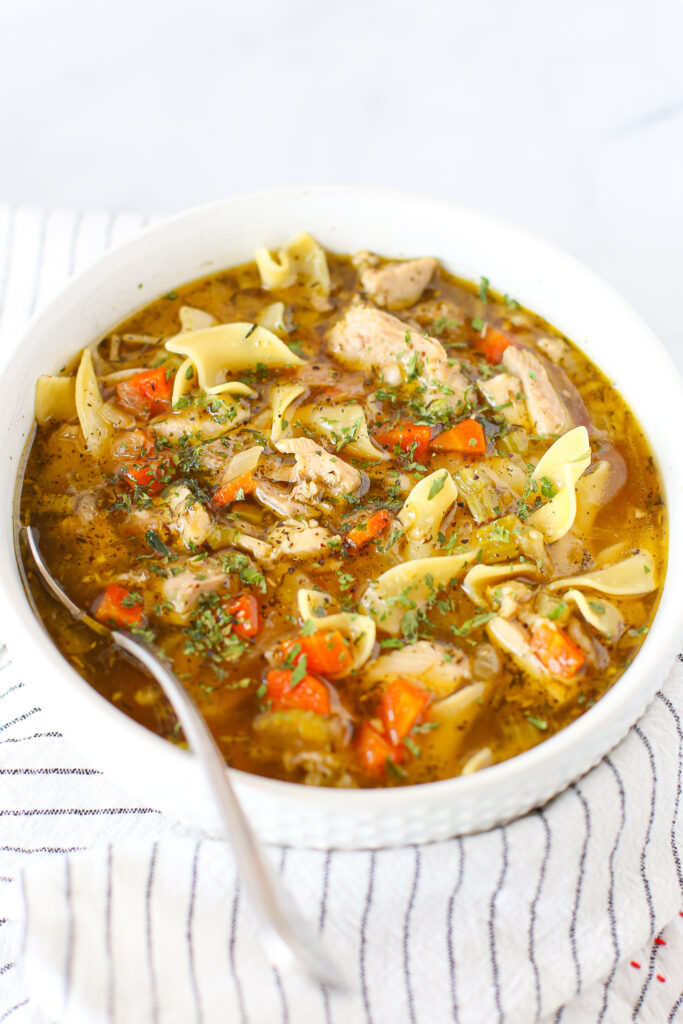 Chicken stock
This is another spot where preference comes into play. There is no wrong way to use stock in this recipe. On this particular batch, I did water and then about 1/2 cup of my own homemade chicken base. I have made it with frozen stock plenty. And boxed stock works great too. Do what you are used to or what is on hand.
If you are feeling ambitious, I have a recipe for homemade chicken stock. Click HERE for that.
Noodles
I am going to tell you that the way I do the noodles for this recipe is the only way to go. Boil them separate. I set a small pot of water to boil while I am working on the rest of the soup. I boil the noodles in that and then add them to the finished soup. Why do this extra step instead of boiling them in the stock? Because the noodles drink up too much stock. It really is easier to boil them separate. Just trust me on this one.
As for noodles vs pasta, do what you will. I prefer wide egg noodles. I have used orzo pasta before and the long egg noodles from the freezer section of the grocery store. Really any pasta shape you and yours like will do the job.
Print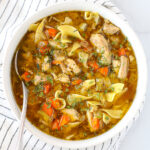 The Chicken Noodle Soup I Make All The Time
---
Description
It is true, I really do make this chicken noodle soup all the time. It is simple, satisfying and cheap too. Make it for you and your family or whip up a pot for a sick neighbor. Whoever eats this chicken noodle will be happy, I promise!
---
2 tablespoons extra virgin olive oil
1 yellow onion, diced
2 carrots, diced
2 celery stalks, diced
2 garlic cloves, minced
1 1/2 teaspoons kosher salt
1 1/2 teaspoons ground pepper
1 teaspoon dried sage
1 teaspoon dried thyme
8 cups chicken stock
4 cups cooked chicken, cut or torn into bite-sized pieces
3 cups cooked egg noodles
---
Instructions
In a large pot over medium-high heat, add olive oil. Once the oil is heated, add the onion, carrots, celery, garlic, salt, pepper, sage and thyme. Saute until the vegetables are softened, about 10 minutes.
Add the chicken stock and cooked chicken. Reduce the heat to medium and bring to a simmer. Simmer for 10 minutes. Add the cooked egg noodles.
Taste and add more seasoning if needed.
Prep Time:

10 minutes

Cook Time:

25 minutes

Category:

soups and stews

Method:

stove-top
Keywords: chicken, noodles, soup