In my old age, I have found that there are certain desserts I can go without. I don't really care about ice cream. I actually can't think of the last time I had ice cream. I am fine to pass up candy. I can appreciate gummy worms, but that is about it. But let's talk about cookies, cake, pie, pastries and all that jazz. I am a goner if those are brought out. And brownies are my true kryptonite. Fudgy, chocolatey, slightly underbaked. I cannot stop. To make my life harder, I add a ganache on top. Raspberry ganache brownies are as good as it gets.
How to make raspberry ganache brownies
First, we start by making the brownies. We do the double boiler method. The chocolate and butter are melted together in a heat-proof bowl over simmering water. We don't want to burn the chocolate, so keep the heat to medium. Once everything is good and melted, its time for all the rest of the ingredients. I used a hand mixer because I am currently waiting for my warranty replacement KitchenAid stand mixer. BTW, it is taking FOREVER.
We bake the brownies and then they have to cool completely. I set mine outside on a table in my backyard. In the winter, it really helps it cool quick. Once the brownies are fully cool, we get the ganache ready. It is a white chocolate ganache flavored with freeze-dried raspberries. You could just do white chocolate ganache without the raspberry, but like why? Let's get some specifics on the important ingredients now.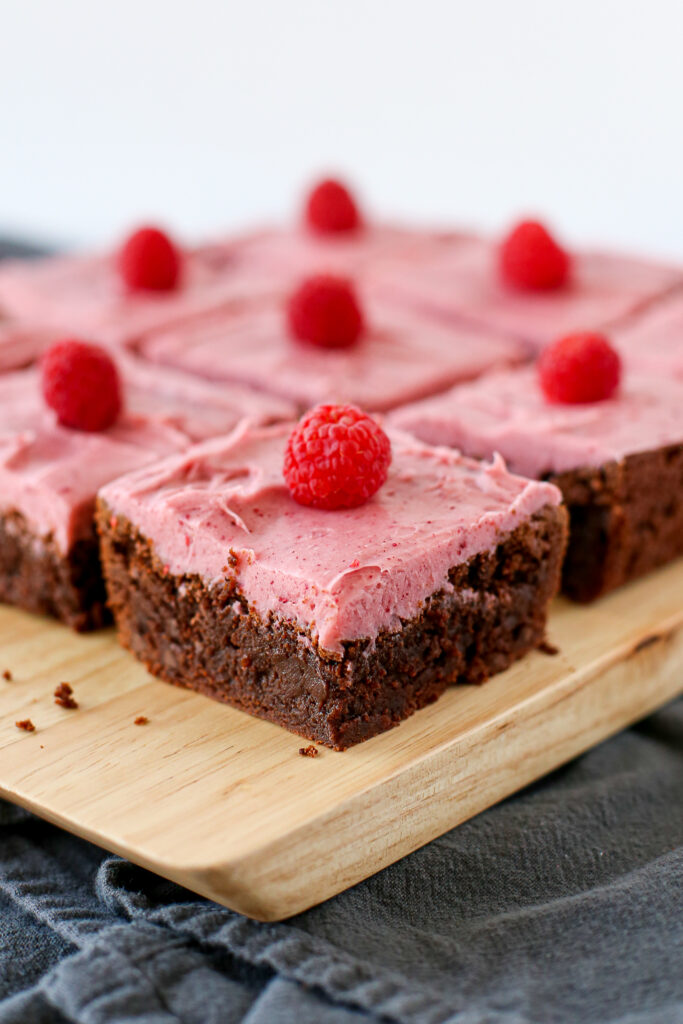 Butter
I have found that the best fudgy brownie recipes have a lot of fat. We get fat from the butter, the chocolate and the cocoa powder. We have a stick and a half of butter. That is a lot. But that also means shits gonna be goooooood.
Semisweet chocolate
I like to use the bars of Ghiradelli semisweet chocolate for these raspberry ganache brownies. You can use a darker chocolate if you are serious about your chocolate. You can also use semisweet chocolate chips too.
I like to add mini chocolate chips to brownie batter. You only need 1/2 a cup, maybe even less. It will give you little pockets of gooey chocolate. I give it 5 stars.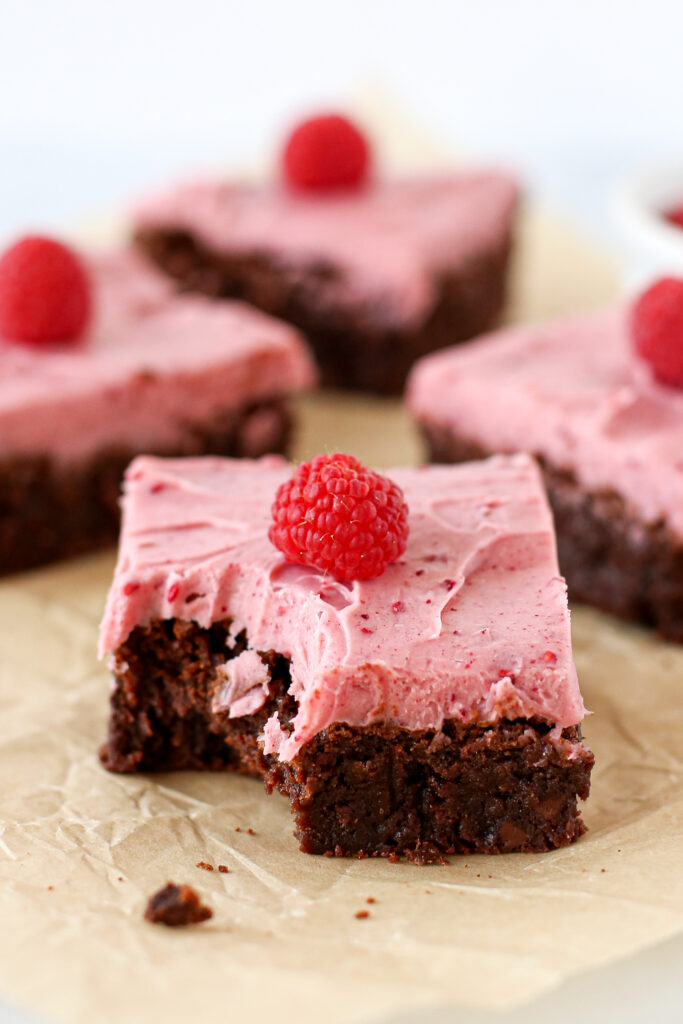 White chocolate
We make our ganache with white chocolate. White chocolate ganache isn't a very pleasing color. The red raspberry powder and the food coloring help that. Again, I used the bars of Ghiradelli white chocolate. White chocolate chips can be subbed in easily if that is what you have on hand.
Powdered freeze-dried raspberries
I bought two bags of freeze-dried raspberries at Trader Joe's for this recipe. I have wanted some raspberry powder for a while because it just sounds fun to mess with. I was able to find raspberry powder on Amazon, but it is too expensive, in my opinion. A 1.2 ounce bag of freeze-dried raspberries is $4 at TJ's. So that is what I did. I put them in my food processor and just blended until they were powder. The powder itself isn't particularly delicious. But it is once it is added to something sweet. It has a very raspberry concentrated flavor when added to this white chocolate ganache. Look for some more recipes with raspberry powder soon. I am sure I will find some fun ways to use it.
Print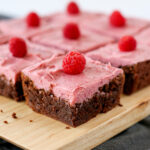 Raspberry Ganache Brownies
---
Author:

Whitney Ingram

Total Time:

1 hour 5 minutes

Yield:

9

squares

1

x
Description
Let's guild the lily and top some perfectly fudgy brownies with a luscious raspberry white chocolate ganache. Tart raspberry, creamy white chocolate and rich dark chocolate makes for the complete package!
---
For the brownies
3/4 cup

butter

8 ounces

semisweet chocolate, roughly chopped

1 cup

granulated sugar

3

eggs

1 teaspoon

pure vanilla extract

1/2 cup

all-purpose flour

2 tablespoons

cocoa powder

1/2 teaspoon

salt
For the ganache
6 ounces

white chocolate, finely chopped

1/3 cup

heavy cream

3 teaspoons

powdered freeze-dried raspberries

2

drops red food coloring
---
Instructions
Set oven to 350 degrees F. Spray an 8×8 inch pan with non-stick spray and line with a strip of parchment paper with a two-inch overhang on each side. Set aside.
Set a heat-proof bowl over a pot of simmering water. Add butter and chopped chocolate. Stir occasionally, until butter and chocolate are melted. Scrape melted butter and chocolate into the bowl of a mixer. Add sugar and mix on low speed until combined. Add eggs and vanilla extract and mix on medium speed. Add flour, cocoa powder and salt and mix until well combined, being sure to scrape the sides of the bowl.
Pour brownie batter into the prepared pan and smooth the top. Bake for 40-45 minutes. An inserted toothpick should still have some undercooked brownie sticking to it. Cool brownies completely.
Once the brownies are cooled, prepare the ganache. Add heavy cream to a medium-sized bowl and microwave for 30-40 seconds, just until the cream is very warm to the touch. Add white chocolate and stir to coat the chocolate. Let sit for 1 minute. Whisk chocolate until smooth. If a few pieces of chocolate aren't melted, add the bowl to the microwave for 15 seconds and whisk again.
Once the white chocolate ganache is smooth, whisk in the raspberry powder and food coloring. Once combined, refrigerate for 20 minutes, until the ganache is thickened to a spreadable consistency.
Remove the brownies from the pan, uncut, in one big square. Spread the raspberry ganache on top and refrigerate the brownies for an hour so the ganache firms up.
Slice the brownies into 9 squares and enjoy!
Prep Time:

20

Cook Time:

45 minutes

Category:

bar cookies and brownies

Method:

baked
Keywords: brownies, white chocolate, raspberries, ganache