This sweet and sour beef stew is the beef stew of my childhood. Recently, I have been going through my Peterson family cookbook and finding some gems. It is filled with our family's coffee cake, chicken tamale pie that everyone devoured and the Oreo mint ice cream cake we all requested for our birthdays. This beef stew was a Sunday afternoon staple. The smell takes me way back.
How to make sweet and sour beef stew
I have fantastic news: THIS IS A SLOW COOKER RECIPE. Everyone loves those. It also cooks relatively quick for a beef slow cooker recipe. Like 5-6 hours on low and you are good to go. So you have time to make a quick ingredient run to the grocery store in the morning after getting kids to school and then have it cooking by noon.
The only involved part is chopping up the vegetables and chopping up the beef if you didn't already buy it cut up. Then you add a few other pantry ingredients and leave it be! Here are the ingredients you need,
Beef chuck roast
You will want 2 1/2 to 3 pounds of beef here. I prefer to use chuck. But anything will really work. I like church because it has a higher fat content, thus a more tender bite. The time before last that I cooked this sweet and sour beef stew, I used the butchered leftovers of our Christmas Eve filet mignon. Excessive, I know. The most recent time I made this, I used a chuck roast I bought from my local grocery store. You can also buy the pre-cut stew meat your butcher sells. That will work great too. And cut down on time.
Carrots, yellow onion and a green bell pepper
These are the vegetables that will add great flavor. I like to the cut that carrots, onions and green bell peppers sort of big. They look prettier. This is also a courtesy to my 12 year old who doesn't like pieces of onion in his food. It will make it easier for him to pick them out, which means he is more-likely to eat.
If you don't have a green bell pepper on hand, use any other kind. I have made this is red bell peppers and mushrooms. It is sort of an anything-goes type of stew. Baby carrots can totally sub in here as well.
Tomato sauce
Tomato sauce will be a flavor base for our sweet and sour beef stew. You will notice that we don't add a ton of liquid. A lot will come from the moisture in the beef. So whatever liquid we are adding needs to matter. If you don't have tomato sauce, you can use a can of diced tomatoes and just blend it up in your blender.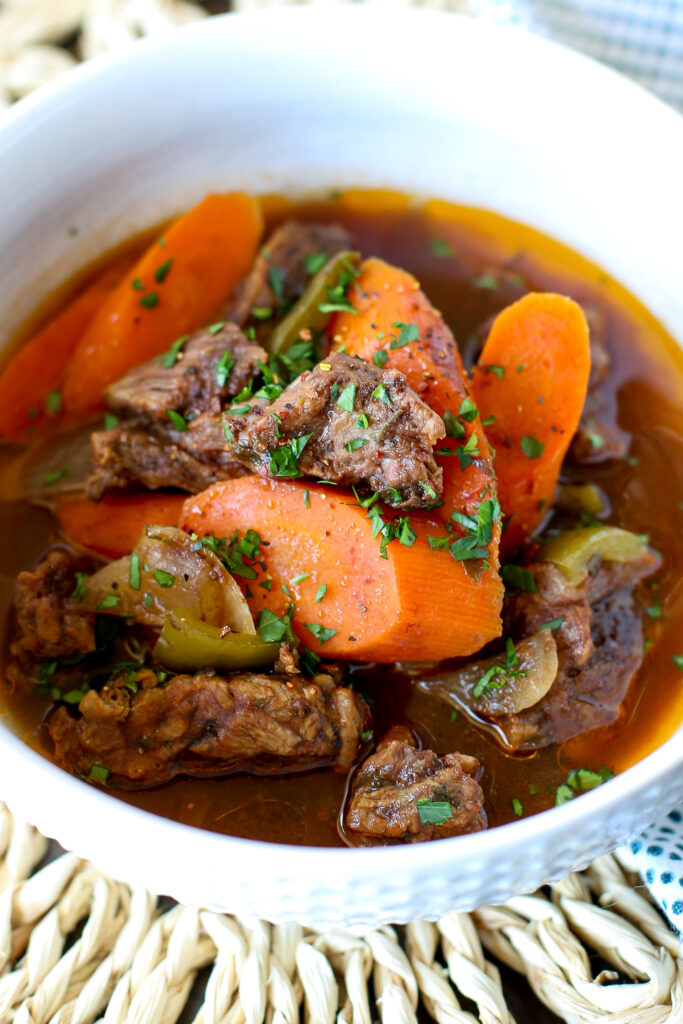 Beef bouillon
I know when my mom would make this, she would use one of those little wrapped cubes of bouillon. I use a scoop of roasted beef Better Than Bouillon. Pro tip: buy yourself THIS scoop on Amazon. It is 1 teaspoon-sized and perfect for measuring out sticky bouillon.
Dried parsley
Parsley is something I grow in my backyard herb garden and it grows like crazy. I like to dry my herbs in the summer so I can use them in the winter. This past summer, I didn't dry enough of it. So I am going to stay on top of it this summer. I add parsley to just about everything and so should you. If I had to describe the flavor of parsley, I would just say it is "fresh"
Worcestershire sauce
Nothing goes hand in hand with Worcestershire more than beef. If you are making beef anything and the recipe isn't calling for Worcestershire, add it anyways. It really rounds out the flavor. Shake it on burgers as they grill. Mix it in to Italian meatballs. Add a dash to taco meat. It is good with all things beef. It is at it's best in this sweet and sour beef stew.
Brown sugar and apple cider vinegar
This is where the sweet and sour flavor really comes in. You might be a little hesitant adding that much vinegar. Maybe you aren't, but I am. Don't worry, it turns out delicious. And I can't help but wonder if the vinegar helps tenderize the beef. If you don't want to add refined sugar, do 3 tablespoons honey and 1 tsp molasses.
Print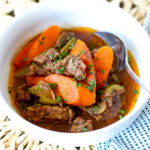 Sweet and Sour Beef Stew
---
Author:

Whitney Ingram

Total Time:

6 hours 10 minutes

Yield:

6

servings

1

x
Description
This sweet and sour beef stew is the beef stew of my childhood. And bonus: it is a slow cooker recipe and who doesn't love that?!
---
2 1/2 to 3 pounds beef chuck roast, cut into chunks
4 carrots, peeled and roughly chopped
1 yellow onion, peeled and roughly chopped
1 green bell pepper, roughly chopped
1 15 ounce can tomato sauce
1/2 cup water
1 teaspoon beef bouillon
1 1/2 teaspoons kosher salt
1 tablespoon dried parsley
1 tablespoon Worcestershire sauce
1/4 cup brown sugar
1/4 cup apple cider vinegar
---
Instructions
Combine all ingredients in the slow cooker. Mix well to combine. Cook on low for 5 to 6 hours.
Notes
If you want to get rid of excess liquid fat before serving, ladle broth/liquid into a gravy separator. Put it in the fridge for 30 minutes so the fat will rise to the top. Pour the broth back in the stew and discard the fat.
Prep Time:

10

Cook Time:

6 hours

Category:

soups and stews

Method:

slow cooker
Keywords: beef stew, slow cooker