Is it silly that I would feel a little bit reverent about this Irish seafood chowder? Maybe it is. But I cannot deny that it feels special to me. I have Irish roots. My Grandma Sally, my mom's mom, came from County Mayo, Ireland when she was in her late teens. When asked why she left, she told my mom she could either starve in Ireland or leave. So she traveled to New York and came through Ellis Island.
My grandma never talked about her childhood in Ireland with great affection. From what I understand, her family struggled. She didn't seem to pine for her country. She wholeheartedly made America her home. Part of that was the food she made. I remember her macaroni salad, meatloaf and lemon meringue pie. She also made chicken divan like every housewife in America in the 50's and 60's.
Finding heritage through food
In recent years, I have felt such a pull to learn more about the food of Ireland. I want Irish food to be part of my family food culture like bbq chicken, chocolate chip cookies and chicken noodle soup. I want my kids to remember that they are 1/8 Irish, even if it is such a small fraction of their ancestry. One dish that has been in the back of my mind is Irish fish stew. That was the title of the recipe I had in my mind. I wanted to create a recipe that used traditional Irish ingredients. So I started researching Irish food in earnest in January.
In my search for accurate information, I emailed Irish food blogger Lilly Higgins to ask her about the prospect of an Irish fish stew. Lilly responded so quickly and with some much great information. Thank you Lilly! Lilly told me that an Irish fish stew would be what we know as a seafood chowder. And then Lilly led me to Chef JP McMahon. Chef McMahon has really taken traditional Irish food under his wing and is working to bring it to a new generation. His new cookbook "The Irish Cookbook" is the bible of Irish food. I have learned so much from it.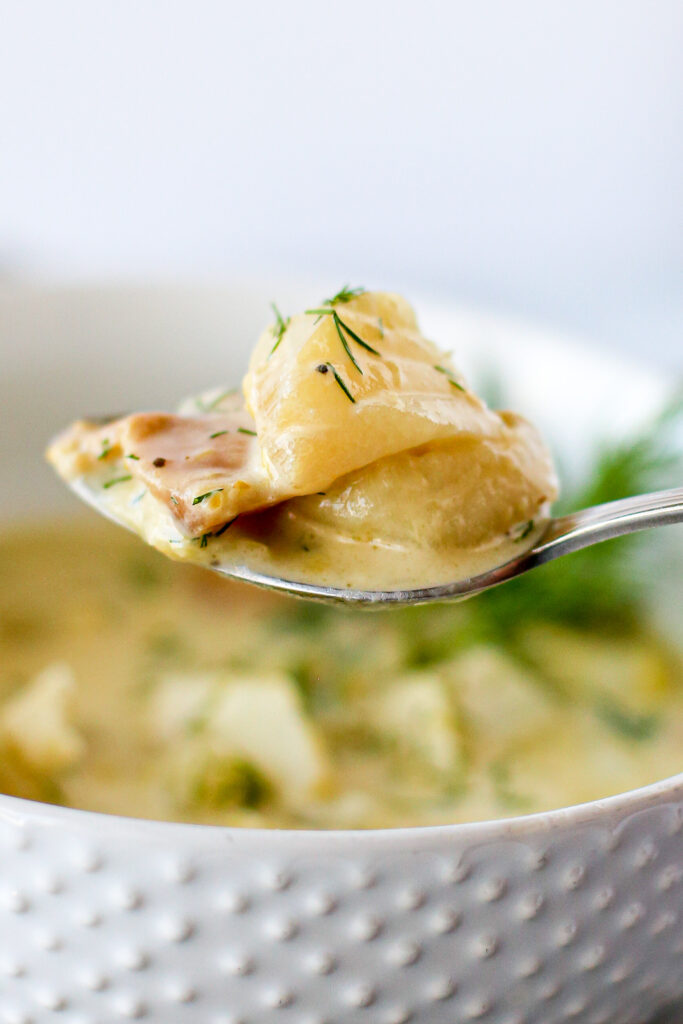 Unique ingredients
From what I have found, Irish food is similar to any other European food, but it has it's own twist using ingredients that are very Irish. And one of those ingredients is dried kelp. I had never heard of adding dried kelp to anything. Down another rabbit hole I tumble. I was then led to Wild Irish Seaweed, a multi-generational family seaweed harvesting business. There are so many varieties of dried seaweed and I had no idea how to tell what kind I needed for my Irish seafood chowder. Aisling at Wild Irish Seaweed was so kind about my stupid questions. Like sugar kelp isn't sweet, right? No, stupid Whitney, it isn't. It is just called that. Unfortunately, Wild Irish Seaweed doesn't ship to the United States, but I was able to find what I needed on Amazon.
Irish seafood chowder
After all my reading and researching, I was ready to create a recipe for Irish seafood chowder. I am not lying when I say that I prayed about it. I want to honor my grandma's heritage and want to make something that brings Irish culture into my home. Besides using dried kelp, the other ingredients are very Irish. Potatoes, leeks and onions and of course some heavy cream. There is also some fresh dill. Historically, seafood hasn't always been popular in Ireland. For a long time, it was considered poor people food. In recent years, seafood has become a staple. In this recipe we use cod and clams.
I followed a method from Chef McMahon of making a dried kelp stock to use in the chowder. The stock doesn't have to simmer for too long. Only 45 minutes. So you get all the other ingredients ready while the stock and rolling. Once the stock is done, you strain out the kelp. I will admit that when I first tasted the stock after straining, I was nervous. It tasted weird. But I kept going.
The result is a creamy chowder packed with chunks of tender cod, salty clams and savory vegetables. The dried kelp makes this chowder taste special. It tastes like the ocean, in the best way possible. How did it go over with my family? Incredibly well. Everyone loved it. I am so thrilled. This Irish seafood chowder will be a regular in my house. I want my kids to understand the the food of our ancestry is important. I really do think it matters. It is how we can connect with family we have never met.
So let's get on to the recipe, shall we? Let's get to the ingredients.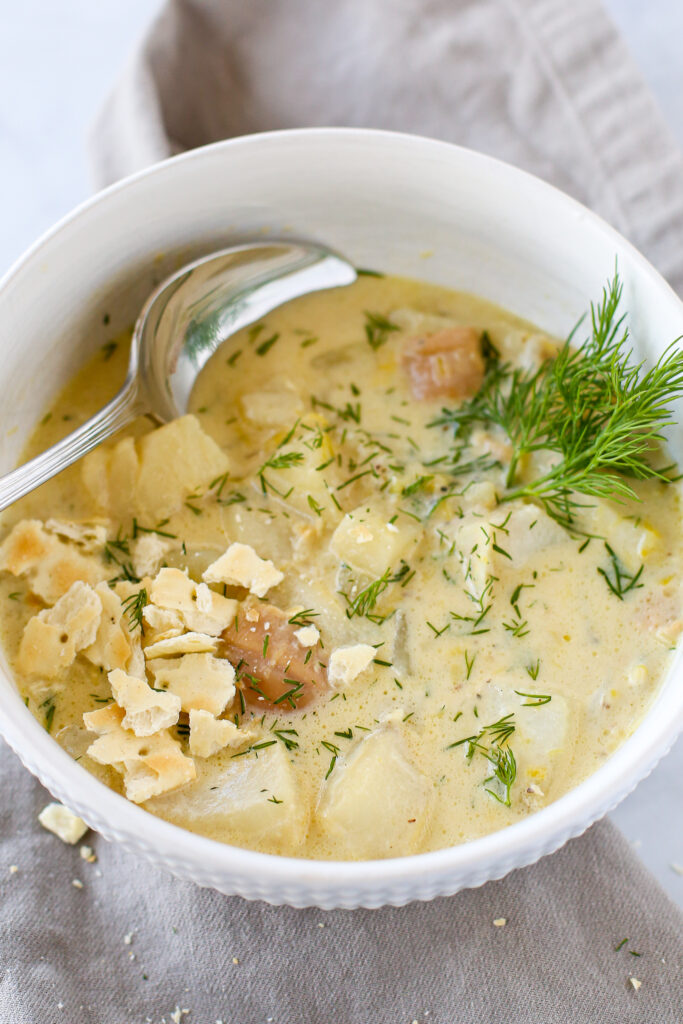 For the stock
The vegetables
I use basic mire poix vegetables for the stock. Because they are just there for the flavor, the cuts don't have to be precise. Cut them small so they cook quick, but don't worry too much about it. Like don't worry about peeling the carrots. Just get this chopped the cruising along
Herbs
We use fresh thyme and bay leaves for our stock. I don't have fresh bay leaves at my grocery store, so I just use dried. In researching this recipe, I ended up looking at if bay leaf bushes grow well where I live. I think I am going to plant one this spring.
Dried sugar kelp flakes
I was able to find some on Amazon. It was the exact amount I needed, 1.5 ounces. It is hard to describe the flavor the dried kelp adds. The best I can come up with is the flavor of the ocean. It adds just the slightest unique flavor dimension to the finished chowder. If you are up for a food adventure and you have never used dried kelp in your cooking, this is a great recipe for trying it out.
It is very important that you strain all the dried kelp from the stock. To do this, I use my finest wire mesh strainer and then line it with paper towels. By pouring the finished stock through paper towels, I guarantee that I catch all the bits of dried kelp.
For the chowder
More vegetables
Since we discarded all of the vegetables from the stock, we need to add some to the chowder. Leeks, garlic, onions and potatoes are all common vegetables found in Ireland. Side note: I learned from an interview Chef McMahon did on the Milk Street podcast that Ireland isn't a huge potato-growing country anymore. They actually import potatoes from other countries. Long ago, potatoes were synonymous with Ireland. But that isn't the case anymore. That doesn't stop Irish cooks from using a lot of potatoes. The next Irish staple I have my eye on is boxty, the Irish potato pancake. It is still a popular dish, even if potatoes aren't a main crop.
Fresh cod and canned clams
The cod really makes the dish. My family loved the melt-in-your-mouth pieces of cod throughout the chowder. Clams are the other seafood I added to this chowder. I could have gone the extra mile and used fresh clams, but I wanted this Irish seafood chowder to be accessible if I was already putting dried kelp in it. Do not drain the clams. We want all that clam juice to flavor the chowder.
Fresh dill
I do not use enough fresh dill in my cooking. Last summer, I added dill to my herb garden and it was delicious. The dill in this recipe is perfect. It adds that fresh tangy bite needed to round out all the flavors. I almost added a little bit of lemon juice. Maybe next time.
Erin Go Bragh!
I hope to dig into more Irish food. I want more Irish recipes to be a common occurrence in my kitchen. Like I said previously, I have my eye on boxty. Every family needs some kind of potato pancake recipe in their pocket. I also want to work on an American version of fifteens. Hopefully, I can get to them soon. In the meantime, I will keep diving into the food culture and history of Ireland.
Print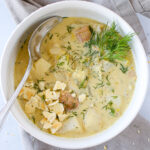 Irish Seafood Chowder
---
Author:

Whitney Ingram

Total Time:

1 hour 45 minutes

Yield:

8

servings

1

x
Description
In an effort to connect with my roots, here is Irish seafood chowder packed with potatoes, leeks, clams and cod. The secret ingredient is dried kelp, bringing in the flavor of the sea!
---
For the stock
1/4 cup

unsalted butter

1

yellow onion, halved and sliced

2

carrots, sliced

2

celery ribs, sliced

6

garlic cloves, smashed

10

thyme sprigs

3

bay leaves

1 teaspoon

kosher salt

8 cups

water

1.5 ounces

dried sugar kelp flakes
For the chowder
1/4 cup

unsalted butter

1

yellow onion, diced

3

leeks, halved and sliced

4

russet potatoes, peeled and diced

3

garlic cloves, minced

1 1/2 teaspoon

kosher salt

1 teaspoon

ground pepper

2 cups

heavy cream

1 1/2

pounds fresh cod, cut into

1

inch chunks

2

6.5 ounce cans chopped clams

1/4 cup

chopped fresh dill
---
Instructions
In a large stock pot over medium high heat, add butter. Once the butter is melted, add onion, carrots, celery, garlic, thyme, bay leaves and salt. Saute until vegetables are softened, about 15 minutes. Add water and kelp flakes. Bring to a simmer and reduce the heat to medium.
Simmer uncovered for 45 minutes, stirring occasionally. With a slotted spoon, remove pieces of vegetables and herbs and discard. Set a fine wire mesh strainer over a large bowl and line the strainer with a paper napkin or paper towel. Pour stock through the napkin-lined strainer, catching all the flecks of kelp. You should get about 4 cups of stock. Set aside and prepare the chowder.
In a large pot over medium high heat, add butter. Once the butter is melted, add onion, leeks, potatoes, garlic, salt and pepper. Saute until leeks and onions are softened, about 15 minutes. Add all of the prepared stock and bring to a simmer. Simmer until potatoes are tender, about 15-20 minutes.
Add the heavy cream, fresh cod and chopped clams, including the juice from the clams. Simmer for an additional 5 minutes, until the cod flakes easily. Stir in fresh dill and serve.
Notes
When making the stock, you do not need to take great care with how well cut the vegetables are. You also don't need to peel the carrots. You are only getting the flavor from them and then discarding them.
If you cannot find cod, you can use other white fish like pollock, halibut or haddock.
Prep Time:

15 minutes

Cook Time:

1 hour 30 minutes

Category:

soups and stews

Method:

stove top
Keywords: seafood, chowder, Irish food