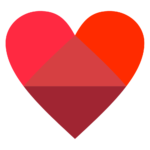 Pumpkin spice, yeah we get. She's the popular girl in school that everyone likes. Voted "Most Popular" and "Most Likely To Make Everyone Cheat on Chocolate". Our obsession with pumpkin spice makes us forget about the other fall friends. Friends like apple spice and molasses. And today we have our friend Molasses Cookies to distract us.
Hiking fuel
I have made a version of these cookies for years. One version came with me and my friend Kalli to the top of a super tall mountain years ago. We hike Mount Timpanogos. It's over 11,000 feet in elevation and a real bitch to climb. I brought a bag of these cookies to eat on our hike and they were welcome fuel. Maybe not the most efficient fuel, but super satisfying. And it felt even more so because it was early fall and seemed perfect with the fall leaves and crisp air. Try bringing molasses cookies on a hike. It definitely isn't a bad idea.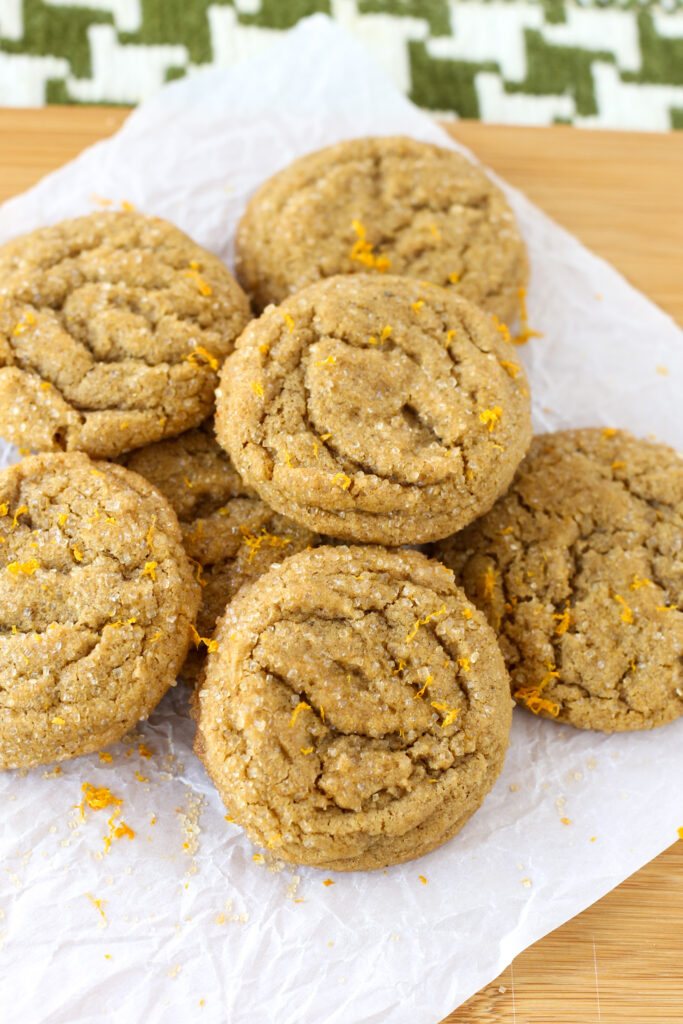 Ingredients for molasses cookies
All-purpose flour
I could just write "flour" in the recipe, but the kind of flour is important. Bread flour has more protein in it and it enables better gluten production that aids in a nice high rise. But for cookies, that means less tender and less crisp. Cake flour makes for a lighter, more tender crumb. So not great for a cookie. All-purpose flour is ideal for a chewy yet crisp cookie.
During this whole pandemic business, I haven't been able to find cake flour since March. Not on Amazon, not in my local grocery stores. But glory be! I found some a few weeks ago at Target! I bought two boxes. And then didn't do anything with them. I think I should make a cake soon!
Spices
I suppose you could just use a couple teaspoons of pumpkin pie spice in this, but I am going for more ginger than cinnamon. Pumpkin pie spice is heavy on the cinnamon. If you would like, use the pumpkin pie spice. I would say 1 tablespoon pumpkin pie spice and maybe an extra half teaspoon ground ginger.
Butter
I spent a ton of time watching Food Network when I had my first baby. I would watch while feeding him and just leave it on in the background. A lot of Paula Deen, Ina Garten and Giada De Laurentiis. All the classics. And all of them talked about salted butter like it was a crime to put it into baked goods. So I followed dutifully. And then I grew up. Because really, you can't tell the difference in a recipe. Salt is also essential in baked goods. Why else would we add it to everything? Salt brings out the flavor in everything else. So go ahead, buy salted butter. No one will care. Rant over✌?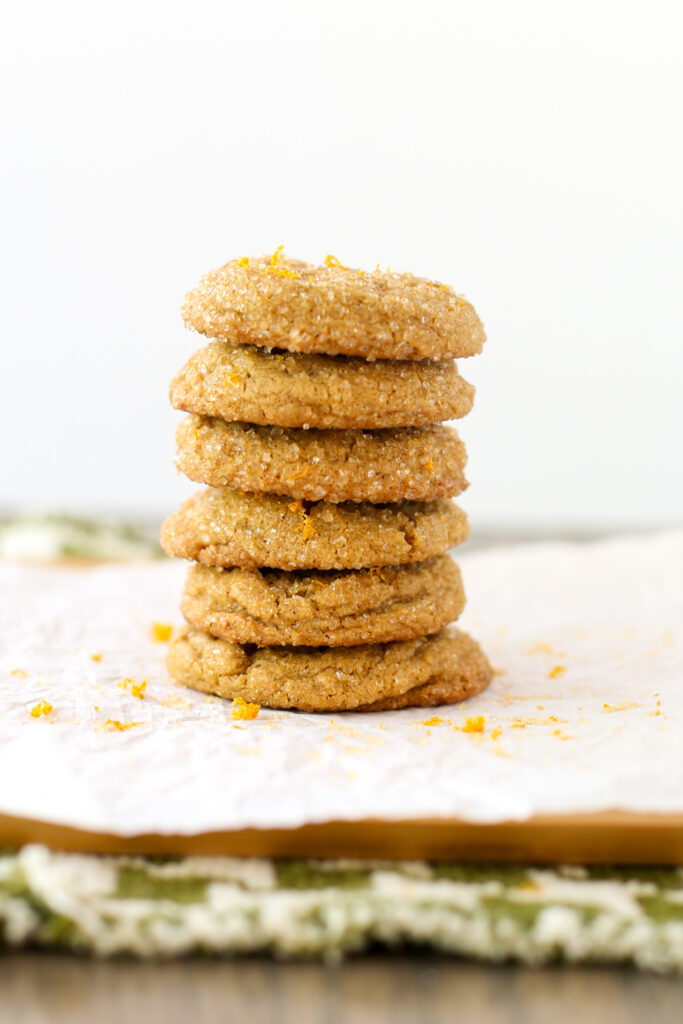 Vegetable shortening
Funny note: when I was making these molasses cookies, my daughter asked me if the vegetable shortening was whipped cream. I said no. Fail. I had a perfect chance to have her take a spoonful and eat it thinking it was whipped cream. I am so dumb.
The addition of vegetable shortening is going to give us some nice crispness to our cookies. Note to self: always say yes when my kids ask me if shortening is whipped cream.
Granulated sugar
Truthfully, when I was adding granulated sugar to this recipe, I almost used brown sugar. But I thought "eh, there is already molasses going into this recipe." And molasses is what makes brown sugar brown. You could use brown sugar if you want or not. You would use the same amount as granulated sugar. Maybe you do half and half. Let me know how they turn out.
Orange zest
You might not have expected orange zest in this. But I am telling you it is totally worth it. It added a slight floral flavor that a lot of people won't be able to place. Just a little something to make the cookies better than any other molasses cookies you taste.
I had considered making some orange glaze for these cookies. But I got lazy. And antsy to just eat them. A little orange juice in some powdered sugar would make a simple, delicious addition to these cookies.
Turbinado sugar
Turbinado sugar and raw sugar are the same thing. One just has a fancier name than the other. Turbinado sugar is perfectly crunchy and great for coating the cookie dough before it goes into the oven. If you don't have any, go ahead and just use granulated sugar. Or don't roll them in sugar at all. Totally up to you.
Print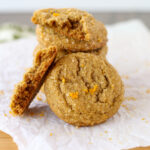 Molasses Cookies
---
Description
Pumpkin spice has had too much time in the spotlight. Move over pumpkin cookies, it's time for molasses cookies to shine.
---
3⅓ cups

all-purpose flour

3 teaspoons

ground ginger

1½ teaspoons

baking soda

1 teaspoon

ground cinnamon

¾ teaspoon

ground cloves

½ teaspoon

ground nutmeg

½ teaspoon

salt

1 cup

unsalted butter

¼ cup

vegetable shortening

1½ cups

granulated sugar

2

eggs

⅓ cup

molasses

1 tablespoon

orange zest
turbinado sugar, for rolling
---
Instructions
Set oven to 350 degrees F. In a medium bowl, combine flour, ginger, baking soda, cinnamon, cloves, nutmeg and salt. Whisk together well and set aside.
In the bowl of a mixer fitted with the paddle attachment, add butter and shortening and mix until smooth. Add sugar and mix on medium speed for 3 minutes, until light and fluffy. Add eggs, molasses and orange zest. Mix well, being sure to scrape the side of the bowl with a rubber spatula. Add flour mixture and mix on medium speed.
Add a cup or so of turbinado sugar into a shallow bowl. Portion the cookie dough into 2 inch balls and roll in turbinado sugar. Set on a baking sheet, spacing them about 2 inches apart. Bake for 10-12 minutes, or until the edges are lightly browned. Transfer to a cooling rack and repeat with the remaining dough.
Prep Time:

15 minutes

Cook Time:

12 minutes

Category:

Dinner
Keywords: Cookies, Molasses