It is true. The last thing the internet needs besides makeup tutorials and TikTok dances is another banana bread recipe. But I am doing it. And really, it is for selfish reasons. The recipe I use for banana bread is in my recipe binder and it is scribbled over and sticky because it has been used so much. If I post that same recipe, all written out nice and clear, then I can print it off and put it in my recipe binder I keep above the microwave. Also, because a lot of my friends know I spend way too much time in the kitchen, they know I probably have a good banana bread recipe. So if I write up a whole post, I can just send them that link instead of a picture of a messy scribbled one from my recipe binder. Everyone wins when the internet doesn't need more banana bread recipes and I post one anyways.
Morphed over the years
As with most American households, banana bread is a regular occurrence. If you hate throwing away food like me, you probably use the brown bananas that have been aging on the counter for a week. The best use for those is banana bread. I also like using overly ripe bananas in waffles and pancakes and muffins. I find that using them in something fresh, like nice cream or smoothies is just gross. Something about the flavor makes me gag. But if they are cooked in something, then they are great. Don't ask me how that works.
Over the last 15 years, this recipe has morphed into what it is now. I began cooking and baking in earnest when my oldest child was a baby because I wanted to be the main supplier of his food. I wanted to feed my family and feed them well. There were dreams of fluffy dinner rolls, braised pot roast and morning scrambled eggs. When my oldest was a baby, I could hardly wait to make him real food. Banana bread was a safe vehicle into becoming a good baker. Over the years, I have taken various recipes and made them my own. I have used Paula Deen's banana bread recipe and Giada's banana muffin recipe and then my own mom's banana bread recipe. All of those and a few of my own trial and error moments have made up this banana bread recipe.
It is a matter of adding this and that, switching out ingredients and maybe adding some fun mix-ins. For my favorite banana bread, I add cinnamon. And I have switched out the butter for vegetable oil. I like to add chocolate chips and pecans. I do what has worked for my family and it makes everyone happy.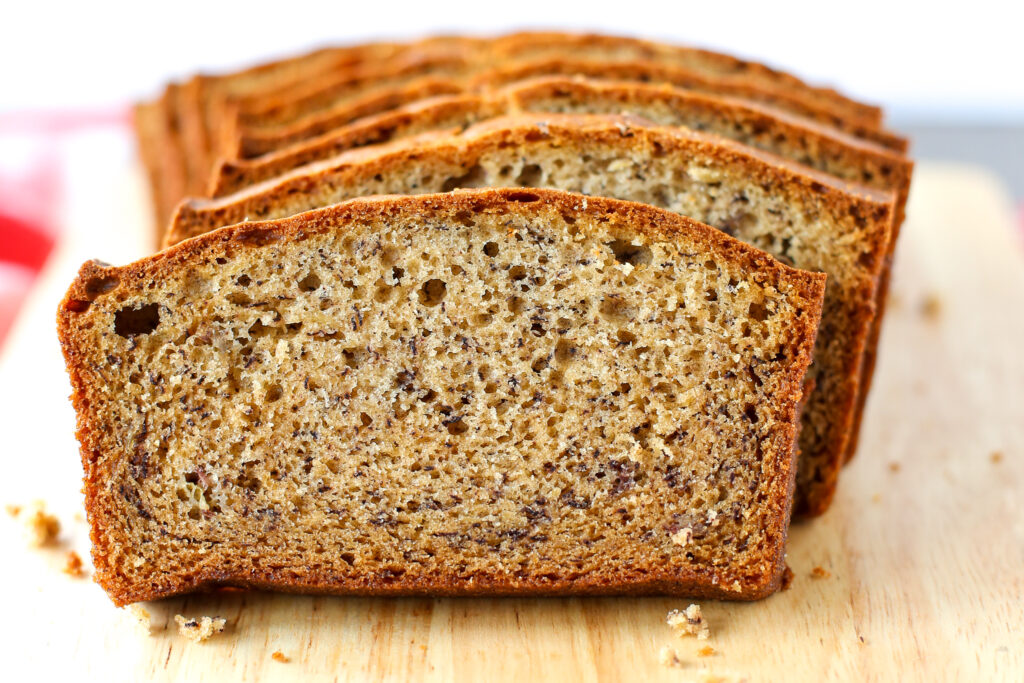 Here's what I do with my banana bread
Spices
I like adding cinnamon to my banana bread, no matter the mix-ins. Whether I add walnuts, peanut butter chips, chocolate chips or nothing, I always add cinnamon. I went through a phase of adding nutmeg too, but I realized I only like cinnamon. I do 1 teaspoon of cinnamon.
Vegetable oil
Originally, I used butter. I switched it out for equal amounts of vegetable oil instead. One good reason is that the cold eggs would seize up the softened butter and not mix in as well. When I made banana bread, I am usually doing it as a quick thing, just a last minute deal. So I don't want to wait for some cold eggs to warm up. If I use vegetable oil, it doesn't matter if the eggs are cold. Also, vegetable oil is much cheaper than butter and I would rather save the butter for something else. So vegetable oil it is.
No more than 3 bananas
Other recipes call for 4 overly ripened bananas. I think that is too much. For one, how do you get 4 bananas wasted and not eaten??? Eat your dang bananas! I prefer to use 2-3 bananas. This makes sure the batter isn't overly soupy, thus either taking forever to bake or not baking all the way through at all. For the bread in this recipe, I used two bananas. If you have four, then just double the recipe instead.
You can use frozen bananas by the way. Just pull a few out of the fridge and thaw them in the microwave for a couple minutes. They mash up and go into the bread just great.
The internet doesn't need another banana bread recipe
You know it's true. The internet doesn't need another banana bread recipe. You most likely already have the banana bread recipe that is perfect for you and yours. But here is mine to add to the void. Maybe you don't like the recipe that is in your flour-coated recipe folder. If so, they use mine. It's easy, doesn't require special ingredients and works every time.
Print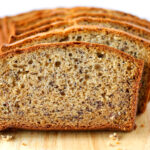 The Internet Doesn't Need Another Banana Bread Recipe
---
Author:

Whitney Ingram

Total Time:

1 hour 15 minutes

Yield:

1

9 inch loaf

1

x
Description
It's true. The internet doesn't need another banana bread recipe. But in case you need one, use this one.
---
1 1/2 cups

all-purpose flour

1 teaspoon

baking soda

1 teaspoon

ground cinnamon

1/2 teaspoon

salt

1 cup

granulated sugar

1/2 cup

vegetable oil

2

eggs

1 teaspoon

pure vanilla extract

2

overly ripe bananas
---
Instructions
Set the oven to 350 degrees F. Spray one 9×5 inch loaf pan with non-stick spray. Line with a strip of parchment paper and spray, if desired.
In a large bowl, add flour, baking soda, cinnamon and salt. Whisk together and set aside.
In a medium bowl, add sugar, vegetable oil, eggs and vanilla extract. Mix with a hand mixer on medium speed until smooth and well combined. Pour into the flour mixture.
In the same medium bowl, add bananas. Mash with a fork or potato masher until smooth with few chunks remaining. Add to the flour mixture. Mix all ingredients together on medium speed until well combined.
Pour batter into the prepared loaf pan. Bake for 60-65 minutes, or until an inserted toothpick comes out clean. Cool completely before slicing.
Notes
You can add in all sort of mix-ins. Chocolate chips, cinnamon chips, peanut butter chips, walnuts, pecans, toffee bits. Really anything goes. Use 1 cup total of mix-ins per loaf.
Prep Time:

10 minutes

Cook Time:

65 minutes

Category:

breads

Method:

baking
Keywords: bread, quick bread, banana, banana bread