Ready to change up Taco Tuesday? It's time to add pineapple-glazed salmon tacos to your game. These babies are tangy, sweet and spicy and substantial enough to fill anyone's belly. When I count my many blessings, I add that my family likes salmon. I find it one of my greatest triumphs as a mother. That and having my kids like their eggs over easy. Salmon is something that can take on any flavor. It will still taste like salmon but can be enhanced by so many spices and sauces. Salmon can be eaten on it's own or added to pasta, stir fry or like this, tacos!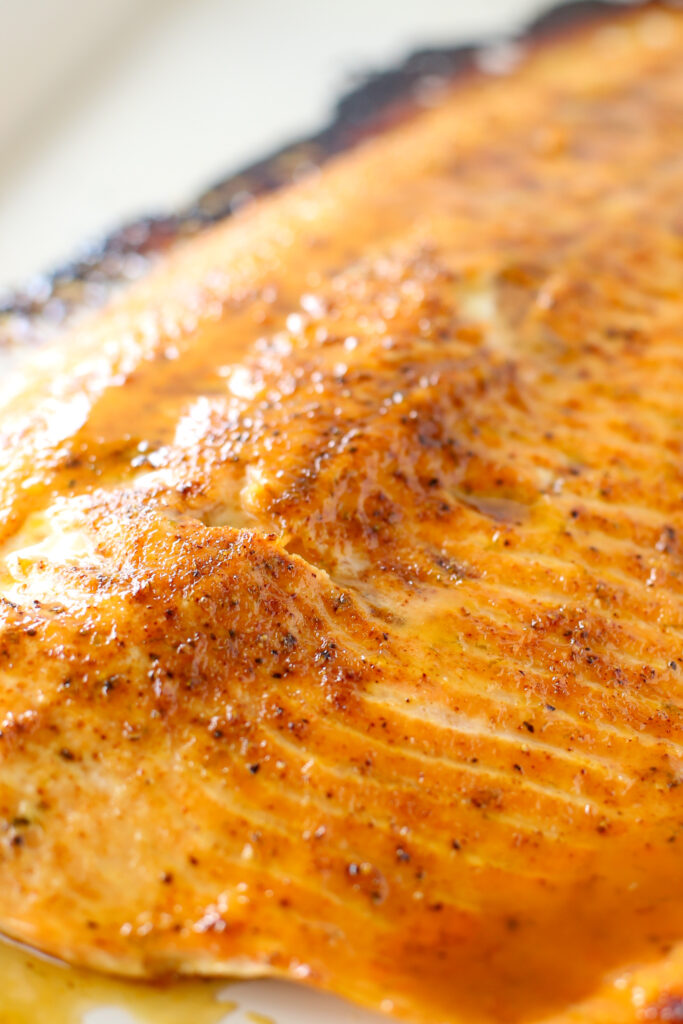 How to make pineapple-glazed salmon tacos
The method we are rolling with here is baking then broiling. Salmon cooks quickly and simply. If you wanted to cook a three-pound beef tri-tip for your family, you would have to give it a lot more time to tenderize. But with salmon, you can have it ready to eat within 20 minutes. With this salmon go-round, we are baking it first, adding the glaze and then giving it a final trip under the broiler. The broiler gives us some caramelization and helps make the glaze nice and sticky.
To make the glaze, we just use the method of reduction. We reduce down some pineapple juice until it is thickened. This will concentrate the flavor a whole bunch. To round out the tartness of the pineapple juice after it is reduced, we add a little honey. The honey also gives us that sticky sweet part everyone loves. Lime is added for flavor and soy sauce is the umami. I couldn't figure out how to give the glaze a little more savory flavor. But then I remembered soy sauce will do that trick!
We pile this delicious salmon into a tortilla (use corn or flour), add some cabbage for crunch, queso fresco, avocado, cilantro and the best creamy tacos sauce you can find. I do know that the next time I make this, I will toss the cabbage with the sauce instead. It is easier to serve that way. And then I can ensure my daughter doesn't use all the sauce on her own tacos. Girlfriend is prone to doing that.
Ready to talk ingredients? We are only going to cover the two main ones in this recipe.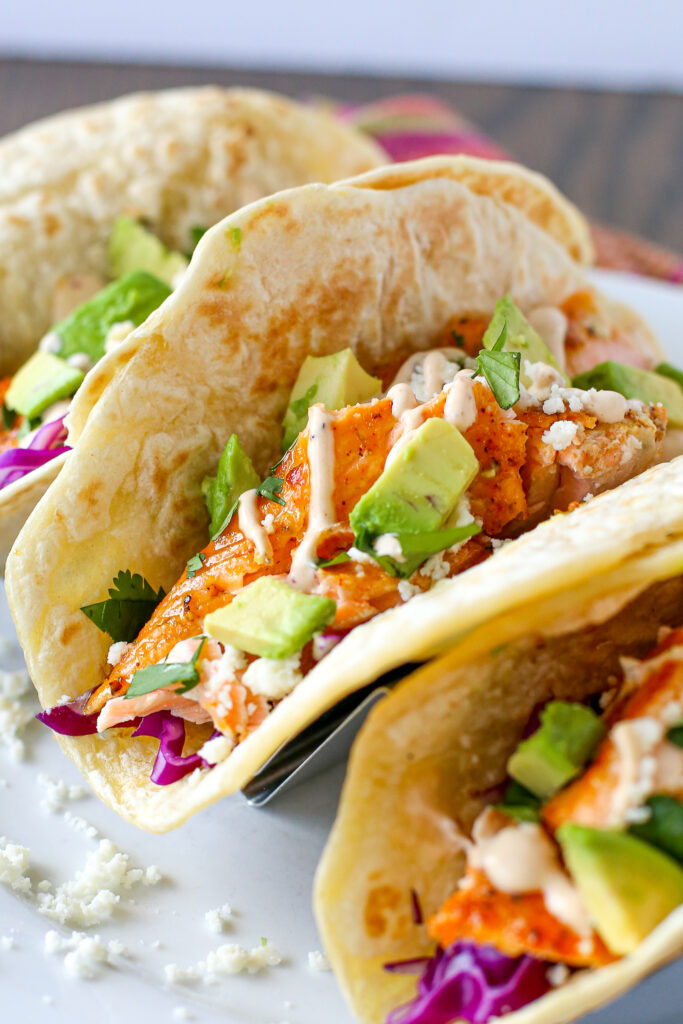 Salmon
I buy the salmon filet from Costco. They usually about a few options between farm-raised or wild caught. I am not going to try and tell you that wild-caught is always best and worth the extra price. Not all commercial salmon farms are an awful operation. Some can produce fantastic salmon. I do trust Costco seafood and have found it to be excellent.
Pineapple juice
You know those little cans of pineapple juice you find at the grocery store? They are the Dole ones. Little 6 ounce cans. With this recipe, you use two cans. I like to keep those little cans of pineapple juice in my pantry for all kinds of reasons. Marinades, smoothies, salad dressings. And it is nice that they come in little cans so you don't have the pressure to use an big open container of it in the fridge. Could you use other kinds of fruit juice? Absolutely. Orange juice would be lovely.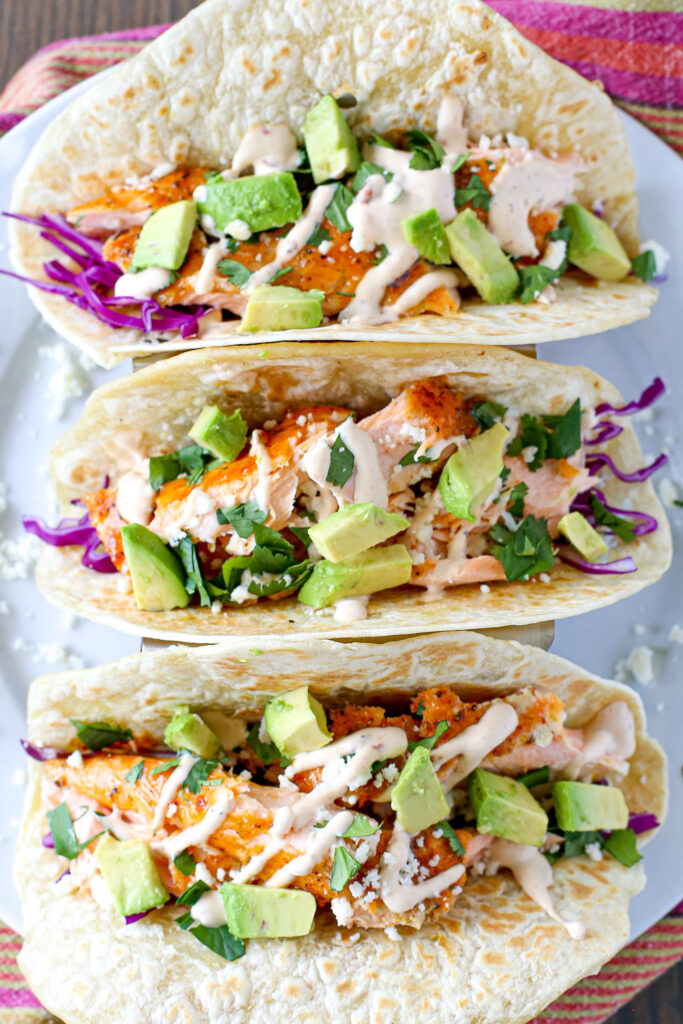 Print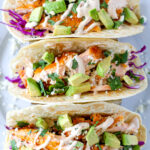 Pineapple-Glazed Salmon Tacos
---
Description
Your Taco Tuesday game just got a boost. We are going sticky, sweet and tangy with our pineapple-glazed salmon tacos.
---
For the glaze:
1 1/2 cups

pineapple juice

2 tablespoons

honey

1 tablespoon

lime juice
Zest of

1

lime

1/2 teaspoon

soy sauce
For the salmon:
3

pounds salmon filet

2 tablespoons

olive oil

1 teaspoon

kosher salt

1/2 teaspoon

ground pepper

1/2 teaspoon

cumin

1/4 teaspoon

chile powder

1/4 teaspoon

garlic powder

1/8 teaspoon

onion powder
For the sauce:
1/4 cup

mayonnaise

1/4 cup

sour cream

1 tablespoon

diced chipotle peppers in adobo sauce

1/2 teaspoon

lime juice
For serving:
6

tortillas

2 cups

shredded red cabbage

1/2 cup

crumbed queso fresco

1/2 cup

chopped fresh cilantro

1

avocado diced
---
Instructions
In a small saucepan over medium heat, add the pineapple juice. Simmer for 30 minutes or until thickened and reduced to 1/4 cup. Once reduced, remove from heat and stir in honey, lime juice, lime zest and soy sauce. Set aside.
Set oven to 400 degrees F. Spray a rimmed baking sheet with non-stick spray and set the salmon on it. Add olive oil on top of the salmon and spread it evenly with a pastry brush or your hands. In a small bowl, add salt, pepper, cumin, chile powder, garlic powder and onion powder. Sprinkle evenly over the salmon and rub it in. Bake the salmon for 20-25 minute or until it flakes easily at the thickest part.
While the salmon cooks, prepare the sauce. In a small bowl, combine mayonnaise, sour cream, chipotle peppers and lime juice. Whisk well. If the sauce seems too thick to drizzle, add a little more lime juice or milk. Set aside.
Once the salmon is cooked through, remove the salmon from the oven. Set the oven to broil with the top rack in the center. Brush the glaze on the salmon, spreading evenly. Put back in the oven and broil for 5 minutes, just until the salmon is lightly caramelized. Be sure to keep an eye on it so it doesn't burn. Once caramelized, gently flake the salmon, being sure to leave nice big chucks.
Serve the salmon in tortillas with cabbage, queso fresco, cilantro, avocado and a bit of the sauce.
Prep Time:

20 minutes

Cook Time:

40 minutes

Category:

seafood

Method:

stove-top and oven
Keywords: tacos, salmon, seafood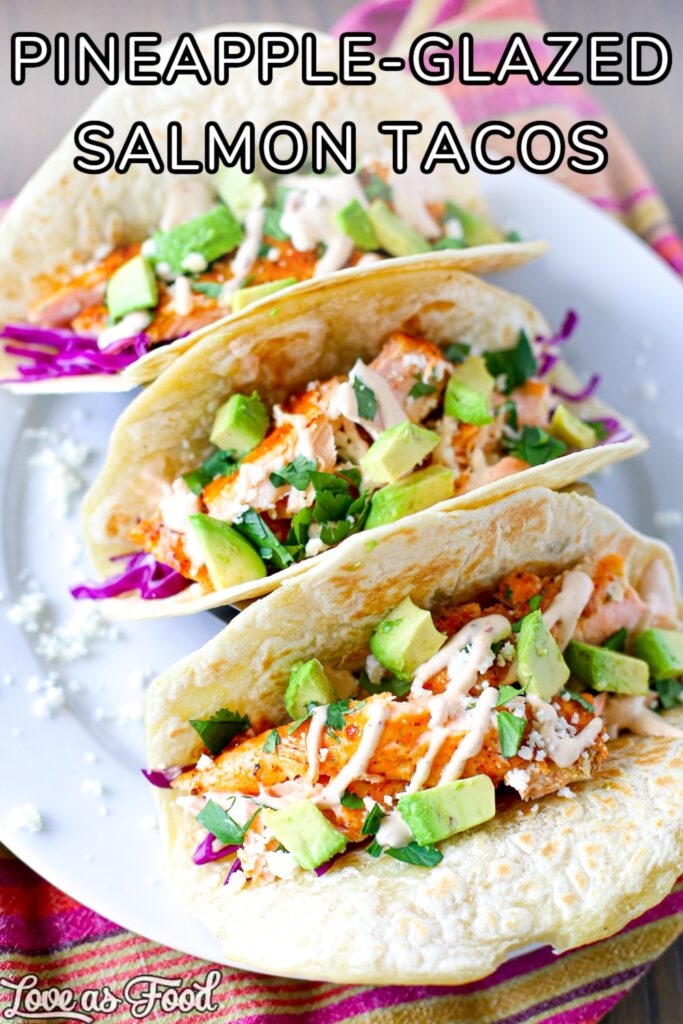 Looking for a different taco recipe? Check out these Steak Tacos with Creamy Avocado Slaw.