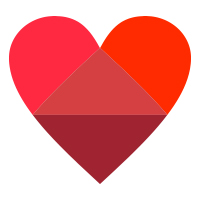 Do I even dare call this a recipe? I don't. But I just want everyone to know all about Connie's Sweet and Salty Harvest Mix. It's become a fall season tradition at our house. The "recipe" comes from my friend's mom, Connie. Apparently Connie puts this stuff into little cornucopias at the Thanksgiving table. Cute, right? I can't wait until Thanksgiving for this stuff. So once October hits, I hit up the grocery store. This mix is a flavor and texture waltz. Sweet, salty, crunchy, smooth, nutty, chocolatey, chewy. A little handful of this thrown straight back into your mouth is the ultimate delight.
The sad truth
I am just going to come right out with this: this stuff can get spendy. You are basically buying a plethora of snacks and putting it all together. And snackies can be expensive. But good news, you can make this whatever you want it to be. The most expensive part is the candy. So go ahead and leave out some of that if you would like.
RIP Half Pops
I usually put Half Pops in this mix, but after checking 4 grocery stores, I came up short. I almost ordered some on Amazon, but I snapped out of it. Corn Nuts are a great substitute. But if you can find Half Pops, use those. They make this mix even better. I also considered some bagged caramel popcorn. That would be delightful too. Or what about some of those gummy pumpkins? I think those would be delightful.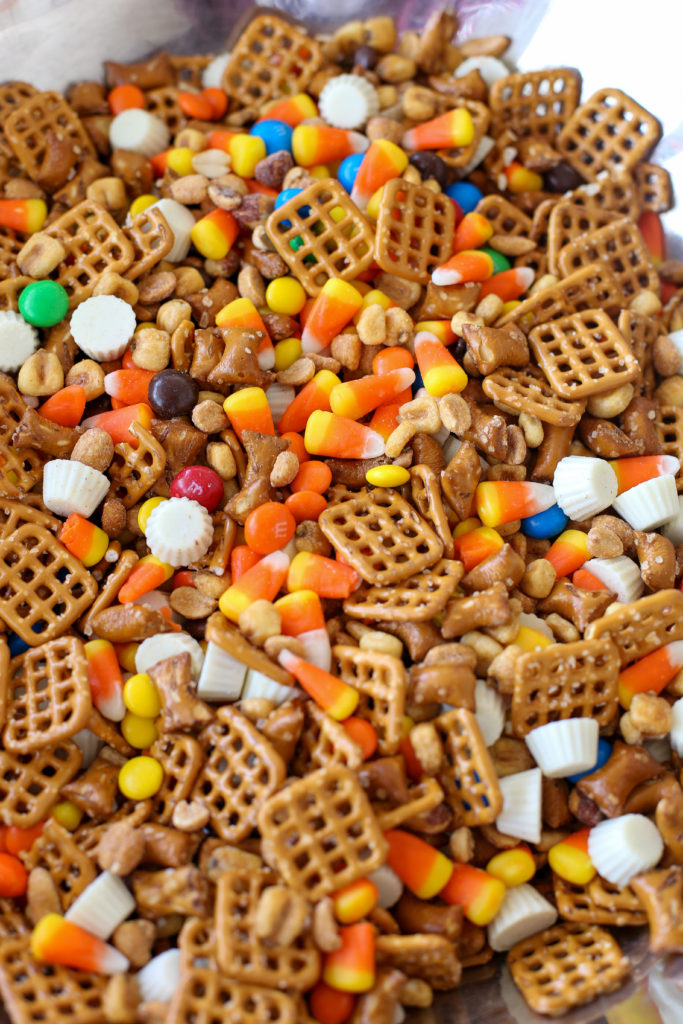 Share it or hate yourself later
If I were you, I would make sure that you share this sweet and salty mix before you eat it all. Like bag it up in cute baggies before you even know who you want to give it to. I have a basket full of little bags of this mix, ready to give out when the thought arises. Like tonight I ran some over to a friend's house before a big post season baseball game. Dodgers vs. Nationals. (the game is still going and it's not going well according to the shouting I am hearing downstairs. "Swing the bat!" and "Oh my gosh dude, that is not a strike!").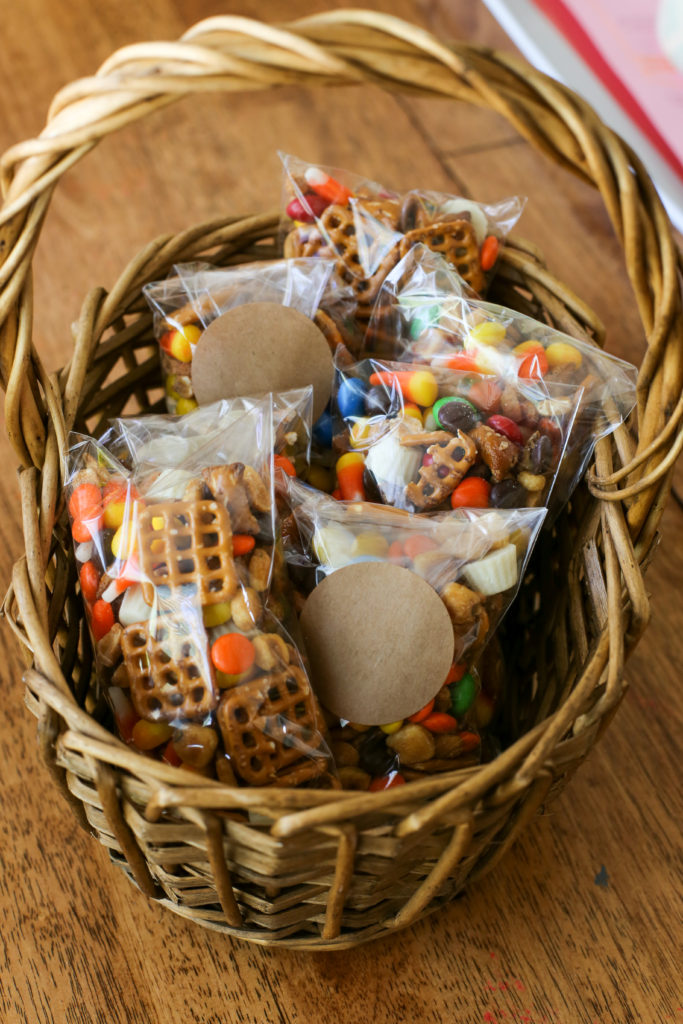 Packaging
Want to package everything up? I used cello bags and brown kraft paper labels to seal it up. Click here for the kraft labels and click here for the cello bags. It would also be fun to add some tags. I have these tags from Amazon. They are actually so useful. But the kraft labels are a must. Get some and you will find you use them all the time. Like Christmas gift labels- brilliant. If I was more on my game, the little kraft labels would say "Happy Halloween" or something.
Connie's Sweet and Salty Harvest Mix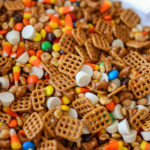 Print This
Ingredients
Peanut butter M&Ms

Reeses Pieces

White mini Reese peanut butter cups

Candy corn

Pretzels

Mini peanut butter-filled pretzels

Original flavored Corn Nuts

Honey-roasted peanuts
Instructions
Dump it all in a bowl. Mix it up. Eat it all.