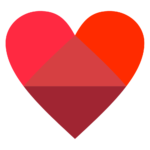 Quick breads are my downfall. Like any good eating habits I have had for the day go out the window with something like this comes out of the oven. Glazed orange poppy seed bread is just the thing to ruin my day. But really, I am not sad about it. This bread really should be called a cake. Impossibly moist, a sweet orange almond flavor and an orange glaze to finish it off.
My speech about doubling recipes like this
I often preach that you should always make double of a recipe like this. You have two loaf pans? Fill them! And then give the other loaf to your neighbor. Neighborly baked good giving needs a comeback. At least it does in my neighborhood. I remember always getting or giving stuff when I was growing up. The Wilkinsons gave us fresh bread, the Maws gave us chocolate chip cookies and the Nelsons gave us spud nuts. I can remember my mom filling a plate with something warm, sweet and delicious and sending me across the street to drop it off. It's just what we did. And I think you should to.
So make a second loaf and send one of your kids to the neighbors to drop it off. Hopefully, they will return the gesture. There is this really depressing article about America and neighborhoods. I guess none of us know our neighbors. My friend Nat makes a super conscious effort to know her neighbors. Like she literally makes baked goods for the purpose of giving them to neighbors. We all need to be like Nat. So make a second loaf of this glazed orange poppy seed bread and give it away.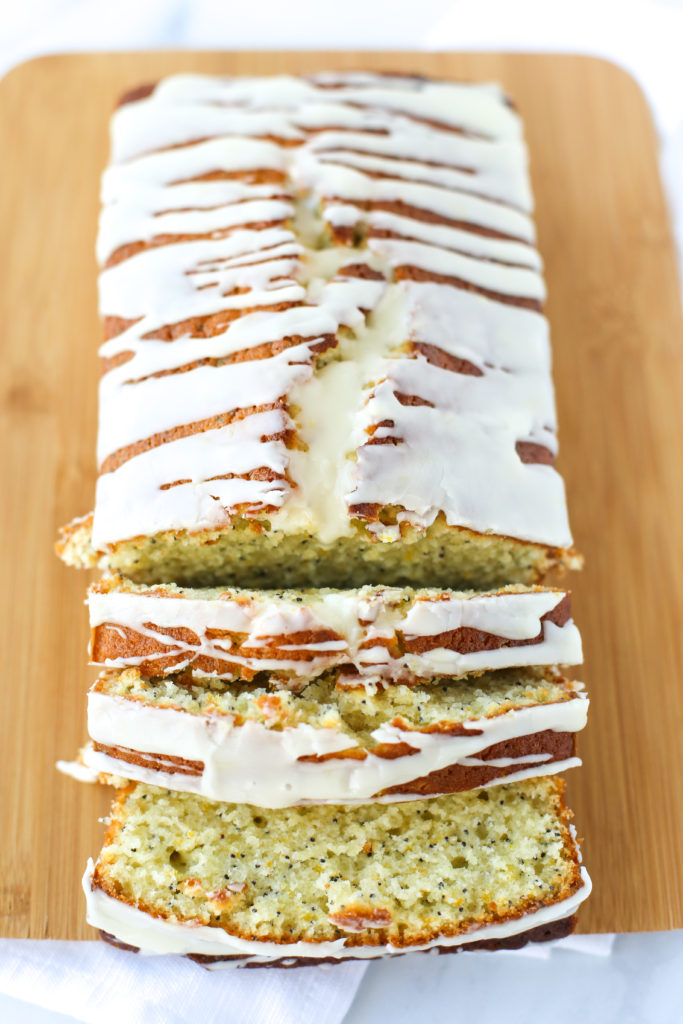 Why orange instead of lemon?
My husband's parents used to live in Southern California and they had a plentiful orange tree in their yard. When we would visit, we often came home with a box of oranges in the back seat. That meant I looked for all kinds of ways to use them. And that's when this glazed orange poppy seed bread was born.
With the orange flavor, I decided on almond extract instead of vanilla. The floral flavor of the almond goes with orange better than vanilla, in my opinion. I think you might agree. And as I have previously talked about, almond extract is WAY cheaper than vanilla extract. So save your vanilla for something that needs vanilla. This glazed orange poppy seed bread does not. My daughter prefers almond flavor over vanilla. Hence I have a recipe for almond crunch poppy seed muffins on this here blog. You should try those too. They are yumtown.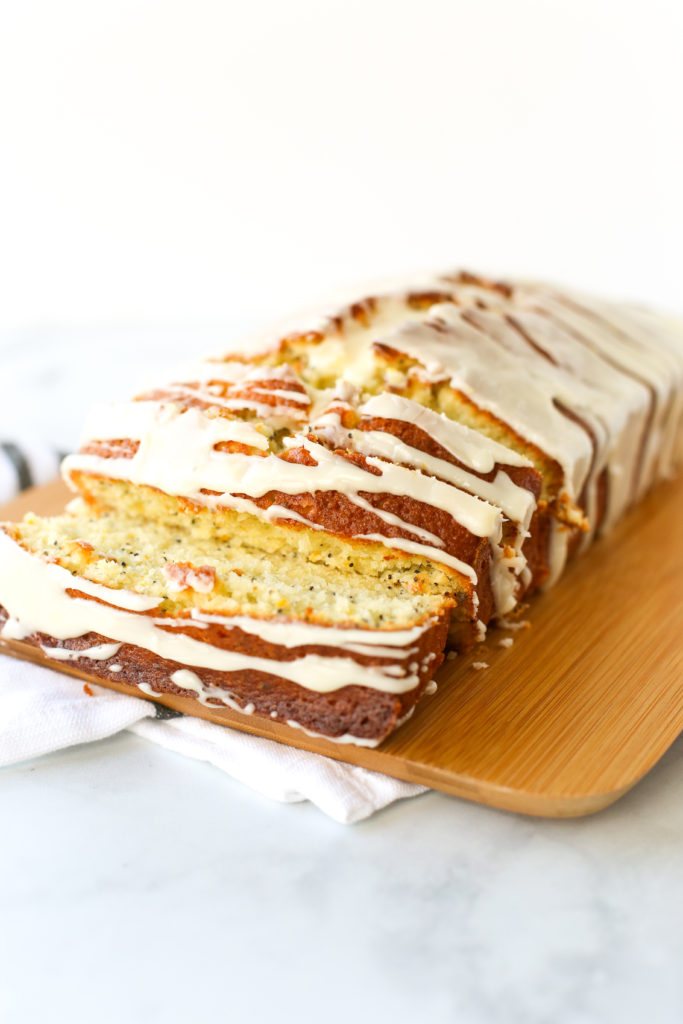 Notes on preparation
Okay fine, you can use lemons. Go ahead and use the same measurements for the zest and juice. Lime wouldn't be horrible either. Even a combination of different kinds of citrus would be great.
Cooling the bread before putting on the glaze is essential. Otherwise, it will just melt off the bread. And that isn't pretty. But surely it is still delicious.
Print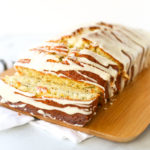 Glazed Orange Poppy Seed Bread
---
Total Time:

75 minutes

Yield:

12

slices

1

x
1½ cup

all-purpose flour

¾ teaspoon

baking powder

½ teaspoon

salt

1¼ cup

granulated sugar

¾ cup

vegetable oil

2

eggs

1 teaspoon

almond extract

1 tablespoon

orange zest, about

2

oranges

¾ cup

buttermilk

1 tablespoon

poppy seeds

2 cups

powdered sugar

3 tablespoons

orange juice
---
Instructions
Set oven to 350 degrees F. Spray a 9×5 inch bread pan with non-stick spray and line with parchment paper. Spray the parchment paper as well. Set aside.
In a medium bowl, combine flour, baking powder and salt. Whisk well to combine. In the bowl of a mixer fitted with the paddle attachment, add sugar, vegetable oil, eggs, almond extract and orange zest. Mix on medium speed until well-combined and lightened in color, about 3 minutes. Add buttermilk, flour mixture and poppy seeds. Mix until well-combined.
Pour batter into the prepared pan. Bake for 55-60 minutes, until the top is browned and an inserted toothpick comes out clean.
While bread bakes, make the glaze. In a medium bowl, combine powdered sugar and orange juice. Whisk until smooth and set aside.
Cool bread completely before drizzling glaze on top.
Prep Time:

15 minutes

Cook Time:

60 minutes

Category:

Dessert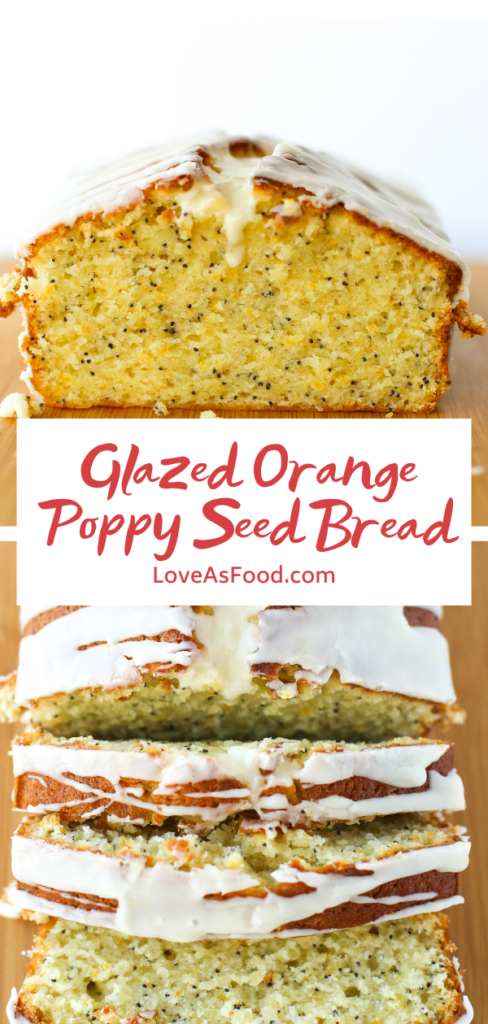 Cooking equipment I use for this recipe
Listened to in the kitchen