There are two types of people. People who think baseball games are boring and people that don't. My family falls into the category of people who do not think baseball games are boring. Baseball is EVERYTHING at my house. From both of my boys playing to my husband having a LA Dodgers tattoo, ball is life. And there couldn't be a better treat than this baseball snack mix for us. Whether it's watching Kershaw dominate on TV or sitting behind the chain link fence watching my boys play, this snack mix hits the spot. It is full of the stuff you would get at a ball game. Churros, caramel popcorn, salted peanuts, sunflower kernels… and then we add some white chocolate Chex cereal for good measure. Salty, sweet, crunchy- all the best things in one bite.
The Covid shut down
We all remember what it was like when life came to a screeching halt in March 2020. Every thing was scary and unknown. One of the biggest devastations for my family was baseball. We were in Arizona at MLB Spring Training the weekend before things shut down. Luckily for us, we were able to go to our games. After we left, everything was cancelled. In February, my oldest son made the Freshman baseball team and his season got squashed. Then my middle son's season got cancelled. It was blow after blow. I hadn't realized how much baseball unified our family.
Once baseball came back in the mid-late summer, it was so sweet. Life felt normal and consistent. And the cherry on top was that the Dodgers won the World Series in 2020! It was a beautiful reprieve of stress and anxiety Covid brought.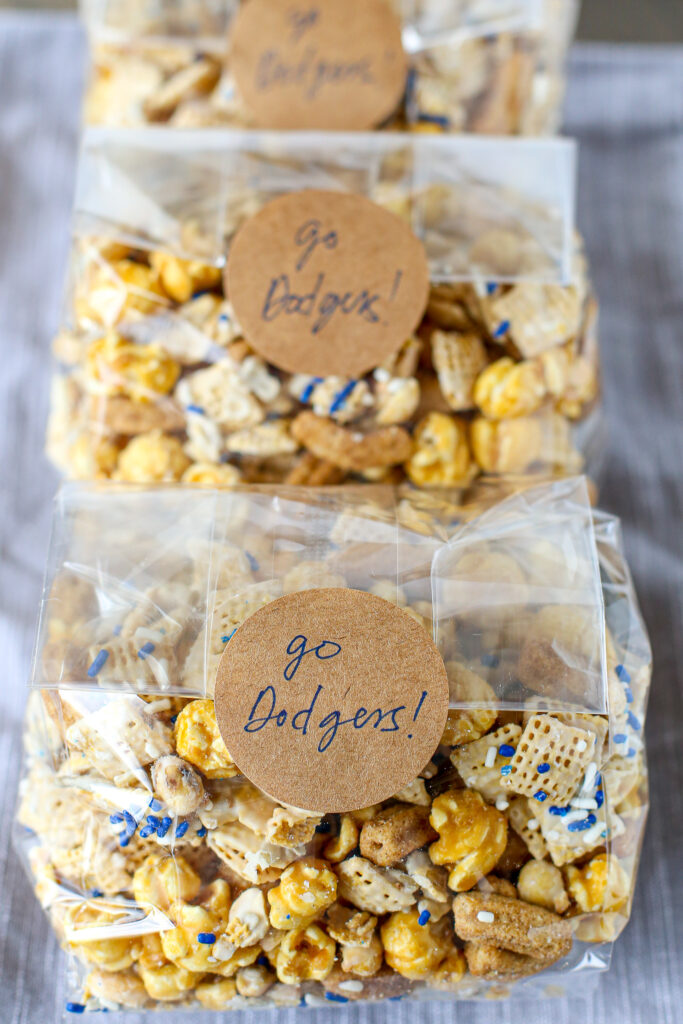 How to make baseball snack mix
If you can use a microwave, you can make this baseball snack mix. All we do is melt some white chocolate chips and pour it over some crunchy yummy stuff. We use the white chocolate as glue for the smaller friends in this mix- the peanuts, sunflower kernels and sprinkles. We want to make sure they don't end up as crumbs at the bottom of the bowl.
If you have a team, use some jimmie sprinkles in your team colors. Or none at all. You can't go wrong either way. Of course, I did blue and white for our Dodgers.
What is baseball without churros? Those are always a highlight for me. And whatdayaknow, there are mini churros in the cereal aisle! They are PERFECT in this mix. So look for Cinnamon Toast Crunch Churros.
Print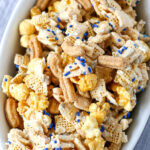 Baseball Snack Mix
---
Description
Take me out to the ball game! Or name me this baseball snack mix and we will call it good! This snack mix has all the stuff you eat at a baseball game. Peanuts, sunflower kernels, churros, popcorn. And then we add some white chocolate Chex mix and some colored sprinkles for good measure!
---
6 cups

corn Chex cereal

1 cup

salted peanuts

1/2 cup

salted sunflower kernels

1

12 ounce package white chocolate chips

1 tablespoon

vegetable shortening

1/2 cup

jimmie sprinkles, optional

4 cups

caramel popcorn

4 cups

Cinnamon Toast Crunch Churros cereal
---
Instructions
In a large bowl, add Chex cereal, peanuts and sunflower kernels. Toss to combine.
In a medium bowl, combine white chocolate chips and vegetable shortening. Microwave in 30-second increments, stirring in between, until smooth. Pour over Chex mixture. Gently stir until combined and everything is coated in white chocolate. Spread on a rimmed baking sheet. Sprinkle sprinkles over the top, if using. Refrigerate for 20 minutes, or until the white chocolate is set.
In the large bowl used to mix up the Chex mix, add the caramel popcorn and churros cereal. With a spatula, break up the white chocolate Chex mixture into a bite-sized pieces. Add to the caramel popcorn and churros cereal. Toss to combine.
Store baseball snack mix in an airtight container.
Prep Time:

30 minutes

Cook Time:

2 minutes

Category:

snacks

Method:

microwave
Keywords: snack mix, party food, chex, white chocolate, baseball