These almond crunch poppy seed muffins were created out of necessity. A few weeks ago, my daughter and I were headed to her volleyball game. I stopped at the gas station and she asked for a snack. She said she forgot to eat breakfast (insert hand-palm emoji), so she was hungry. Real attentive mom over here! I ran into the gas station and grabbed a packaged muffin. There were plenty of usual flavors like banana and chocolate, but I saw almond poppy seed and thought we should give it a go. Turns out it was a huge hit for her. I had no idea she loved almond flavor so much. Fast forward a couple of weeks and she asked for the same muffin. And because I can't leave well enough alone, I told her we would take a crack at making them at home. So these almond crunch poppy seed muffins were born.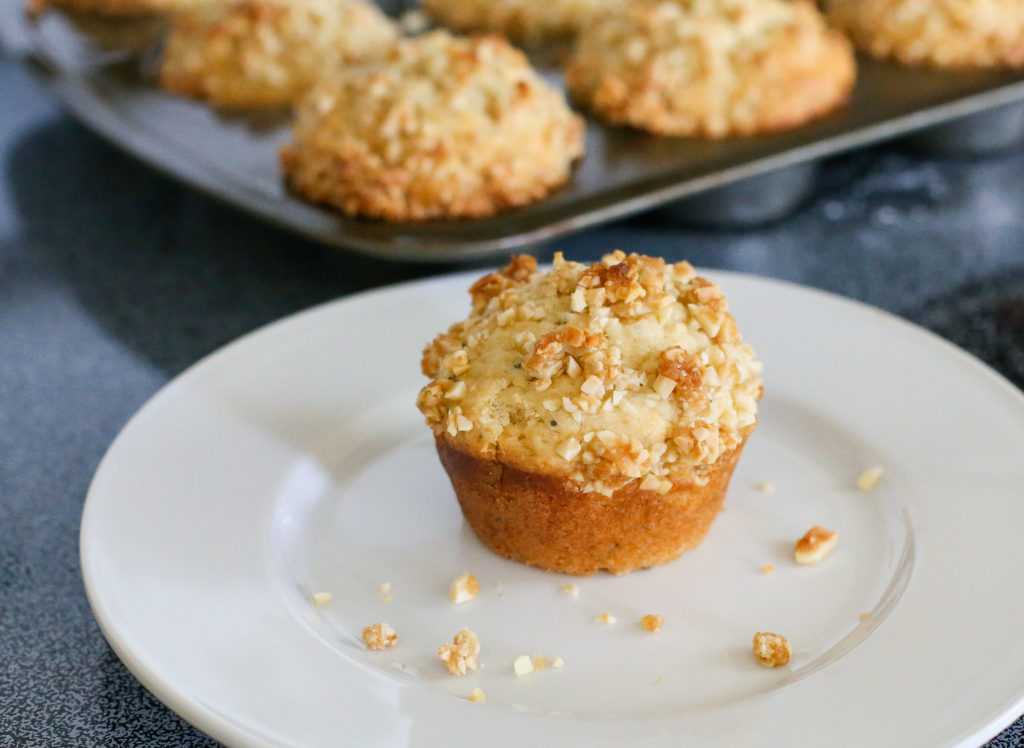 Almond extract vs. vanilla extract
Any trip to the grocery store will let you know that pure vanilla extract prices are sky high right now. This LA Times article explains why. So much baking is dependant on vanilla flavor. It seems everything has at least a teaspoon of vanilla extract in it. But you know what isn't expensive? Almond extract. I need to start finding ways to use it and save my precious vanilla for times when it is a must, like chocolate chip cookies or vanilla cupcakes.
Soft, crunchy, sweet
These almond crunch poppy seed muffins cover all the texture/flavor basics. Soft muffin middle, crunchy top, pleasantly sweet. The batter is made with buttermilk which is notorious for making baked goods soft and moist. Anyone, please pipe up for the reasons why that is. The topping on these muffins is a simple mix of almonds, brown sugar, flour and melted butter. It makes for a perfect crunch on top.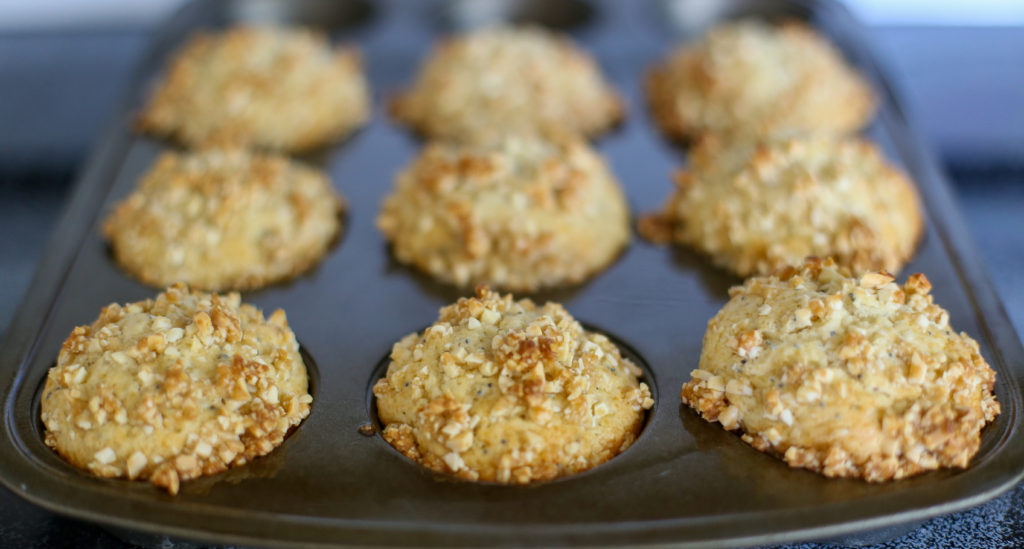 Notes on preparation
Almond extract is significantly cheaper than vanilla extract. But if you don't love almond flavor, go ahead and sub in some coconut extract. No need to change the recipe in any other way.
When it comes to chopping the slivered almonds, you can either go the knife-chopping route or opt for the food processor. A good blender would work too. If you do go mechanical, be careful you don't over-chop the nuts. We still want some crunch and texture. So I would recommend just pulsing.
When you combine the oil, egg, sugar and buttermilk, it's going to look pretty barfy, I won't lie. But just keep mixing. If it separates, don't stress.
A couple creative additions to take your almond crunch poppyseed muffins to the next level: orange or lemon zest, slivered almonds in the batter, mini chocolate chips, dried cranberries. Do what you will.
Per the usual…
If you have any questions, please drop me a line. Too often people don't speak up because they think their question is too dumb or too obvious. No such thing! I will literally never read a question someone emails me and roll my eyes. Questions are the only thing that makes us better cooks!
Almond Crunch Poppy Seed Muffins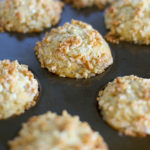 Print This
Ingredients
2 tablespoons unsalted butter

1/2 cup blanched slivered almonds, finely chopped

2 tablespoons brown sugar

1 tablespoon all-purpose flour

1 1/2 cup all-purpose flour

1 1/2 teaspoon baking powder

1/4 teaspoon baking soda

1/4 teaspoon salt

1/2 cup brown sugar

1/2 cup vegetable oil

3/4 cup buttermilk

1 egg

1 tablespoon poppy seeds

2 teaspoons almond extract
Instructions
Set oven to 400 degrees F. Spray a muffin tin with non-stick spray or line with muffin cups and set aside
In a small bowl, add butter and melt in the microwave for 30-45 seconds. Add chopped almonds, 2 tablespoons brown sugar and 1 tablespoon flour. Mix until well combined and set aside.
In a medium bowl, add 1 1/2 cup flour, baking powder, baking soda and salt. Whisk and set aside. In a mixing bowl, ad 1/2 cup brown sugar, vegetable oil, buttermilk, egg, poppy seeds and almond extract. Mix with handmixer until smooth and well combined. Add flour mixture and mix until well combined. 
Divide muffin batter into prepared muffin tin. Top with almond crunch, a little less than 1 tablespoon per muffin. Bake for 15-17 minutes, or until an inserted toothpick comes out clean.