This recipe is a classic for my family. I have probably been making it for over 10 years. I know I used to make it when we lived in California and that was ages ago. This one-pan lemon chicken with asparagus was great for me just learning how to cook for my family. Simple, easy-to-find ingredients. It is approachable for any skill level. And the charred lemons really give it a flare of fancy.
How to make one-pan lemon chicken with asparagus
As far as the process of making this dish, it is a simple as can be. You are only cutting a few things and not in any fancy way. Then you are going to layer things in the pan throughout the roasting, putting different ingredients in along the way. Think of it the way you cook a soup. Different ingredients go in at different times, depending on how long they need to cook.
Potatoes
Don't worry too much about what kind of potatoes to use in this recipe. You just need something yummy. You can use russet potatoes and just cut them smaller or go for the gold and get little Yukon gold potatoes. I used Yukon gold potatoes and they soaked up all that rendered chicken fat beautifully. Could you add a sweet potato in there? Sure, but I don't know how well the sweet potatoes are going to combine with the lemon.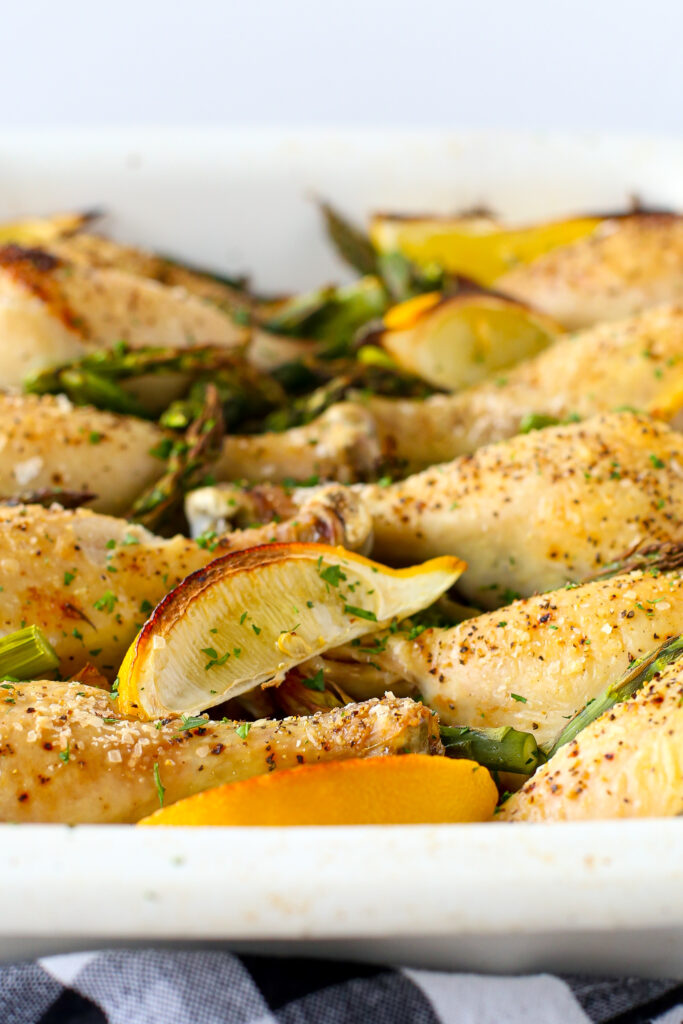 Butter
Cutting the butter into small pieces is key here. The smaller, the better so it will evenly distribute throughout the dish. I like to keep the butter in the fridge after cutting it up because it is easier to sprinkle over everything instead of it doing it while the butter is softened.
Chicken
This is where you make the call of what cuts your family likes. I seem to always have a pack of chicken drumsticks in the freezer. But you could do thighs or breasts too. I wouldn't recommend chicken tenders or wings. They are small cuts and they will cook quickly, thus cutting the time for roasting the potatoes. We want those potatoes nice and soft.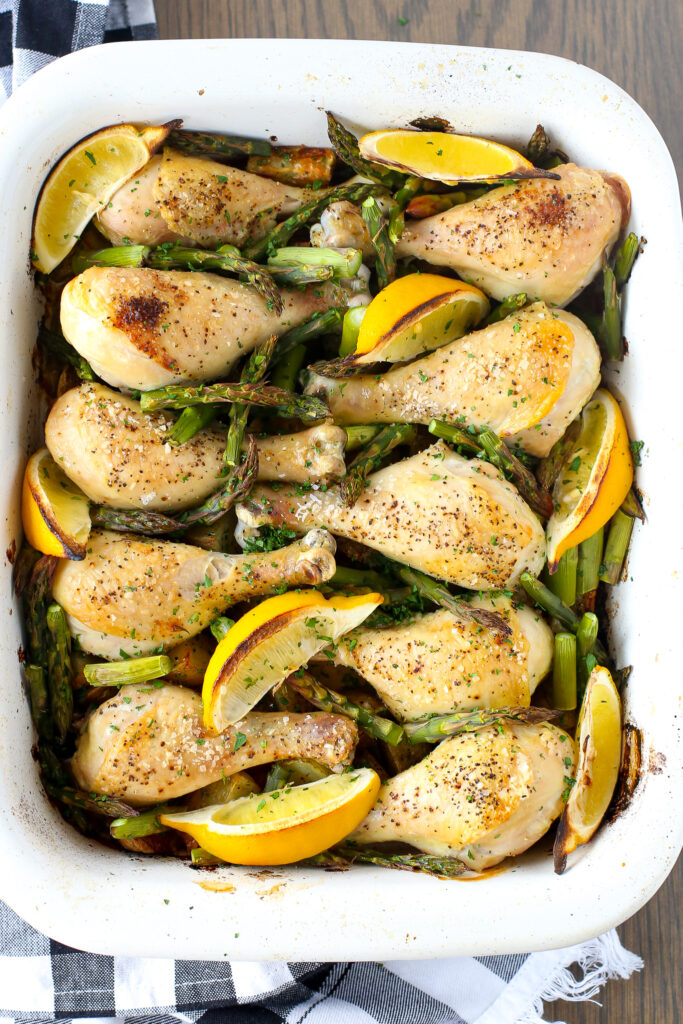 Asparagus
Luckily, everyone in my family likes asparagus, especially the pointy end pieces. Those always roast up nicely. If you guys aren't asparagus people, I would do broccoli or cauliflower. Those would be delicious.
Lemon
We only need one lemon for this recipe. And even if you only have half a lemon floating around the fridge, that is sufficient. The lemon in this recipe is particularly delicious because it gets all toasty. This makes the lemon wedges extra juicy. For lemon lovers, this is your meal right here.
Get to it!
I think that sums up this recipe perfectly. It is simple, thus giving each ingredient a chance to shine. Add it to your weekly menu now!
Print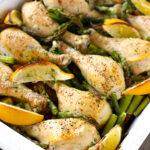 One-Pan Lemon Chicken with Asparagus
---
Description
One-pan lemon chicken with asparagus has a secret underneath- potatoes cooked in the rendered chicken fat!
---
1 1/2

pounds small potatoes, cut into quarters

4 tablespoons

butter, diced into small pieces and divided
Kosher salt and ground pepper, for seasoning

3

pounds chicken pieces (legs, thighs, breasts)

1

bunch asparagus, cut into

1

-inch pieces

1

lemon, cut into

8

wedges
---
Instructions
Set oven to 475 degrees F. Add potatoes and half of the diced butter to a 9×13 inch pan. Season with salt and pepper. Toss to combine. Roast for 25 minutes, stirring halfway through, until the potatoes are lightly browned.
Remove pan from the oven and add chicken on top of the potatoes. Season each piece with salt and pepper. Put the pan back in the oven and roast for another 25 minutes.
Remove pan from the oven and sprinkle asparagus, lemon wedges and the remaining diced butter over the chicken. Put the pan back in the oven and roast for 25-30 minutes, until the chicken is lightly browned and the asparagus is tender.
Serve with lemon squeezed over the top.
Notes
Use whatever cuts of chicken you prefer. You can use all legs, all breasts, tenders, whatever you and your prefer.
You are welcome to add some fresh herbs to any part of the process. Some fresh thyme would be especially lovely.