Talk about luscious! You are going to love this slow cooker beef ragu. It is beefy, tangy and herbaceous. I will be straight up- it isn't a dump and done slow cooker recipe. We start with cooking the beef and the vegetables and then add the tomato puree a little while before serving.
If at first you don't succeed, use your own damn brain
When it comes to developing a recipe, I get ideas from all kinds of places. Television shows, movies, news articles, books, magazines. I keep a list in my phone of ideas. I have file folders full of recipe ideas and methods. Often I will see a picture and it will spark an idea. With this slow cooker beef ragu, the idea came after seeing a picture of a pork ragu. I have made a slow cooker pork ragu, maybe 8 years ago. But I thought pork would taste better than beef. Fast forward, I saw another beef ragu picture and decided to finally get my own recipe just right.
In researching how I could make this recipe, I looked at what other people did with their recipes. Lots of them added all the liquid in at the beginning. Some added water. Others cut the vegetables into big chunks. I took a few of those ideas and started off. The result was a watery, greasy "sauce". The tomato puree sort of disappeared. I was mad at myself for not just cooking it how I knew it needed to be done. I realized I needed to cook the beef first, in it's own juices, and then add the tomato puree later. And the vegetables needed to be diced so they melted into the beef. Turns out I was right. Now the ragu has a tangy tomato taste and the sauce coats the pasta beautifully. There is no extra liquid added. As the beef cooks, it releases its own juices and that is what the beef cooks in. When we use a higher fat cut of beef like boneless chuck roast, we can let that do all the cooking.
Let's talk ingredients!
Boneless beef chuck roast
Beef chuck roast is always going to be king when it comes to slow cooking. It always comes out tender and flavorful. And that is why it is always more expensive than the other bigger cuts you see at the grocery store. It is always going to be worth the few extra dollars to get boneless beef chuck roast.
If you choose to use a different cut, you will likely need to add a cup or so of water since the beef won't render as much fat and liquid for the beef to cook in. Just a heads up.
Dried rosemary and sage
I always defer to rosemary when it comes to beef. It seems like a hearty herb that can stand up to long cooking times. It doesn't peter out like thyme would. Do you know I hate thyme? Not because of the flavor. Because of the labor. Pulling off fresh thyme leaves is a waste of time. Anyways!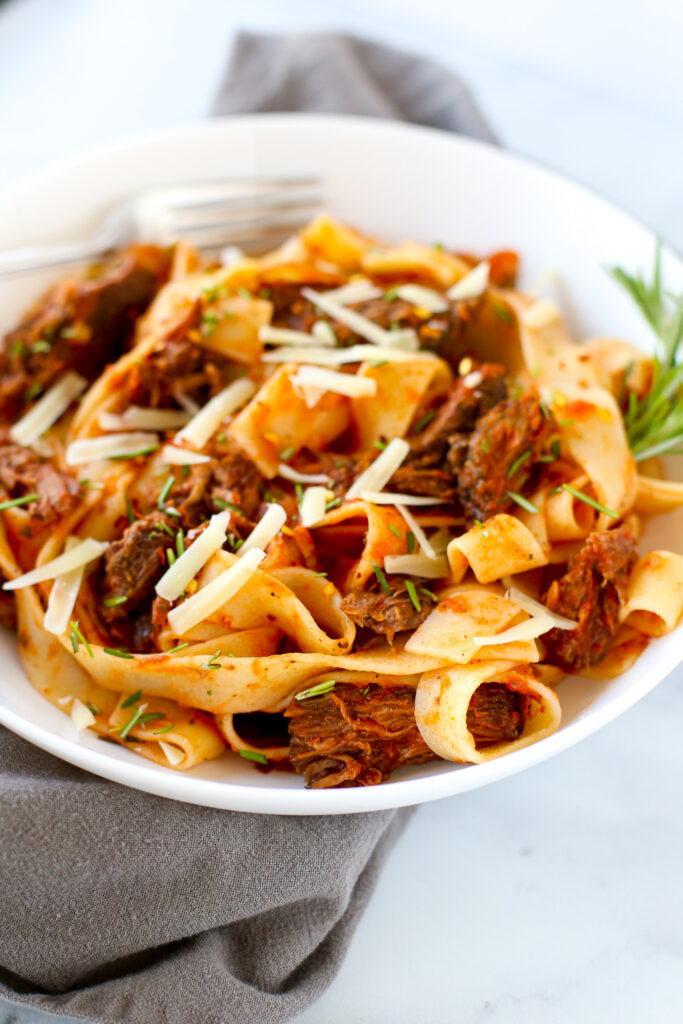 Onion, carrot and celery
We go classic with the mirepoix here. The vegetables add an element of flavor. We often forget that the purpose of vegetables isn't just nutrition. They add lots of flavor! I think it would be fun to mix up what vegetables you use. Mushrooms, green or red bell peppers, leeks, fennel, red onion, parsnips. There are a lot of excellent vegetable possibilities here.
Garlic
I believe in garlic and beef big time. They go hand in hand. I go heavy on the garlic here. 6 cloves, thinly sliced. I maybe will do more than that next time. I LOVE garlic! Or! I just had an idea- what if next time I cut a garlic bulb in half, douse it in olive oil and then wrap it in foil and set it on top of the beef while it cooks. Then I will have some slow cooked caramelized garlic to just add in to the sauce! Okay, doing it next time. I will return and report.
Tomato puree
It took me probably 10 years to realize that tomato puree and tomato sauce are basically the same thing. So if you have tomato sauce, use that. Everything will come out perfect.
Balsamic vinegar and worcestershire sauce
I have reasoning in the addition of balsamic vinegar. I just like it. But the worcestershire sauce does have reason. And the reason is that it is made to go with beef. Anything beef is made better with a few dashes of worcestershire. Burgers, meatloaf, pot roast, gravy- all is better with worcestershire.
Serve as you will
I can't wait to hear how you serve this up. Pasta is great, I used pappardelle this time. I think I will try linguine next. But some buttery mashed potatoes would be heaven. Even rice would be a win! I would love to know how you decided to serve it.
Now go eat this slow cooker beef ragu and be merry!
Print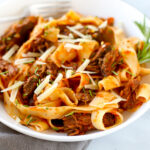 Slow Cooker Beef Ragu
---
Description
This slow cooker beef ragu is quick enough for the weeknight, fancy enough for Sunday dinner. Luscious, meaty and rich! Serve it over pasta or mashed potatoes.
---
3

pounds boneless beef chuck roast, cut into quarters

2 teaspoons

kosher salt

1 teaspoon

ground pepper

1 1/2 teaspoons

dried rosemary

1 1/2 teaspoons

dried sage

1

onion, diced

1

carrot, thinly sliced

2

celery stalks, diced

6

garlic cloves, thinly sliced

28 ounce

can tomato puree

1 teaspoon

balsamic vinegar

1/2 teaspoon

Worcestershire sauce
---
Instructions
Add chuck roast chunks to the slow cooker. In a small bowl, combine the salt, pepper, rosemary and sage. Mix together and sprinkle evenly over the beef. Add the onion, carrot, celery and garlic and toss to combine. Set the slow cooker to low and cook for 8 hours.
Once the beef is cooked through and very tender, remove the beef from the slow cooker and set it aside on a cutting board. Using a ladle, remove 1 cup of the liquid in the slow cooker, taking care to leave the vegetables in the pot.
Add the tomato puree, balsamic vinegar and Worcestershire sauce to the slow cooker and mix well to combine. roughly shred the beef and add it back into the slow cooker. Gently fold the beef in, being sure to not overmix and breaking the beef down too much. We want it to stay chunky.
Cook the beef ragu on low for 1 hour. Serve the ragu over pasta or mashed potatoes.