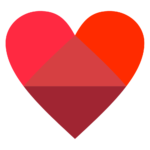 There is so much to consider when creating a recipe. You want to check all the flavor boxes at the same time as the texture boxes. Sure, plenty of recipes are pretty single-faceted. And they are still delicious. But when you try to check off more boxes, you have more than a recipe, more than a meal. It becomes an experience! Steak tacos with creamy avocado slaw are that experience.
Creamy, crunchy, chewy, yummy
Any regular day where I am throwing dinner together, I just grill the flank steak and throw salsa and cheese on top. Occasionally, I put more thought into it. This simple creamy avocado slaw is the extra bit of thought. The crunch from the slaw is just what it needs. I have made the crunchy slaw without a creamy dressing and just used apple cider vinegar, but I think I prefer the creamy dressing.
I have made this with mayonnaise, but you can use sour cream or Greek yogurt just fine. Just use what you have on hand. I had mayo. And also because I am not a fan of yogurt or sour cream (winky emoji). The avocado brings in the best little bite of creaminess and really completes this tangy slaw.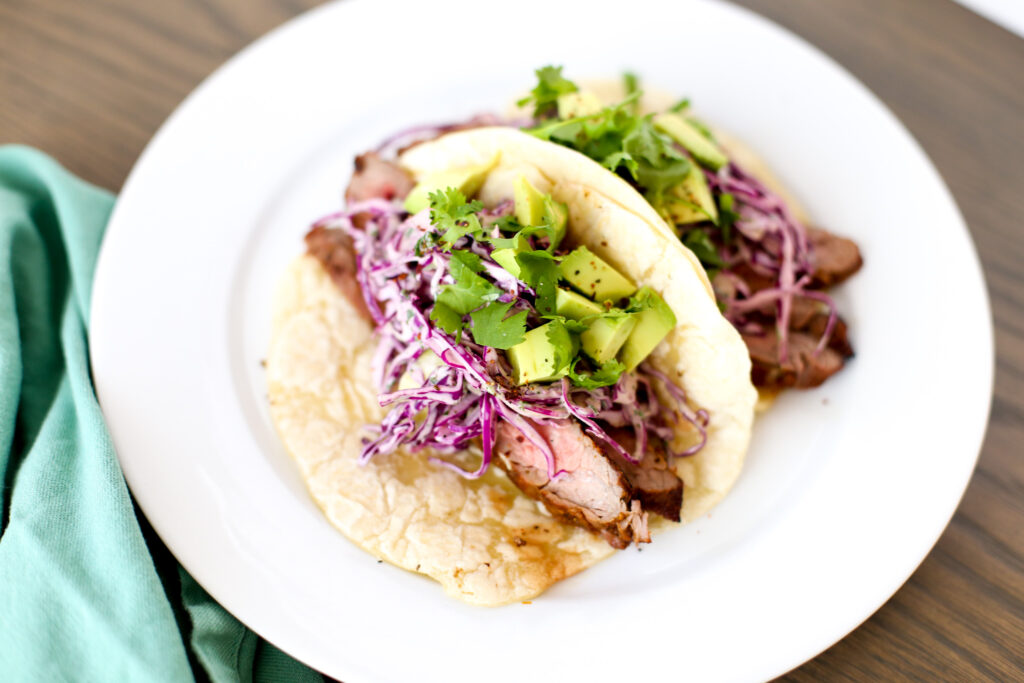 Corn or flour? The great debate
What does your family prefer when it comes to tortillas? My lame kids don't like corn tortillas. They act like I am completely unreasonable to serve them corn tortillas. Like genuinely offended. So I usually do flour tortillas. And I have my mom's old electric tortilla press that we used when I was growing up. It's like a waffle iron, but a flat surface. When you press down on it with the handle, it makes an awful, almost screeching noise. My mom would say it was the sound of "souls in torment".
When I make my own flour tortillas, I am sure I am doing it wrong and any proper Mexican abuelita would be horrified. In the food processor, I combine flour, salt, vegetable oil and water. It comes together a dough and then I shape little balls of it and press it on the tortillas press. I am sure I could do it without the tortilla press and just make it in a skillet. Someday I will figure that out.
Notes on preparation
Can you use a different cut of beef instead of flank? Absolutely. Tritip would work great and I have made tacos with that plenty of times. You could also go next level and do a couple ribeye steaks.
If you want to cut down on time for these steak tacos with creamy avocado slaw, use a bag of coleslaw mix from the grocery store. Do 4 cups of the cabbage mixture, which is about half of the bag. How can you use the rest of the bag? Saute it up for breakfast with a couple fried eggs.
Yeah yeah yeah, I know. I didn't put any cheese on it. If you want cheese, crumbled queso fresco is a good bet. Everyone seems to like that stuff.
Print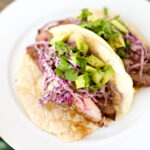 Steak Tacos with Creamy Avocado Slaw
---
Description
Steak tacos with creamy avocado slaw give you all you want in a taco. Plenty of meat, crunchy slaw and creamy avocado. It's the package deal!
---
For the steak:
2

pounds flank steak

3 tablespoons

Mexican sesasoning blend
For the slaw:
½ cup

mayonnaise

½ cup

packed fresh cilantro

1

garlic

2 tablespoons

fresh lime juice

½ teaspoon

kosher salt

¼ teaspoon

ground pepper

¼ teaspoon

cumin

4 cups

shredded red cabbage

1

avocado, diced
flour or corn tortillas, for serving
---
Instructions
Set grill to medium high. Season flank steak with Mexican seasoning blend on both sides. Grill steak on both sides for about 5 minutes, or until an inserted thermometer reaches 130 degrees F. Cover with foil and set aside to rest.
In a blender, combine mayonnaise, cilantro, garlic, lime juice, salt, pepper and cumin. Blend until smooth. Add a tablespoon of water to thin out if needed.
In a medium bowl, add red cabbage and avocado. Pour dressing over the top and fold in gently.
Slice flank steak into thin strips. Serve steak in tortillas and topped with slaw.
Prep Time:

20 minutes

Cook Time:

10 minutes

Category:

30 Minute Meals, Dinner