It had been many years since I had been in Hawaii and had loco moco. Fast forward to being stuck in a hotel room with my teenage son during a fateful baseball tournament in St. George, Utah. Whenever I am traveling and staying in hotels, I always watch the Food Network. I know the content is super safe for my kids to watch and I don't have to worry too much. And I feel like the only thing on is always Diners Drive-Ins and Dives. How many episodes of that damn show has Guy Fieri filmed? I don't think I have ever seen a repeat. There are SO MANY episodes. On the episode I watched, loco moco was featured and all the memories came flooding back. I knew it had to be made at my house ASAP.
What is loco moco?
Plain and simple, this is comfort food. Inexpensive, easy to prepare and easy to love. It is simply white rice topped with a burger patty and brown gravy and then a fried egg. It is the kind of thing you can just mash all together. All the components are good alone or all together. The dish came about in the late 1940s at a diner in Hilo, Hawaii. It was a solution for teenagers who were hungry but didn't have a lot of money. They asked the diner cook to prepare it and history was made. Click HERE for more info. I am a food nerd and I want to know all the history about food so I always look it up.
Let's talk about the main components of loco moco.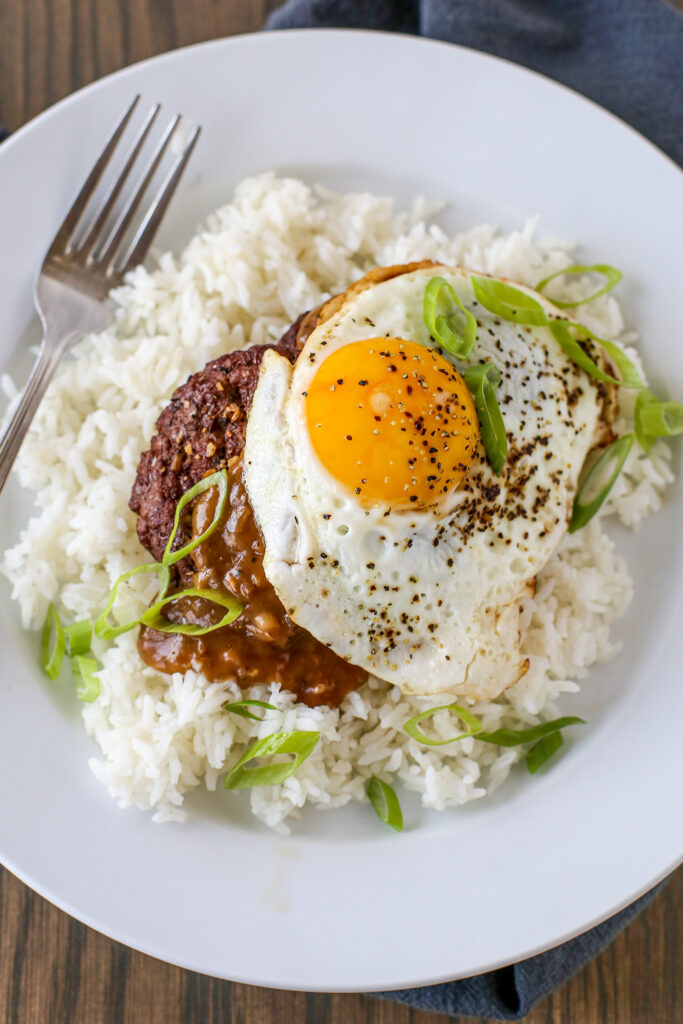 White rice
As is with the rest of the ingredients for loco moco, the white rice is nothing special. I have been buying sushi rice lately because I like the fat grains. But use whatever rice you have. Do you have a good rice cooker that is dependable? I have terrible luck with rice cookers. Will you comment and tell me what kind of rice cooker you have? I need to find a new one.
Burger patty
The burger patty you use can be something frozen or fresh. I like to keep the Costco bag of frozen burger patties in my freezer during the summer months because it can make for super quick dinner on the grill. Those would work great here. Lately I have been making my own patties from frozen ground beef. Whatever you have on hand will work great. Comfort food shouldn't mean a special run to the grocery store. It should be ingredients that can come together easily.
When I make loco moco, I bake the burger patties in the oven. The frees up with stove top for me to make the brown gravy while they cook. In fact, I had never baked hamburger patties before I started making loco moco for my family. The timing is almost perfect. The burger patties take about 20 minute in a 425 degree oven. In that time, I can have the rest of the components ready.
My latest trick is using the tube of frozen Costco beef. They are 1 pound tubes. I thaw one tube and then unwrap it carefully so it retains its shape. Then I cut it into 6 round portions. Each portion is formed into a patty. It is super easy and makes sure each patty is equal in size.
Brown gravy
This is where things can go many different ways. You can make a brown gravy with mushrooms if that is what you like. Or you can do an onion gravy. Or do a quick gravy with no vegetables at all. I make an onion and garlic brown gravy. I start with sauteing a diced onion and some garlic in butter. Once it is softened, I add flour and cook that for a few minutes. Then comes hot water and some beef bouillon. I season it with soy sauce and worcestershire sauce. It turns out delicious every time.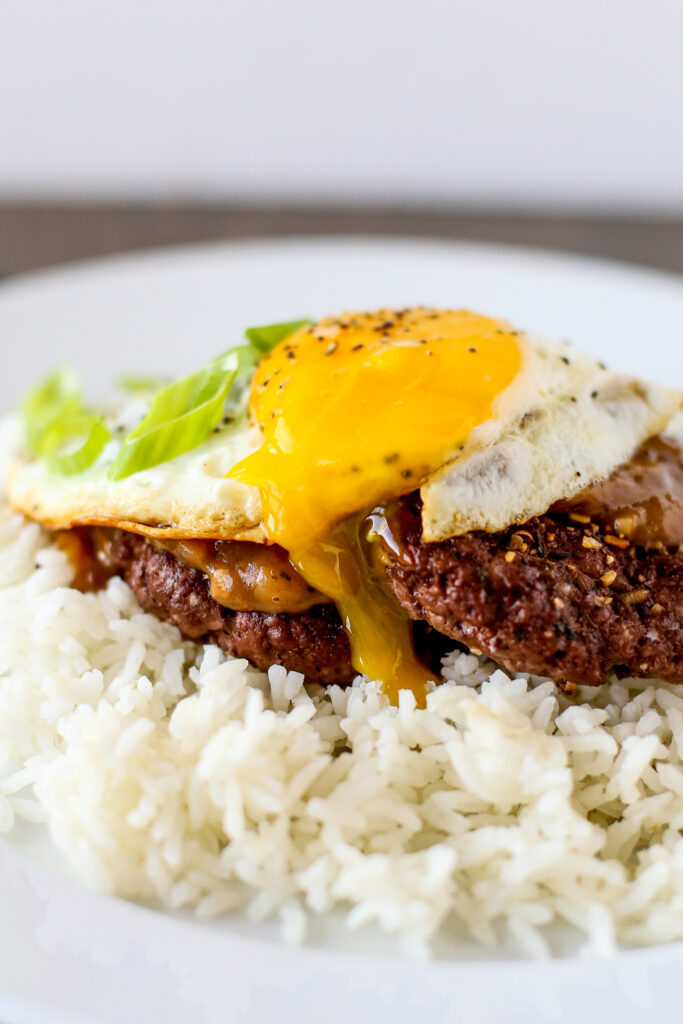 Fried egg
When I look back on my motherhood, I know I will maintain that one of my greatest accomplishments was teaching my kids to like a runny egg yolk. I don't know if anything makes me prouder than watching my kids dip breakfast sausage into a fried egg with a runny yolk. I see that and think "My work here is done." I can take off my apron, pack my bags and wish my children a happy life.
The fried egg is the perfect finish for loco moco. Eggs make everything better. They are not only delicious, but cheap too. A fried egg can make a dish feel elevated, no matter how humble it is.
Print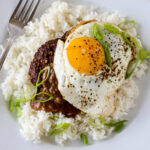 Loco Moco
---
Description
Add this to your regular rotation. Loco Moco is Hawaiian comfort food. White rice, a burger patty, brown gravy and a fried egg!
---
1

pound ground beef

2 tablespoons

Montreal steak seasoning

1/4 cup

butter

1/2

red onion, diced

2

garlic cloves, minced

1 teaspoon

kosher salt

1 teaspoon

ground pepper

2 tablespoons

all-purpose flour

2 cups

beef stock

1 teaspoon

worcestershire sauce

1 teaspoon

soy sauce

2 tablespoons

butter

6

eggs
Kosher salt and pepper, for seasoning

3 cups

white rice, prepared according to package directions

1/2 cup

diced green onion
---
Instructions
Set oven to 400 degrees F. Set a cooling rack into a rimmed baking sheet and spray with non-stick spray. Divide the beef into 6 equal portions and form into patties. Season each side of the patties with Montreal steak seasoning and set on the greased cooling rack. Bake for 20 minutes or until an inserted instant read thermometer reaches 160 degrees F.
While the burgers cook, prepare the gravy. In a large skillet over medium heat, add butter. Once melted, add the onion, garlic, salt and pepper. Saute until the onions are very soft, about 10 minutes. Sprinkle the flour over the top and saute until the flour is well incorporated and the smell of flour is gone, about 2 minutes. Add the beef stock, worcestershire and soy sauce and stir well to combine. Simmer until thickened. Taste and add more salt and pepper as needed.
In a medium skillet over medium high heat, add 2 tablespoons of butter. Once the butter is melted, crack the eggs into the pan and season with salt and pepper. As the egg white begins to turn white, cover the pan with a lid and cook for 2 minutes, or until the white is cooked, but the yolk remains soft. Remove the pan from the heat and set aside until ready to serve.
To serve, add cooked white rice to a bowl or plate and top with a burger patty, brown gravy, a fried egg and diced green onion.
Prep Time:

30 minutes

Cook Time:

30 minutes

Category:

comfort food

Method:

oven and stove-top
Keywords: loco moco, beef, comfort food, Hawaiian food, gravy, rice, eggs