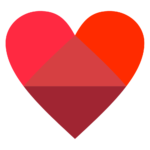 Grilled tri tip steak with chimichurri is something our family is really well acquainted with. As I have mentioned before, we own a catering company here in Utah called Rockwell Catering and Events. We do all kinds of events from your corporate summertime party to your cousin's wedding reception and even your son's football team banquet. In other words, we do it all. One thing we make loads of is tri tip steak. I am not joking when I say we do thousands of pounds of this stuff a year. And so often, it is served with chimichurri.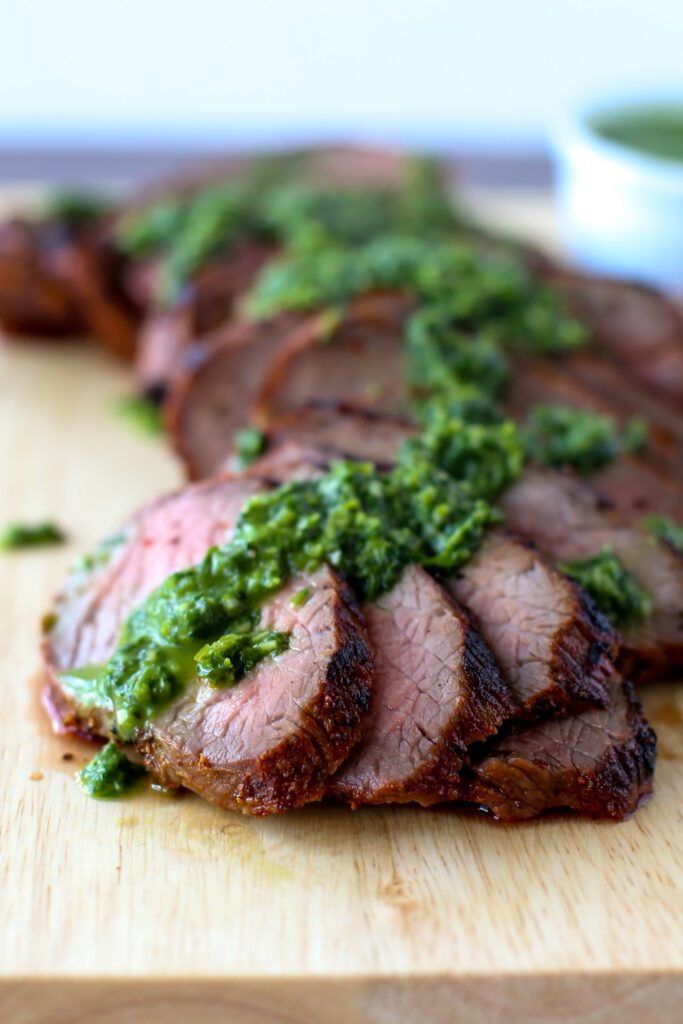 What is chimichurri anyways? It's merely a bunch of herbs, garlic and vinegar blitzed together with some olive oil. If you know how to make a smoothie, you know how to make grilled tri tip steak with chimichurri. It's also a flexible thing. You can change up the type of vinegar you use or the type of herbs. More garlic, none at all- whatever your preferences are. Chimichurri also keeps in the fridge really well. Whatever I have leftover gets put on fried eggs in the morning or used as a salad dressing for dinner.
Maybe my favorite cut of beef
If I am choosing what kind of meat I am going to put on the grill, I will almost always choose tri tip. It seems to always turn out delicious. It takes on marinades well or tastes fabulous with plain ol' salt and pepper. It's low in fat and it cooks quickly. You can put it on a sandwich roll or wrap it in a tortilla for tacos.
I have seen a lot of recipes around the internet for smoking tri tip steak. I wouldn't do that. Higher fat meats do better with the low and slow smoke method. With tri tip, a long smoke can just turn it into leather. There isn't enough fat to disperse through the meat. Now you might have had some amazing smoked tri tip once upon a time and that's great. But for me, I don't want to smoke it. Instead, I would grill it, just to mark the outside. Then I would put it in the smoker on high heat to finish cooking through to a nice mid-rare.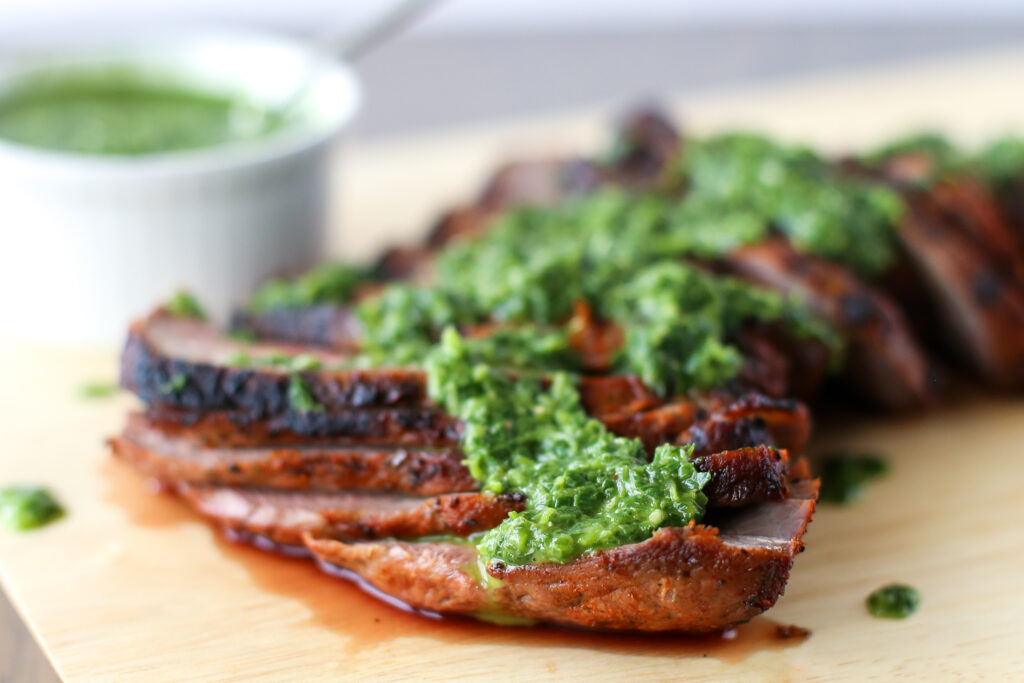 Notes on preparing grilled tri tip steak with chimichurri
I have included a seasoning blend for you to season up the tri tip, but you are welcome to use whatever you want. Some kosher salt and ground pepper would work. A store-bought marinade would be delicious. I also love Montreal steak seasoning on anything beef. Do what your family likes!
Like I said before, leftover chimichurri keeps just great in the fridge. I would say about a week and a half. Toss it with some roasted potatoes, put it in pasta salad, drizzle over some roasted salmon or my favorite- eat it with fried eggs. I really just want fried eggs with anything.
You have heard it before, but I will say it again. If you can remember to, pull your tri tip out of the fridge before grilling. Let it sit on the countertop for an hour or two. Less cold meat does better on a hot grill. Same idea as room-temperature eggs and butter do better in cookies.
Print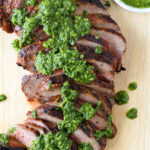 Grilled Tri Tip Steak with Chimichurri
---
Description
Grilled tri tip steak with chimichurri is something the whole family will devour! Chimichurri is an uncooked sauce that is a cinch to put together. Pair it with grilled tri tip and your tummy is bound to be full.
---
For the steak
2 teaspoons

kosher salt

1 teaspoon

ground pepper

1 teaspoon

smoked paprika

½ teaspoon

ground cumin

½ teaspoon

onion powder

2

–

3

pound tri tip steak
For the chimichurri
1

bunch flat-leaf parsley

1

bunch cilantro

¼ cup

packed fresh basil

¼ cup

packed fresh oregano

1

serrano chile, seeded

2

garlic cloves

¾ teaspoon

kosher salt

½ teaspoon

ground pepper

½ cup

olive oil

¼ cup

red wine vinegar
---
Instructions
Set oven to 425 degrees F. Set grill to high. Combine all seasonings and rub onto tri tip steak. Set aside. Once grill is heated, grill the tri tip on both sides until good grill marks are achieved, about 5 minuts on each side.
Place the grilled tri tip on a baking sheet and roast in the oven for 10 minutes to start. Temp the meat in the center to see if you are close to 130 degrees F. Remove from the oven if finished, add a few minutes if needed.
While the tri tip is in the oven, combine all chimichurri ingredients in a food processor or blender. Blend until desired consistency. Scrape out into a bowl.
Allow tri tip to rest for a few minutes on a cutting board. Slice against the grain and serve with chimichurri.
Prep Time:

5 minutes

Cook Time:

25 minutes

Category:

Dinner
Keywords: Beef, Grilled, Tri Tip Steak
Cooking equipment used in this recipe
Listened to while in the kitchen
Joseph and the Amazing Technicolor Dream Coat (the Donny Osmond version is the very best!)