Who doesn't love croissants? Of course we all dream of a croissant in France, eaten while in Paris, walking along the Seine with a view of the Notre Dame ahead. But I also dream of the croissants sold in my grocery store in a clear plastic container, probably baked the day before. I will still eat it like a ravenous, embarrassed animal. We are going to use those croissants, not the ones that are $5 a piece at the bakery. This chocolate croissant bread pudding is primed for some vanilla ice cream, maybe some cinnamon whipped cream as well. It feeds a crowd and reheats beautifully for breakfast the next morning.
Chocolate croissant bread pudding for 400 people? Easy dubs.
In full disclosure, this is the recipe used for the catering company my husband and I own, Rockwell Catering. This dessert is a regular at large catered events. It is so regular that my husband has the recipe for 100 people memorized. Luckily for him, he has all the needed equipment to make that possible. Big pots, giant whisks, endless counter space. And I can attest that it is as good for 400 people as it is for 12. Let's talk ingredients.
Croissants
For this recipe, I bought the big box of croissants from the Sam's Club bakery. Each box of croissants from Costco or Sam's Club comes with 12 croissants. In this recipe, we are using 8 of them. So good news, you can make croissant sandwiches for lunch the day after.
We tear up the croissants into smaller pieces and let that sit in the pan for a couple hours or even up to overnight. Drying out the croissants helps them be extra thirsty to drink up the chocolate custard.
Heavy cream and half and half
We are not joking around. Yes, we are using both heavy cream and half and half. We are going for rich and indulgent, not light and healthy. If you do not have half and half, go ahead and use whatever percent milk you have in the fridge. But you cannot switch out the heavy cream.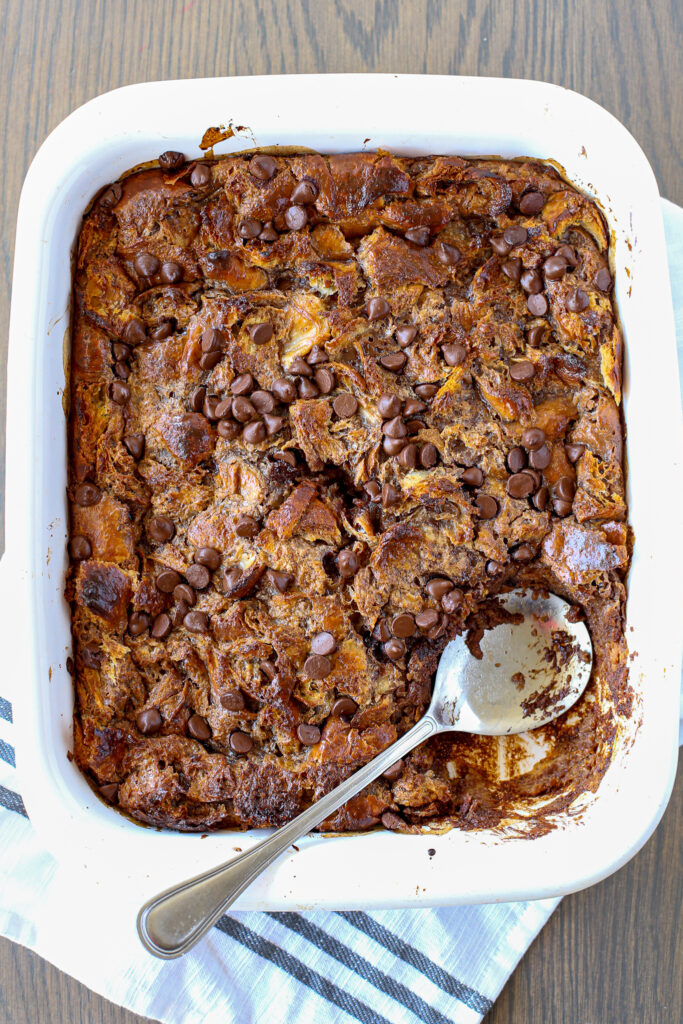 Granulated sugar
Could you switch out the granulated sugar for brown sugar? Yes you could. This would add another little dimension to the flavor of the chocolate croissant bread pudding.
Cinnamon
Yep, cinnamon. Chocolate and cinnamon go great together and they especially do in this recipe. We aren't going for a heavy cinnamon flavor, just a hint. Enough for people to go "hmmmm, what is that I am tasting?"
Semisweet chocolate
Here, let me brag for a moment. When we make this dessert for our catered events, we use Belgian chocolate. Yeah, like the really good Callebaut stuff. Using a higher quality chocolate is just an extra. But if all you have is some Nestle Toll House semisweet chocolate chips, those will work perfectly.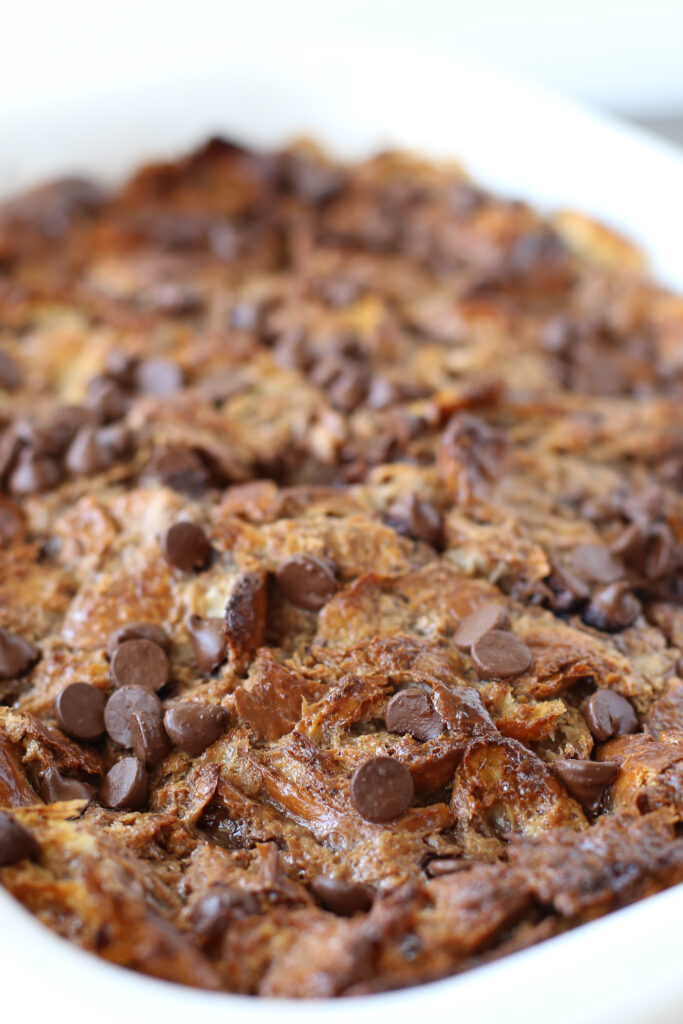 Eggs
It's the eggs that make chocolate croissant bread pudding rich and creamy. As with most egg-based custards, we have to temper the eggs in. If you have never done that in a recipe, don't stress. It just means we mix a little of the hot cream mixture into the eggs instead of adding it all at once. This helps make sure we don't cook the eggs by pouring a ton of hot liquid on them. We want to just warm them up, not scald them.
Print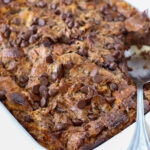 Chocolate Croissant Bread Pudding
---
Description
Who doesn't love croissants?! Let's take something already perfect and make it ridiculous: chocolate croissant bread pudding!
---
8

large croissants, torn into bite-sized pieces

2 cups

heavy cream

2 cups

half and half

1 cup

granulated sugar

2 teaspoons

pure vanilla extract

1 teaspoon

ground cinnamon

1/2 teaspoon

salt

6

eggs

8 ounces

semisweet chocolate, chopped
---
Instructions
Add torn croissant pieces to a 9×13 inch pan. Let the pan sit out, uncovered for a few hours or preferably, overnight.
Set oven to 375 degrees F. In a medium pot over medium heat, add heavy cream, half and half, sugar, vanilla, cinnamon and salt. Bring to a simmer, whisking frequently.
While the heavy cream mixture is heating up, add eggs to medium bowl and whisk until well-combined and light in color. Once the heavy cream mixture is simmering and the sugar is dissolved, remove from heat and add a ladle of the mixture (about 1/2 cup) to the eggs while whisking the eggs constantly. Once well-combined, add the egg mixture into the heavy cream mixture, whisking constantly.
Put the custard back on medium heat, whisking until simmering. Add the chocolate and whisk until melted. Pour the finished custard over the torn croissants. 
Bake the bread pudding for 45 minutes to 1 hour, until the top is browned and the middle is no longer soupy. You can check by using a spoon to push the middle a little to the side and see if any custard is pooling at the bottom. Once it is no longer pooling, it is finished.
Serve chocolate croissant bread pudding with vanilla ice cream.
Prep Time:

10 minutes

Cook Time:

15 minutes

Category:

baked desserts

Method:

baking
Keywords: chocolate, croissants, bread pudding, baked