You know how when you go on vacation, especially a road trip, and you get home and only want to eat vegetables? After all that fast food and gas station crap, nothing sounds as good as a plate of veggies. This kale apple salad will get you there. Baby kale, soft radicchio, creamy avocado and crunchy apple all dressed in a sweet, thick vinaigrette sweetened with honey. I can't ever shovel this in my face fast enough.
Sweet, bitter and nutritious.
This salad is a perfect balance of sweet and bitter. The baby kale and the radicchio are both on the bitter side. Ever had radicchio? I haven't had it often enough. I am all for adding new vegetables into my dishes because it means different nutrients. And the more variety of nutrients means I am going to live forever, right?
What kind of nutrients can we appreciate that are coming into play? Radicchio is a powerhouse of vitamin K. According to Very Well Fit, one serving of radicchio provides you with 128% of your daily recommended intake. What's so great about vitamin K? Vitamin K benefits your blood and bone metabolism, specifically blood clotting. People with cystic fibrosis or celiac disease benefit greatly from vitamin K because it can help with malabsorption of vital nutrients.
Radicchio and kale end up tasting great in this salad because you get the balance of sweet from the apples. Then the honey cinder vinaigrette comes in with some sweet acid. It's a yummy balanced mouthful.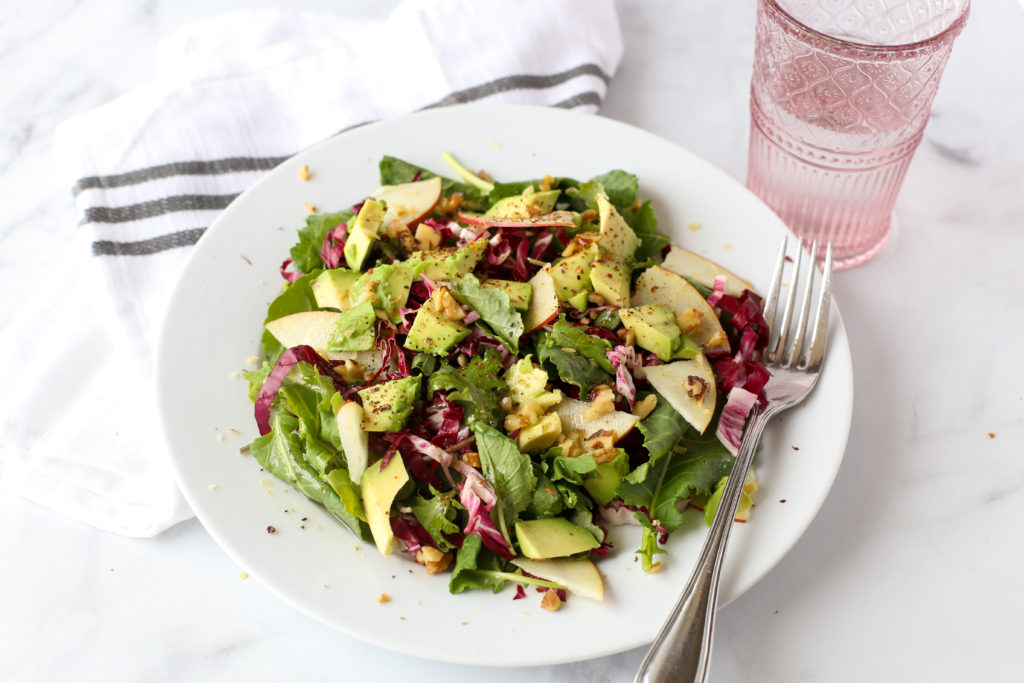 What do I do if I hate kale?
Well first off, I am bummed for you. Kale is all kinds of delicious. And it makes me feel like I am so healthy and fancy. But if kale isn't your schtick, it's okay. Try some baby spinach or mixed baby greens. I think making this a slaw would be fantastic. So grab a bag of coleslaw cabbage and use that instead. And actually, coleslaw holds up so much better with dressing. So if you are using this salad as an offering at a potluck, I would go for cabbage instead. So it would be more of an apple slaw than a kale apple salad.
One of my top 10 favorite kitchen tools
To make this salad perfect, we want the apples sliced super thin. And the best way to do that is with the OXO Good Grips Hand-Held Mandoline Slicer. This little guy is one of my favorite kitchen tools, especially for things like this kale apple salad. There are three levels of thickness. For these apples, I use the thickest level. I use this little guy for all kinds of stuff. Sliced cucumbers for school lunches, thinly sliced onions for caramelizing quickly and thinly sliced carrots for chicken noodle soup when I am too pressed for time for diced. It doesn't take up much kitchen space, which is super important to me because I have a bitty little kitchen, so all the space is valuable. I have sent this mandoline slicer to friends and family on a whim, knowing they would love a fun surprise in the mail. It's just too handy. Go ahead and add it to your Amazon cart.
Notes on preparation
When looking for baby kale, don't look where you would normally find regular kale, like with the heads of lettuce. Go for the boxes of greens like salad greens and spinach. You will find baby kale over there.
I think some bacon would be fabulous in this salad. I say go for it. Smokey bacon with sweet apples and bitter greens would be a great addition. What if we added the bacon fat to the vinaigrette? Not a bad idea.
I used walnuts in this salad for some lovely crunch. If you aren't a big walnut fan, do pecans.
Print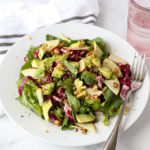 Kale Apple Salad with Avocado and Honey Cider Vinaigrette
---
1

5 ounce box baby kale

2

large apples, (thinly sliced)

2

avocados, (chopped)

1/2

cup walnuts, (chopped)

1/2

cup red onion, (thinly sliced)

2 cups

thinly sliced radicchio
For the vinaigrette
1/2 cup

extra virgin olive oil

1/4 cup

apple cider vinaigrette

3 tablespoons

honey

1 teaspoon

worcestershire sauce

1/2 teaspoon

kosher salt

1/2 teaspoon

ground pepper
---
Instructions
In a large bowl. combine kale, apples, avocados, walnuts, red onion and radicchio. Toss together.
In a medium bowl, combine all vinaigrette ingredients and whisk well to combine. Alternately, you can blend them in a blender as well.
Drizzle dressing on the salad and toss or serve dressing separately.
Prep Time:

15 minutes

Category:

Salad